Whose Idea Was Annette Bening's 'Captain Marvel' Character, Anyway? [SPOILERS]
First and foremost, if you HAVEN'T seen Captain Marvel yet and don't want to be spoiled about a very large part of the plot, you should find something else to read. Like, seriously. Super big spoilers.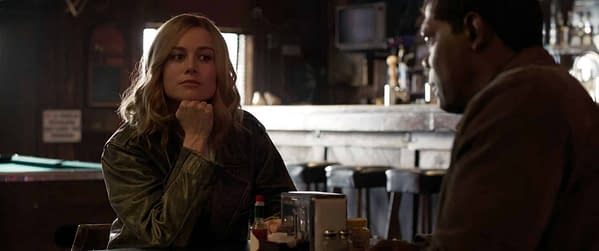 Still here? Okay then. We're gonna jump right in to exactly whose idea Annette Bening's characters were, directly from Marvel Studios' boss Kevin Feige's interview with Entertainment Tonight.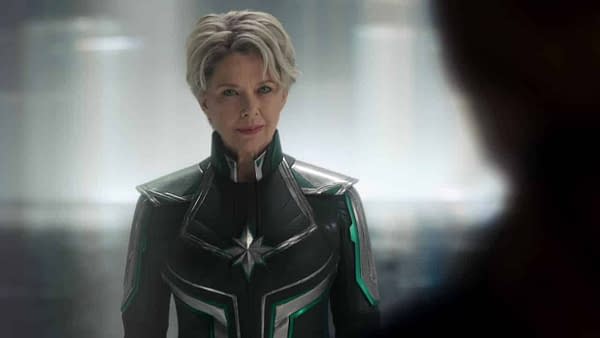 Turns out, it was allllllll co-director/co-writer Anna Boden's idea:
ET: To get into the spoilers of Captain Marvel — now that we can — I got goosebumps when the movie revealed [Bening's character is named] Wendy Lawson, and I realized, "Oh, she is Mar-Vell."

Feige: Yes. Oh, good! We're desperately trying to hide that in the marketing, as Jonathan knows. Not everybody's going to know that name, like you, but yes.

ET: Was that an idea from one of the writers, or [writer-directors] Anna Boden and Ryan Fleck, or was that an idea Marvel had before anyone signed onto this?

Feige: It was late in the development of the movie. Frankly, as we were approaching shooting, we were casting male — We were looking for a male Mar-Vell and developing the script at the same time, as we often do. We spoke to a few people, but as you've now seen in the movie, it's a limited role, because of the nature of the structure of the story. It was, I believe, Anna who came up with the suggestion in a script meeting that, "Why don't make the S.I., the vision that she sees, Mar-Vell?"

The idea was just before we brought Annette on. So, it was relatively late in the development process and one of a handful of things that happened as the script was taking on its final form, that was an epiphany that Anna had, and it was like, "Oh, of course! That's perfect!" And we stopped looking for another actor.

ET: Not that you guys couldn't have come to that, too, but it is a wonderful moment of bringing more people to the table, of adding diverse voices and you get these epiphany moments that end up being perfect.

Feige: Exactly right. There were a number of those by a number of different people, but that one, let's credit Anna, a hundred percent.
Captain Marvel is enjoying a better than expected box office return, with today's international (not North American market) numbers at $302 million, making it the 5th highest film opening of all time (oversees), according to Box Office Mojo.
Domestically, the good Captain brought in $153 million in the North American markets, bringing her weekend opening total to an astounding $455 million (when added together with the international totals). This puts Captain Marvel in 6th place on the worldwide opening weekend board, knocking Star Wars: The Last Jedi pack to 7th place.
The 21st MCU film stars Oscar winner Brie Larson as Carol Danvers, Samuel L. Jackson as Nick Fury, Jude Law as the commander of Starforce (who may or may not have two names), Clark Gregg as Phil Coulson, Lee Pace returning as Ronan the Accuser, Djimon Hounsou as Korath the Pursuer, Gemma Chan as Minn-Erva, Ben Mendelsohn as Skull General Talos, Lashana Lynch as Maria Rambeau, Algenis Perez Soto, McKenna Grace, and Annette Bening. Anna Bodenco-directed with Ryan Fleck.
Captain Marvel opened in theaters worldwide March 8th, which just happens to be International Women's Day.