Primary is the cheap-and-cheerful-don't-think-too-much-how-they-were-made-for-that-price clothes store that has, in recent years, appeared on every high street in the land. And while there may be plenty of stores, it can be hard to keep their more desirable items in stock. The latest for Primark collectors, and yes that is a thing, to obsess over is what are referred to as being Minne Mouse stilettos. Covered in sparkly glitter, the shoes with a little bow tie in the back and the bow shape of the back of the heel – and no actual licensing tie-in to Disney -won't be available for two months, but people are already lining up – figuratively that is.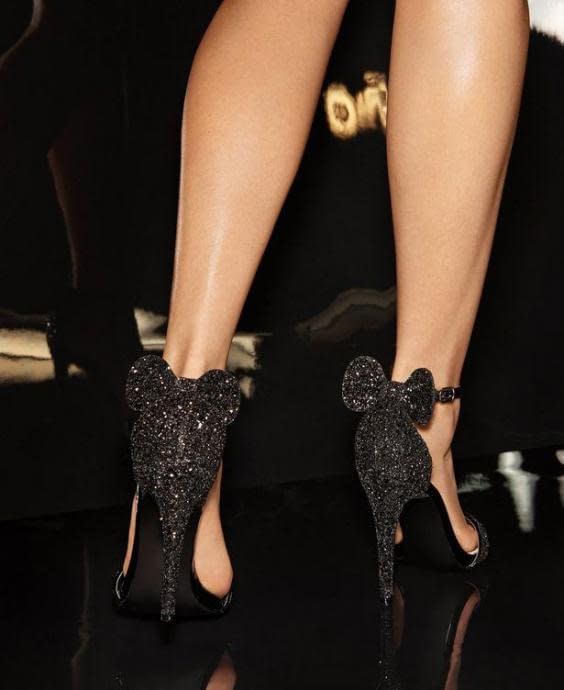 Only £14 a pair as well. Until they hit the aftermarket. In both black and gold they are expected to be big hits for the winter party season. That they also resemble the golden stilettos from Oscar Tiye's collection from the spring is clearly just a coincidence. Especially as the Oscar Tiye version costs £430.
The heels, along with the rest of Primark's autumn/winter AW17 collection will be in stores at the beginning of November.
Originally Penney in the Republic of Ireland, a trademark battle saw it renamed Primark in the U.K. when it expanded abroad. Primark offer a diverse range of products, including newborn and children's clothing, women's wear, men's wear, home ware, accessories, footwear, beauty products and confectionery. The company sells clothes at the low cost end of the market below average prices. According to an article about Primark in The Economist, "For many shoppers, Primark has an irresistible offer: amazing trendy clothes at amazingly low prices. The result is a new and even faster kind of fast fashion, which forces consumers to buy heaps of items sometimes even the same ones to use when the first ones worn out, discard them after a few wears and then come back for another batch of new outfits."
Enjoyed this article? Share it!