Won't You Be My Neighbor? Review: Mr. Rogers Will Make You Cry
[rwp-review-recap id="0"]
Won't You Be My Neighbor? is the best kind of documentary as it beautifully explores the life of a great man.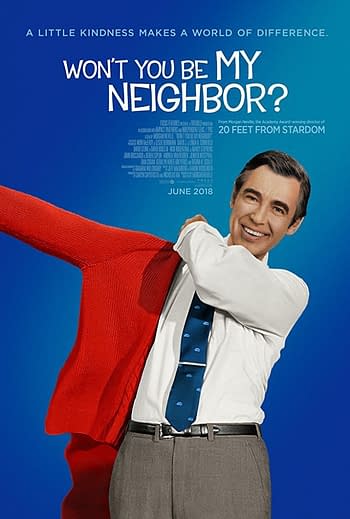 Director: Morgan Neville
Summary: With his gentle voice and heartfelt words of wisdom, Fred Rogers served as a compassionate surrogate father for generations of American children who tuned in to public television. He believed in love as the essential ingredient in life and was able to assist kids through difficult situations armed merely with handmade puppets suggesting tolerance and acceptance. An ordained Presbyterian minister, Mr. Rogers made speaking directly and openly to children his life's work, both on and off his long-running show. He was at the forefront of a movement devoted to meeting the specific needs of children and was considered a radical back then for saying, "I like you just the way you are."
Fred Rogers was one of the good ones. There is no arguing that, and if anyone tries to you that he wasn't, you need to tell them they are entitled to their wrong opinion. Won't You Be My Neighbor? is here to break your heart with how wonderful everything about this man was. It makes sure to go, in depth, into what Rogers wanted to accomplish with Mr. Rogers' Neighborhood. He believed that kids deserved a better type of television that could also teach them something. As they say in the documentary he was "radical" as he was teaching kids about things like death and divorce.
Ever since this premiered at the Sundance Film Festival, people have been talking about this movie makes them cry — and that is very true. We get to see Rogers passionately defend public television in that famous segment as his friends and family talk about the kind of person he was. He was a pastor but never preachy, and he genuinely cared about kids. For those growing up on the show, the ending and covering Rogers's death is pretty intense. It runs at a brisk 94 minutes and never feels like it's trying to extend its running time.
Won't You Be My Neighbor? will hit hard for adults a certain who grew up on Fred Rogers. He was a good man — one that makes you want to go out and be a better person. Bring tissues and go check this one out.
[rwp-review-ratings id="0"]
[rwp-review-form id="0"]