Work or Shoot? Rusev Drops WWE From Social Media After Undertaker Match Snub
In the latest edition of the popular game, "try to figure out whether WWE is spiting its fans out of spite or for an angle," pro wrestling fans are wondering whether Rusev is about to be released by WWE or has asked for his release. It all happened so quickly. First, Rusev was booked for a casket match with The Undertaker at The Greatest Royal Rumble event in Saudi Arabia. Then, Rusev was dropped from that match and replaced by Chris Jericho, bringing the total age of the two match participants up to 100.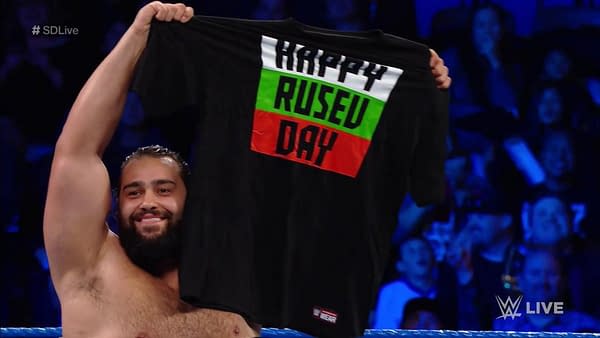 So what happened? At first, it seemed like WWE booking indecision, as Rusev's wife Lana (participating in the storyline) tweeted that she refused to allow her husband to compete in such a dangerous match, and then WWE announced that Jericho would take his place.
But rumors have been heating up on wrestling dirt sheets that the real reason for Rusev's removal could be a TMZ interview where Rusev cut a pretty standard heel promo on The Undertaker, which was bolstered by a tweet from Undertaker's wife, Michelle McCool, which McCool later said was taken out of context.
Here's the interview, in which Rusev says of the 53-year-old Undetaker that he's "a little bit in the past," and "I'll beat him so bad it will be his last fight," even though TMZ's headline claims (incorrectly) that Rusev says he'll "crush his old ass." However, at the end, Rusev breaks character and praises The Undertaker, calling him one of the top wrestlers of all time.
Here's McCool's tweet:
And here, a few hours later, after Rusev was removed from the match, is McCool dismissing claims that her initial tweet was an attack on Rusev:
But then, Rusev really got the dirt sheets revved up when he deleted all references to WWE from his social media, including unfollowing WWE accounts and even removing his WWE-trademarked name from his Twitter account: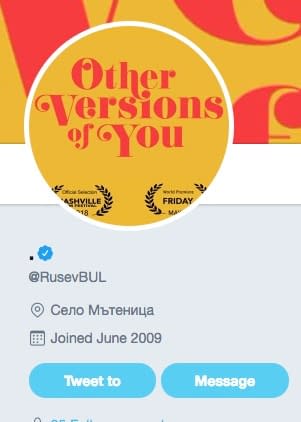 Here's Rusev reacting to being dropped from the match (note that "bury" has a double meaning here, both to be placed in a casket and literally buried, and also a wrestling-specific definition of having his momentum and value killed):
Here is Rusev's only tweet since changing his social media:
It should also be noted that Lana has not changed her social media at all.
So what's going on? It's true that Rusev has been becoming wildly popular with WWE fans, who chant his signature "Rusev Day" catchphrase even when Rusev isn't in the ring, and root for the Bulgarian Brute in matches where WWE obviously wants another wrestler to be the star (matches which Rusev usually loses). Merch sales for Rusev Day items have been up, and it's that moral and financial support that is rumored to have led to Rusev's addition to the United States championship match at WrestleMania, a match with Rusev once again lost. And evidence has shown, time and again, that despite all of their rhetoric about "grabbing the brass ring," nothing pisses off WWE more than wrestlers getting over when WWE didn't plan it. It's entirely possible that there's friction between Rusev and WWE over his popularity.
Then again, it's also entirely possible that Rusev, Undertaker, Lana, Michelle McCool, and WWE are all working together to create a reality-based storyline where Rusev, an obvious fan-favorite, appears to be getting screwed over by the evil WWE. It seems like a strange dynamic. On the one hand, WWE operates under the understanding that WWE as a brand is what fans pay to see, and no individual wrestler is bigger than WWE. But at the same time, WWE has spent the past twenty years booking itself, WWE, as the fictional villains of its own storylines out to crush fan-favorite wrestlers and bend them to their will. As a result of this and the "reality-era" style of storytelling that blends real-life with in-storyline events, it's virtually impossible to tell the difference between WWE spiting fans and screwing over a wrestler for real and WWE spiting fans and screwing over a wrestler as part of a storyline actually intended to make the wrestler more popular.
Which one of those are we seeing here? Exactly who is working themselves into a shoot here, brother? Only time will tell.