In what is already being called the greatest holiday gift since Scrooge gave Bob Cratchett a lump of coal, WWE and the USA Network plan to give viewers the gift of a commercial-free first hour of Raw and SmackDown next week. Here's the announcement from WWE, which consists mainly of bragging about WWE and promoting the upcoming 25th anniversary show on January 22nd:
Celebrate the holidays with WWE as USA Network airs the first hour of both Monday Night Raw and SmackDown LIVE commercial-free this Monday, Dec. 25, at 8/7 C and Tuesday, Dec. 26, at 8/7 C. This also marks the first time that USA Network will air Raw live on Christmas.

Raw and SmackDown LIVE are the No. 1 and No. 2 longest-running weekly episodic programs in U.S. primetime TV history and two of the most-watched, regularly scheduled programs on cable, airing live every Monday and Tuesday night on USA.

Averaging more viewers than any cable network in primetime, WWE programming is among the most socially active shows on TV, trending on Twitter 52 weeks per year. Raw and SmackDown LIVE have aired more original episodes than some of the most popular television series of all time, including The Simpsons, Gunsmoke, Lassie and Monday Night Football.

The 25th anniversary of Raw will emanate from Barclays Center and Manhattan Center in New York City on Monday, Jan. 22, 2018, and will air live on USA Network at 8/7 C. WWE Superstars from both Monday Night Raw and SmackDown LIVE will be at Barclays Center, while the event at Manhattan Center, the site of the first episode of Raw in 1993, will feature WWE Superstars from both brands competing and special appearances by WWE Legends Undertaker, Shawn Michaels and Kevin Nash, amongst others.
But when we already have three hours of Raw and two hours of Smackdown with commercials, is giving us two of those hours commercial-free a curse or a blessing?!
Some might say — not us, of course, but some — that Monday Night Raw is already a tad bit too long. Admittedly, WWE does tend to spend approximately 2/3 of the show airing recaps of things that happened earlier in the night involving Roman Reigns, so it's possible that WWE's writers are already just slightly possibly getting into the area of running a tiny bit low on ideas. With everyone working on Christmas Day, is this really the night that we want to tax the WWE creative team even harder and then not even give viewers a break to go to the bathroom, grab a snack, or weep silently at the misuse of whichever Superstar has most recently been called up from the NXT roster?
Well, when it comes to gift-giving, it's the thought that counts. Thanks, WWE. And a happy holidays to you, too!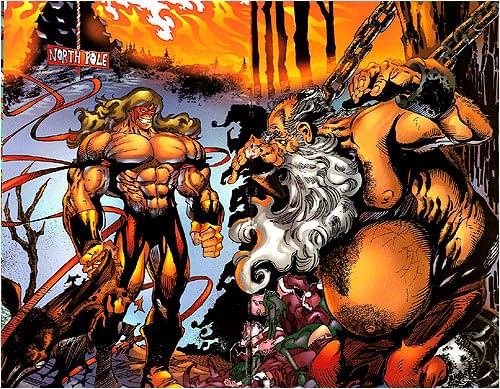 Enjoyed this article? Share it!