WWE Spitefully Cancels Smacking Talk Less Than One Month After Cancelling Talking Smack
When WWE announced the cancellation of Talking Smack, the popular Smackdown Live after-show hosted by Renee Young and Daniel Bryan, it was a devastating blow to fans. When Bryan and Young brought the show back as Smacking Talk, a rogue version of Talking Smack broadcast on the defunct Tout network, it was a huge relief. But now, Smacking Talk has been canceled as well, just one week after it debuted! Daniel Bryan revealed the news on Twitter:
No! No! No! No! No!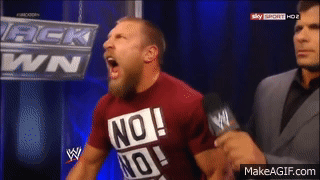 Thankfully, Renee Young offered a little bit of hope to depressed fans of Talking Smack, Smacking Talk, or whatever the heck you want to call it:
We don't know how long we can take this emotional roller coaster ride, so we hope WWE realizes their mistake and brings back Talking Smack before fans have to take matters into our own hands.
#Occupy205Live?