Yes, 'Aladdin' Will Still Have Princess Jasmine's Companion Raja
We're learning more about what Guy Ritchie's live-action adaptation of Disney's Aladdin will have in store for audiences thanks to Entertainment Weekly's cover story, and we're actually….excited? Maybe excited is the wrong word, but it sure sounds like Ritchie has his heart in the right place. The Sherlock Holmes director spoke a bit with EW about why this film. Apparently, Disney is who approached HIM in 2016 to take on the project, which is interesting considering the immediate incredulous reactions to this news:
"My skills and experience could add enough to make it feel fresh and worth it, but not so much so that it would wash away nostalgia, making a kids' film was very appealing to me."

[it's worth noting that Ritchie has 5 children, so chances are he knows his Disney.]
One of the things fans were concerned about after the release of the teaser trailer earlier this year was the lack of a certain tiger- Princess Jasmine's (played in Aladdin by Naomi Scott) loyal companion and protector, Raja. The EW cover story reveals that not only will this version of the story give the Princess a [human] female counterpart, but there WILL be Raja.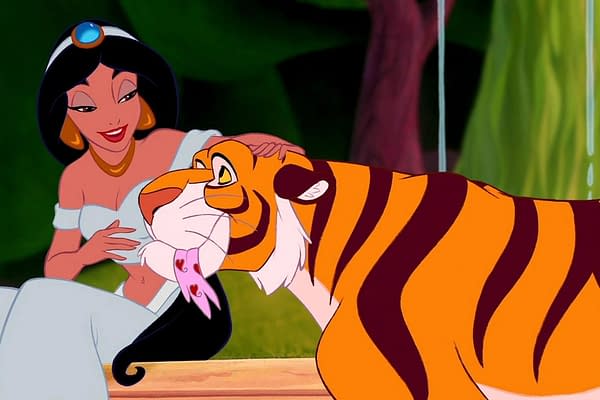 Dalia, Jasmine's handmaiden and best friend, will be played by Nasim Pedrad (Saturday Night Live), and she'll help Jasmine navigate the suitors attempting to win her hand. Billy Magnussen plays one such suitor, Prince Anders of Skånland.
Pedrad says of their relationship:
"Jasmine is so resilient and independent in this version, she's focused on things other than which boy she's going to end up with. She really wants to be a leader, and Dalia really supports that but at the same time wants to make sure she doesn't get in trouble."
Scott spoke about what drew her to the role:
"Having a Disney princess that looked something like me, I think was really powerful. Jasmine's main objective at the beginning is to really protect her people and to do right by them. She definitely isn't a finished article at the beginning of the movie, but she has this beautiful arc and progression, and she goes from asking for what she wants to just taking it, and displaying that she is a leader."
And about her realization that Jasmine is the only female character (with a name) in the original film:
"I never realized it, but in the animation, Jasmine is really the only female character — isn't that crazy? The Dalia character is so important to this movie because she's the only other female character. She may be the handmaiden but they're best friends; they're so close because they've grown up together. So we wanted people to watch the movie and see Jasmine's relationship with another woman, and be like, 'Ah, that's what I'm like with my girlfriend,' or 'We would so do that if I was in that position.' That's something that's missing from the animation."
It'll be interesting to see how much of the Raja-Jasmine relationship we get with Dalia in the mix.
Aladdin hits theaters on May 24th 2019.