Posted in: Movies | Tagged: avatar, avatar 2, infinity war, james cameron, pandora, zoe saldana
---
Zoe Saldana Talks Avatar Sequels and James Cameron's Superhero Fatigue Comments
Actress Zoe Saldana is no stranger to large franchises at his point in her career. She's been a part of two of the biggest ones; James Cameron's highest grossing Avatar and the most recent to shatter box office records, Avengers: Infinity War.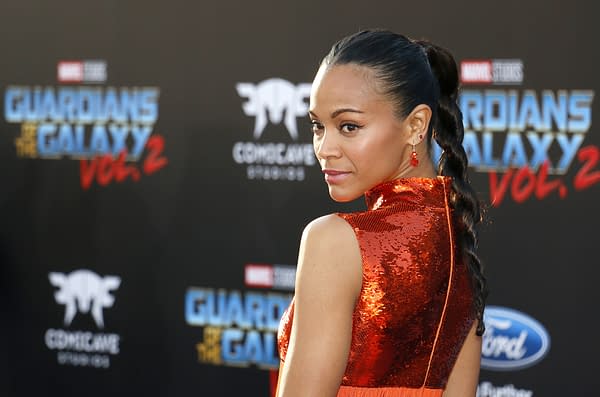 It goes without saying that she's got some insights into both the upcoming return to Pandora and Cameron himself, having worked with him on both the groundbreaking 2009 film and again on the upcoming sequel(s).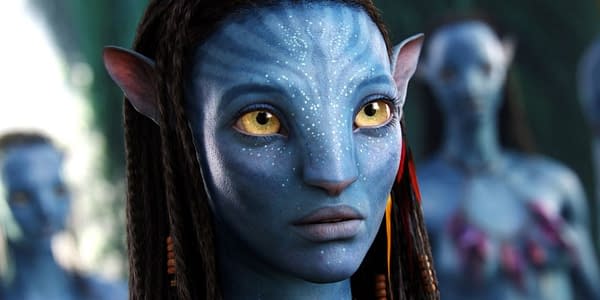 In a recent 'catch-up' with the Los Angeles Times, Saldana spoke a bit about returning to her Navi character Neytiri, and how far into production they've gotten on the Godfather-esque sequel. Be warned though, she does talk about some Infinity War spoilers in the interview, so don't read it if you don't want those.
She also calls Cameron her favorite director, NO ONE TELL JAMES GUNN:
We are just about finishing motion capture production on the [second and third] movies, and then after that, they go straight into pre-production for the live-action part that will shoot for six months in New Zealand. So we're kind of only halfway done. It's wonderful. We're not complaining. We get to drive every day to Manhattan Beach and go to Pandora with our favorite director and my most favorite role model in this town.

I know I can speak for Sam Worthington right now, we are exhilarated — we get to be up against Sigourney Weaver and Stephen Lang, and we're working with an amazing cast who are finally getting the opportunity to work with James Cameron. We are having a lot of fun.
As to the recent comments from Cameron about hoping for "superhero fatigue" (you can read more on that here), The Times asked if she had anything to say about his words:
The Times: Do you have any comment on James Cameron's comment about Marvel fatigue?

Zoe: No. [Laughs] My advice for people is to read full articles and not just believe a soundbite. Because usually, soundbites are very mean-spirited and they're just done for the intention of getting more likes and more views — it's not really with the intention of educating and informing the public. So for all those educated intellectuals out there that like to stay current with news, just read the full article and you will understand where James Cameron was coming from. I know that all the Marvel producers did because they read it.
Funny, pretty sure we suggested the exact same approach. In anycase, we're looking forward to seeing what Zoe Saldana does next. (Reminder- she really wants to be in Denis Villenueve's Dune reboot.)
Avengers: Infinity War is in theaters right now, and Avatar 2 currently has a December 18, 2020 date slated.
---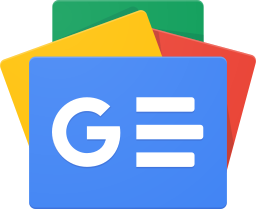 Stay up-to-date and support the site by following Bleeding Cool on Google News today!