From fireman to rock star to… shady drifter? Sex&Drugs&Rock&Roll creator Denis Leary has been tapped to join the third season of TNT's hit drama series Animal Kingdom ahead of its Summer 2018 return. Developed by Jonathan Lisco and based on the 2010 Australian film by David Michod, the series stars Ellen Barkin as the Cody family's matriarch; as well as Scott Speedman, Shawn Hatosy, Ben Robson, Jake Weary, Finn Cole, Molly Gordon and Carolina Guerra.
Leary's Billy is Deran's (Weary) drifter dad who Janine "Smurf " Cody (Barkin) kicked out of her house years ago. The comedian/actor is joining the series at the same time that Speedman is exiting; though Speedman is expected to appear in several season 3 episodes to wrap up Barry 'Baz' Blackwell's storyline.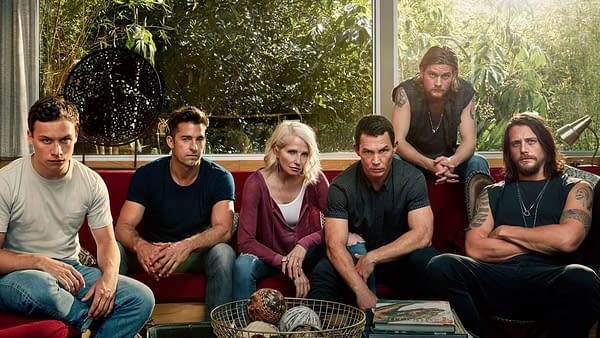 "Denis Leary's extensive and successful career playing complicated, flawed characters makes him the perfect addition to this badass Animal Kingdom family."

– Sarah Aubrey, EVP of Original Programming, TNT
Here's one of TNT's earliest promotional teasers for Animal Kingdom's season 3:
https://youtu.be/64-lvIyrCts
Inspired by the 2010 Australian movie of the same name from Michod, Animal Kingdom centers on teen Joshua "J" Cody (Cole), who moves in with his freewheeling, criminally inclined relatives in their Southern California beach town after his mother dies of a heroin overdose.
Coming off his seven year run on FX's highly praised and Emmy-nominated drama series Rescue Me (which he co-created with Peter Tolan), Leary recently returned to FX with the comedy series Sex&Drugs&Rock&Roll. From the cinematic side, he has appeared in films such as Wag the Dog, Suicide Kings, The Thomas Crown Affair, Ice Age, The Amazing Spider-Man, Draft Day and many more
Animal Kingdom debuted on TNT on June 14, 2016, with the series renewed for a third season in July 2017. The series is produced by John Wells Productions in association with Warner Horizon Scripted Television. John Wells, Michod and Liz Watts serves as executive producers.
Enjoyed this article? Share it!