Looking To Dress Up As Harley Quinn For Galentine's Day?
With Birds of Prey out in theaters, it's time to ask the important question: What will you be wearing to celebrate Galentine's Day this week?
If you've been watching the previews, you probably noticed the colorful and fun costumes as worn by Harley Quinn. Since her theatrical debut in Suicide Squad, I've been largely impressed with her costumes. I even bought a few pieces when the movie initially came out. Now with Birds of Prey in theaters, her costumes have upped the antics, and even her fellow heroes look just as impressive!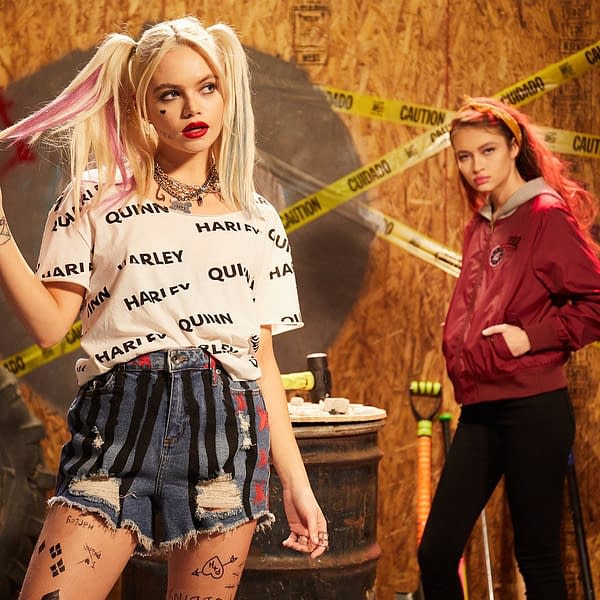 Her Universe DC Comics Birds of Prey Harley Quinn Caution Tape Cosplay Jacket
$89.90
This jacket will be one of the hottest cosplay items to come from the movie — and I mean that literally. I tried the jacket on, and while it looks amazing, it's made of plastic.
Harley Quinn Two Piece Bodysuit
$34.99
This adorable two-piece bodysuit is perfect for cosplay, extreme leisurewear, or even to work out in. Just like Harley would want!
Her Universe DC Comics Birds of Prey Huntress Chain Semi-Crop Girls Hoodie
$44.90
Get ready to celebrate Huntress's debut on the big screen with this fashionable semi-crop hoodie.
Harley Quinn Confetti Scrunchies
$12.99
While I wish scrunchies had stayed in the 1990's, I am in love with these festive scrunchies. Plus, they'll absolutely match your new jacket!
Our Universe DC Comics Birds of Prey Black Mask Club Jacket
$54.90+
Have you always dreamed of telling the world you're a bad guy? These Black Mask club jackets are the perfect way to show off your love for evil!
Her Universe DC Comics Birds of Prey Cassandra Girls Bomber Jacket
$59.90+
Personally I love this jacket — but then again I love anything related to a future Batgirl.
Her Universe DC Comics Birds of Prey Black Canary Fishnet Velvet Dress
$44.90+
While this dress may be inspired by the vocally powerful Black Canary, this dress can be worn at any time. You don't even need to have superpowers to rock it.
Will you be getting any of these great items? Have an outfit you'd love to show off? Let us know in the comments below!