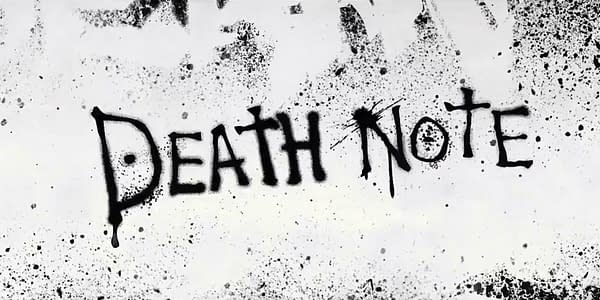 Netflix released the new trailer for its live-action Death Note movie ahead of its August 25th premiere, giving viewers their first-(kinda)-look at Willem Dafoe's Ryuk, as well as another look at Lakeith Stanfield's detective L and more of a focus on Margaret Qualley's Mia.
In the trailer, Light Turner (Nat Wolff) stumbles upon the Death Note after expressing his frustration at always trying to do the right thing…and always paying the price for it. The Death Note belonged to Ryuk (a shinigami or "death god"), who is more than willing to share Death Note's secret with Light: write someone's name on the pages and you can have them killed at any time and in any fashion you want.
With Mia encouraging him to use Death Note to make a difference, and with L beginning to put the pieces together, Light uses Death Note to administer his own brand of justice — a more permanent form: "It's not going to solve a few crimes. It's going to solve all crime." Adam Wingard (You're Next, Blair Witch) was chosen to direct the film, which is based on an adaptation of Tsugumi Ohba's manga series. Netflix first released a teaser trailer for the movie in March, and there was backlash from some accusing Netflix of "whitewashing" the original source material and depriving actors of color those roles. As reported earlier this month by Kaitlyn Booth for Bleeding Cool, Wingard even took to Twitter to address the controversy…for better or worse.
Some of the other differences with the Netflix version include moving the action from Japan to Seattle, and changing characters' names, like Light Yagami to Light Turner and Misa Amane to Mia Sutton. Producer Roy Lee seemed somewhat offended and confused by the backlash when asked about it during an interview with Buzzfeed in April:
"I can understand the criticism … if our version of 'Death Note' was set in Japan and [featured] characters that were Japanese-named or of Japanese ancestry. But that's not the case."
Check out this featurette on the making of Death Note and decide for yourself when the film premieres in August:
Enjoyed this article? Share it!