The Handmaid's Tale Season 2 Trailer Reveals Offred's Real Name and the Price of Freedom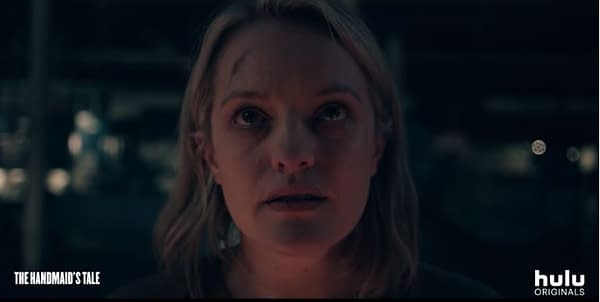 With the streaming service's award-winning series set for a second season return in less than a month, Hulu has released their first full-length trailer for their series adaptation of Margaret Atwood's The Handmaid's Tale season 2. The Emmy-winning drama's second season is expected to focus on Offred's (Elisabeth Moss) pregnancy and her continued fight to free her future child from the dystopian horrors of Gilead. But as you can see from the trailer below, the fight for freedom will not be an easy one — as Offred realizes that her world is about to get a whole lot darker before any chance at a dawn.
But Offred will be free — and as you'll see at the end of the trailer, being free also means being able to reclaim her full, true name:
https://youtu.be/dKoIPuifJvE
The Handmaid's Tale stars Moss, Joseph Fiennes, Yvonne Strahovski, Samira Wiley, Alexis Bledel, Ann Dowd, Max Minghella, Madeline Brewer, O-T Fagbenle and Amanda Brugel. Marisa Tomei, Cherry Jones, Bradley Whitford and Clea DuVall are set to join the cast this season.
In an interview with The New York Times in August 2017, Moss addressed some pushback she received during the 2017 Tribeca Film Festival when she referred to The Handmaid's Tale as being not a "feminist story" as much as a "human story":
"That was my mistake in the sense that I should have been much clearer. What I should have said is that it is not only a feminist story but it is also a human story. Obviously it is first and foremost a feminist story. I play a woman who has had her child and her family taken away from her, and all of her rights as a woman stripped and who is essentially a prisoner. But I was trying to say that it was also a human story in the sense that there are other groups — other races, colors and creeds — who are punished and maligned and are not given the right to be heard as well."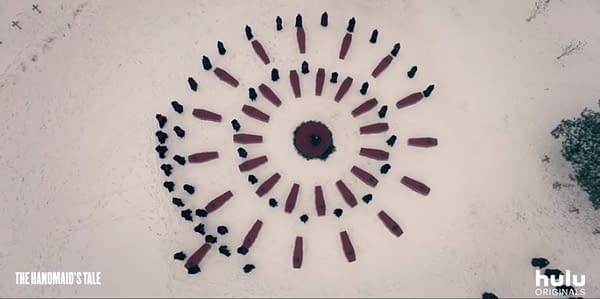 The Handmaid's Tale returns to Hulu for a second season with a two-episode launch on Wednesday, April 25th.
Source: Deadline Hollywood