iZombie Season 4, Episode 4 Review: Mama Leone's Backstory Makes for Strong Outing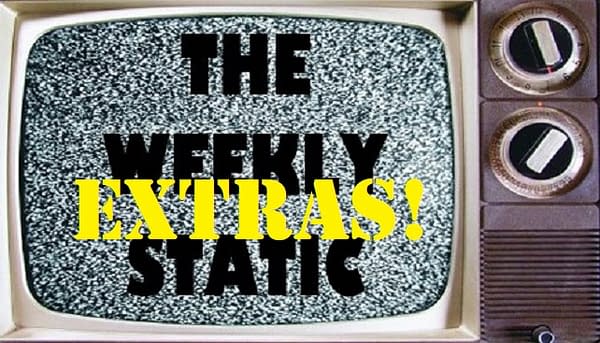 https://youtu.be/yNi_ihDRWVU
"I started this for the same reason you started eating murdered peoples brains: to feel needed" – Mama Leone
Last week's 'Brainless in Seattle (Part 1)' left me with a lot of questions needing answer: Will we get to see more of Mama Leone (Dawn Lewis)? Has Angus McDonough (Robert Knepper) increased his following? Will Olivia "Liv" Moore (Rose Mclver) tell Clive (Malcolm Goodwin) about Bozzio's (Jessica Harmon) infidelity? But the biggest question hovering over it all? How will Chase Graves (Jason Dohring) control the increasing zombie population and decreasing supply of brains. I was very pleased that my questions were — if not all necessarily answered — at least brought into light.
I must admit that the episode did bare a certain level of disappointment in one area: 'Brainless in Seattle (Part 1)' ended with Clive announcing that he and Liv are now looking for a serial killer. Great! Awesome! Can't wait to see what happens next episode! So I waited… and waited… and waited… and… wait! Is that a fly on the wall?! Did you catch that? That's how quickly the serial killer was caught, arrested, and never heard of again. Now I understand there are far more important plots — such as the brain shortage, Blaine's hunt for Mama Leone and even Major's (Robert Buckley) search for the video of his trainee scratching a human by the name of Tucker — but still, we could've dedicated a little more show time to a serial killer.
'Brainless in Seattle (Part 2)' starts off with a hungry hipster zombie scavenging for food. This harmless "walking dead" individual is then pummeled by some of Fillmore-Graves men because… they could. What ever happened to zombie camaraderie… us against the humans? Clearly there is a class system developing in a "survival of the fittest" kind of way. My prediction? The lower-class zombie population will need to be eliminated, and my guess is that it will be their own who takes them down… maybe that's when we'll see the guillotine from the season premiere come into play.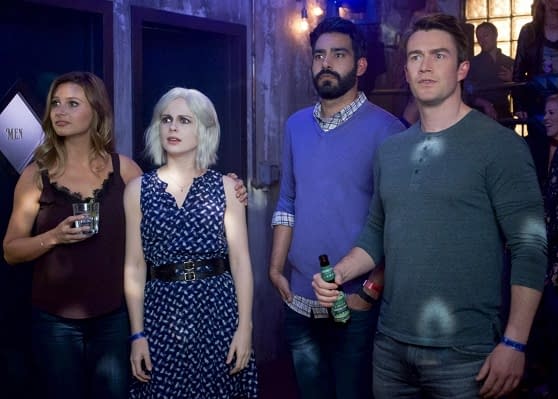 "His forever person is looser than a bucket of fishing warms" – Liv
While much of the zombie population is going hungry and brain rationing is becoming the norm, Liv is still on hopeless romantic brain and trying desperately to create a spark between Clive and a young trainee. Failure is the only option this time, after Clive blows up on her for meddling in his and Bozzio's relationship. Apparently, Clive is very aware that Bozzio is seeing other men; and the two are currently engaged in an "open relationship" — except she's the only one who's "open". I think it might be time for Bozzio to meet an "untimely demise" at the hands of Filmore-Graves men — no need to thank me for the suggested plot twist — because I'm "Team Clive" and find Bozzio to be a useless character.
"They have a video of a Filmore-Graves soldier scratching an unarmed human civilian….. that's America's worst nightmare." – Major
Under orders from Graves, Major is on the hunt for the video that captured his trainee "zombifying" a civilian. As Major begins his search, we see Tucker (aka the new human-turned-zombie) at a bar with his human friends trying to adjust to his "new lifestyle." To his surprise — but not mine — his BFF gifts him a gun and tells him to "do the right thing". Clearly, acceptance is not to be had there, so it looks like it's time for Tucker to find some new friends. So he does, venturing into Angus's church and immediately becoming a follower. Major tracks Tucker and confiscates his cellphone, but not before coming head-to-head with Angus, who labels Major as an "Angel of Chaos". Let's just say that having three dozen or more zombies in a church ready to take your head off can make for a sticky situation.
"Renegade, meet Chase Graves" – Blaine
To my sheer delight, this episode gave us more screen time with and a backstory for Mama Leone, who appears to have been turned into a zombie around the same time as Liv. After consuming some brains, Mama Leone had a vision that runaway kids (from season 1) were being killed for their brains. Trying to do the right thing, she laid out the whole story out for the police, even confessing to being a zombie, too. Needless to say, that did not go well and she was laughed out of the precinct. After her husband Max was mysteriously killed, she was asked to go to the morgue to identify his body — which is where she met Liv. Boom! Connection made!
I have to say, I was very happy with the way the backstory played out: simple, no fuss and establishes her as having her own "quest" while also being a recurring character on the series in a background sort of way. I feel like it allows her to be her own "person" and I'm really looking forward to seeing what journeys she takes us on; though I guess I should probably mention that Blaine (David Anders) captured Mama Leone and — as promised — delivered her to Graves.
https://youtu.be/Rm4t9LvjIwM
"Humans are evolutionary inferiors."- Tim (aka Liv's one-minute "love of a lifetime")
The episode ends with a human/zombie dance-off at Blaine's club The Scratching Post, with everyone merrily dancing to 'Why Can't We Be Friends'. Am I the only one that sees an apocalypse creeping around the corner? It played out like the calm before the storm — think of the band playing while the Titanic sank.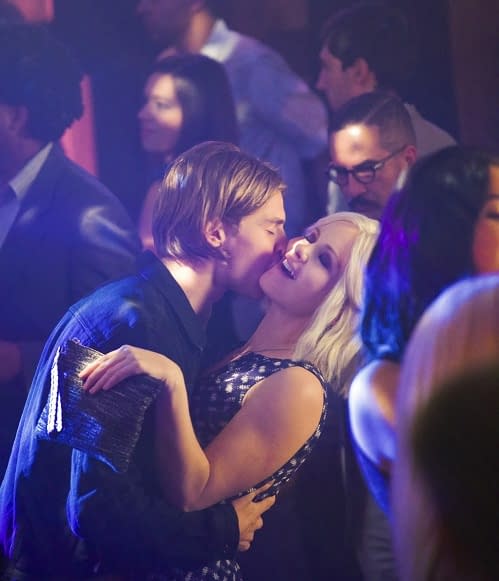 Once again, it's that time when I pay homage to Liv's episodic personality-inducing brain feasts! On this week's menu: still "Cupids Arrow" with "Hopeless Romantic" bite-size brain with lettuce.
https://youtu.be/MU9mWHUqDNo
iZombie 4×05 'Goon Struck': While tracking the murder of a hockey player, Liv (Rose McIver) stumbles onto Chase Graves' (guest star Jason Dohring, Veronica Mars) evil plan. Meanwhile, Major (Robert Buckley) is forced to make a horrible decision. Lastly, Peyton (Aly Michalka) tries to contain a volatile situation.
Margo Staten is a Ukrainian born, raised in Brooklyn organically driven, coffee loving, twice divorced mother of one baby Einstein. Has a passion for books, yoga in the park and all things 80's and New Orleans.