Rick and Morty Fans Might Be Reading Too Much into Dan Harmon's Season 4 Tweet Rick and Morty co-creator Dan Harmon isn't exactly what you would call a "dabbler" in social media interaction, using it to regularly update fans on what's going on in his life both personally and professionally. One thing in particular Harmon has a reputation for: confronting critics online who usually function under the assumption that they can pretty much put out whatever they want without fear of response. Unfortunately for them? Harmon responds.
Case in point: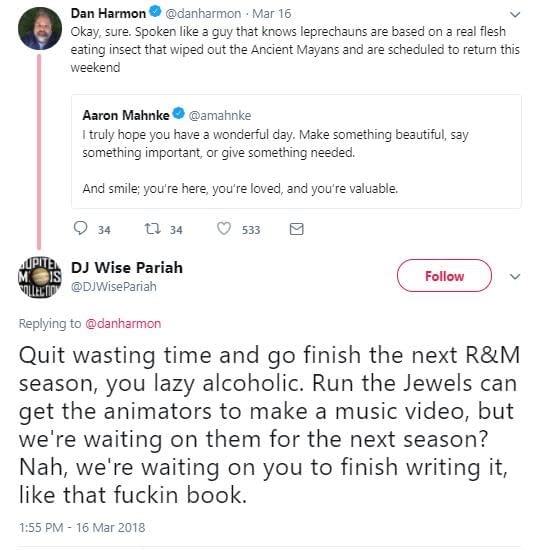 Tweeting a humorous response to Lore podcast creator Aaron Mahnke, a fan criticized Harmon on Twitter for "wasting time" online; and that the writer should "go finish the next R&M season" before making what look like a direct connection between Harmon and Game of Thrones' George R.R. Martin. Which would make one helluva mash-up, but I digress…
So in his typically self-deprecating manner, Harmon raised a point that damn near shattered the internet as we know it: he hasn't started working on a fourth season because Adult Swim hasn't ordered one yet!
Now before we start grabbing the pitchforks and torches and chasing Adult Swim executives into the town square to burn them at the stake, a couple of things to consider.
First, these types of back-and-forth exchanges always occur during these types of contract negotiations — which is essentially what this is. Adult Swim won't fully commit until they get a sense of where things stand from Harmon and co-creator Justin Roiland's production side; and Harmon and Roiland are playing their cards close to see what Adult Swim is putting on the table.
Another thing to keep in mind: this is pretty much standard practice for Adult Swim. The network has a history of delaying season renewal announcements until a certain level of production has been achieved — even if that takes considerably longer time between seasons, which is the last thing fans want to hear. Shows like The Venture Bros and Metalocalypse are perfect examples to make my point.
Last point? Have you been in a Hot Topic lately? With that kind of merchandising — on top of some of the strongest ratings Adult Swim has seen in some time — the possibility of Rick and Morty being cancelled looks really slim.
Earlier this year in an interview with Detroit Cast, Rick and Morty writer/voice actor/producer Ryan Ridley updated listeners on the progress of Season 4 — and it didn't sound promising:
"They really take their time. I never understood why everybody — all parties, Dan [Harmon], Justin [Roiland], and Adult Swim — didn't get their shit together, and make the show fast. I just don't get it. It doesn't make any sense to me. I'm sure they all have their reasons."
Something to keep in mind is that while it's a foregone conclusion — short of creative shutting down the series themselves — that the series will get a fourth season renewal, Adult Swim hasn't officially announced a greenlight for season 4. At the time, Ridley didn't believe that Rick and Morty fans would have anything to worry about regarding the series getting a season 4 thumbs-up; but was less than optimistic about any new episodes in 2018:
"I'm just shocked that it's taking – we got done writing season 3 in November of last year and here we are 11 months later. And then I know how long the show takes to write, let alone animate, so it's just like, I'd be surprised if there was a fourth season on the air any sooner than 2019 – in late 2019."
Created by Dan Harmon and Justin Roiland and premiering in 2013, Rick and Morty has become a ratings, social media buzz and merchandising success story for Adult Swim; with fans so eager for a new season of adventures that conspiracy theories are cropping up everywhere: from a new season being stealthily done for a surprise midnight drop in the summer to the delay being the result of a "secret animated film project" being hammered out. For now, Rick and Morty fans have been content with getting their portal gun fix through Old Spice commercials and music videos from rappers Logic and Run the Jewels.
For his part, Harmon addressed the issue of shorter seasons and the increasing time between seasons during an interview with Entertainment Weekly in September 2017, where he both explained and took responsibility for several concerns; including whether 10 episodes will now be the seasonal standard for episodes to maintain quality:
"I don't think so, but you shouldn't trust me, because I mostly blame myself for doing 10 instead of 14. I'm still learning how to do the show efficiently while catering to the perfectionist in all of us. I would like to think I've learned enough from my mistakes in season 3 that we could definitely do 14 now, but then I have to say, "Yeah but you're the guy who says we can do 14 who turned out to be wrong so we're not listening to you now." The nice healthy way to approach this is I want to prove it with the first 10 of season 4 — prove it to ourselves, to production, to the network — that it's so easy that we'll earn additional episodes. Because I never got this far [working on NBC's] Community. I fell apart in season 3 of Community and got fired in season 4. Now I'm about to do season 4 of Rick and Morty and want to prove that I've grown."
---
---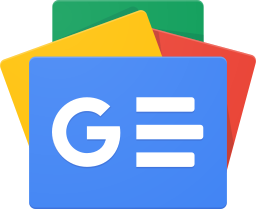 Stay up-to-date and support the site by following Bleeding Cool on Google News today!