Bring Out Your Dead! 810: Bleeding Cool's The Walking Dead LIVE-BLOG!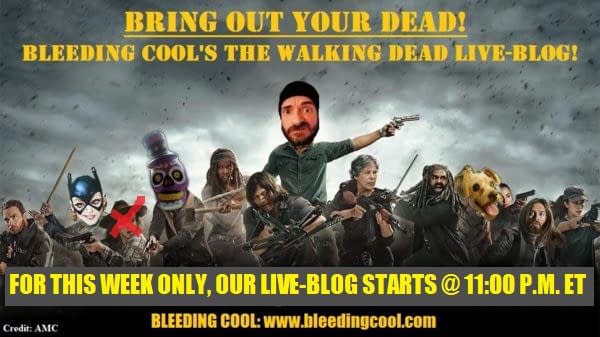 With the last tear shed and the final mound of dirt heaped onto Carl's (Chandler Riggs) final resting place, we welcome all of you back to Bring Out Your Dead!: Bleeding Cool's The Walking Dead Live-blog! Because of our Oscars coverage, our slightly-later-than-usual live-blog will take a look at the tenth episode of the AMC series 'The Lost and the Plunderers':
The Walking Dead Episode 8×10 'The Lost and the Plunderers': Groups unite their forces and converge on the Hilltop. Meanwhile, Aaron and Enid search for allies. Simon takes matters into his own hands.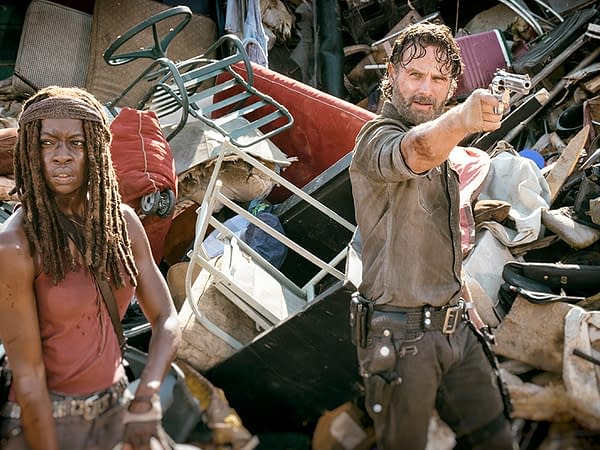 After a mid-season finale that saw Rick (Andrew Lincoln) and his coalition beaten pretty hard but still not broken, a newly emboldened Negan (Jeffrey Dean Morgan) and the Saviors have driven our heroes underground. The Kingdom has been abandoned, with King Ezekiel (Khary Payton) captured. Alexandria burns under Negan's "scorched earth" retribution. The Hilltop readies itself for a final battle. With loved ones lost and emboldened Saviors poised to launch a final strike, our heroes have realize that "It's Time to Finish the Fight!"

● This page should update…but just to be on the safe side I strongly suggest you refresh every now and then to make sure because I've been known to ramble often and quickly.
● If you're going to social media to talk about what we're talking about, go with: #bclive and #liveblog.
● While you're waiting (or if you just need a breather from my raw, uncut cult-of-personality), check out some of the cool The Walking Dead stuff we have for you below.
● So that's it! Welcome to 'Bring Out Your Dead! Your live-blog awaits you here:

Here's a look at our recap of The Walking Dead's mid-season premiere, 'Honor':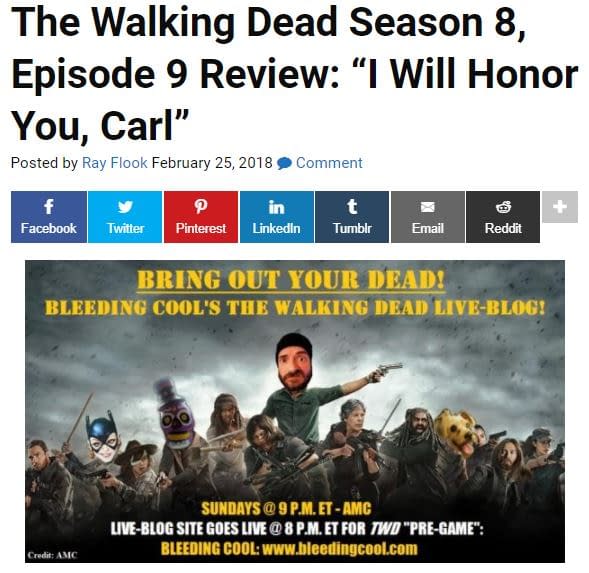 The cast and crew of The Walking Dead relive some of Carl's key moments through all eight seasons of the series as they bid farewell to Riggs:
The Walking Dead stars Andrew Lincoln (Rick Grimes), Jeffrey Dean Morgan (Negan), Norman Reedus (Daryl Dixon), Lauren Cohan (Maggie Greene), Danai Gurira (Michonne), Melissa McBride (Carol Peletier), Lennie James (Morgan Jones), Seth Gilliam (Father Gabriel Stokes), Alanna Masterson (Tara Chambler), Khary Payton (King Ezekiel), and Chandler Riggs (Carl Grimes); with Gale Anne Hurd, Greg Nicotero, David Alpert, out-going showrunner Scott M. Gimple and franchise creator Robert Kirkman serving as executive producers.