SDCC '15: Hall H – Pride and Prejudice and Zombies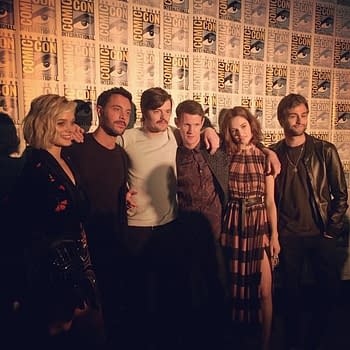 This coverage goes out to my 11th grade English teacher. She assigned the class Pride and Prejudice, and I never read it. I didn't find it relatable or interesting. I would not have made a good Victorian. But what an age we live in. Now, we can get our Pride and Prejudice with a helping of Zombies. Next up is the Hall H presentation of Screen Gems'
Pride and Prejudice and Zombies,
adapted from the novel by Seth Graeme-Smith, which itself was adapted from Jane Austin's
Pride and Prejudice
. Glad we cleared that up.
We're first treated to a trailer. The trailer begins with Mr. Darcy at a Victorian drawing room party, complete with bustiers and monocles. Mr. Darcy releases some flies from a bottle, to detect the presence of undead flesh. They soon settle on one gentleman, and the Merchant Ivory veneer of antiquated civility falls away. We are introduced to a very different Bennet sisters, who are hardened fighters. Whereas most scholars look at Victorian women's clothing as constraining and overly conservative, these Bennet sisters use the fashions of the time to conceal swords and daggers
This is a film that plays as a straight period drama, except with zombies. At no point in the trailer did any actor wink at the screen or otherwise acknowledge the absurdity of the premise. It is exactly what it promises. Mr and Mrs. Bennet are still trying to marry off their daughters, only amidst a zombie apocalypse. The zombies in the film appear to be less the Romero/Walking Dead type and more of an iZombie "we're just normal folk who eat flesh" kind. They appear to possess some level of intelligence and can generally "pass" as living, so as to not offend Victorian senses of propriety.
Pride and Prejudice and Zombies comes out on Feb 6, but I'm not going anywhere! Follow me @notacomplainer.