What Higher Power is Keeping John Cena and Nikki Bella from Getting Back Together?!
Bleeding Cool has been closely following the pro wrestling angle of John Cena and Nikki Bella's breakup. Cena proposed to Bella at WrestleMania 33 after years of claiming he would never marry her on the Total Divas reality show. All seemed to be going well until weeks before a planned May 5th wedding (and upcoming season of Total Bellas), when Cena and Bella suddenly broke off their engagement. Bella moved into a hippie commune with her sister Brie, while Cena began appearing daily on NBC's Today to profess his love to Bella. Cena even said he'd be willing to have children with her, resolving a longstanding storyline on Total Divas and Total Bellas.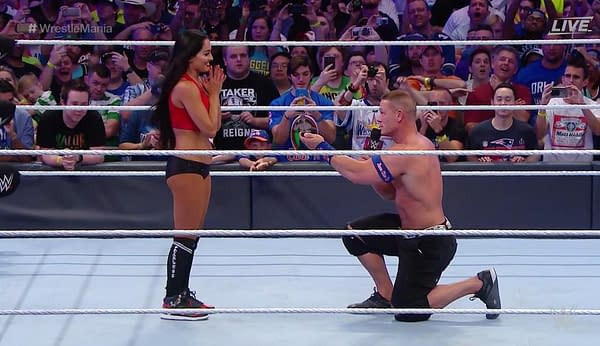 At first, we assumed this would be a straightforward breakup/reconciliation story in the vein of Macho Man Randy Savage and Miss Elizabeth or Kenny Omega and Kota Ibushi, but things took an unexpected turn today when the Bella Twins appeared on Today to say that she, too, wants to get back together with Cena.
"You guys know this, John is absolutely an amazing man," Nikki Bella told hosts Kathy Lee and Hoda (as transcribed by Wrestling Inc). "He's such a sweetheart and I truly love him so much. He's my best friend. You know, a lot of us that go through the wedding planning process, we have to kind of face these issues that we have hiding down deep inside and I just know that a healthy me will be a healthy us. I do have hope for our future but I know right now I need to work on me and before I do say those vows and walk down that aisle, I just don't want to be hesitant, I don't want to be regretful."
"I think when you sacrifice for so long and it's like you can give so much and then you kind of get tired of giving, and then someone wants to give it back and you just start to feel exhausted," Bella continued. Asked if she'll get back together with Cena, Bella replied, "I definitely have hope, I really do."
What secrets does Bella need to face before she can reunite with the man she describes as her "best friend?" Is some higher power* manipulating Bella behind the scenes, preventing her from fulfilling her life's dream of having babies with a man who holds a doctorate in thuganomics? And who was driving the damn white Hummer?!?! The answers to these questions and more, we imagine, can be found in the upcoming season of Total Bellas, which premieres on May 20th.
*awwsonofabitch!