Adam Savage Has New Series Coming to Science Channel This June!
We've been hearing rumblings of something new coming from Mythbusters alum Adam Savage; a new series tying together his love of building things, films, and science.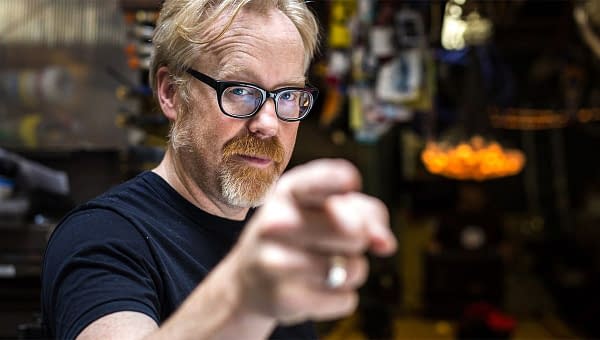 According to Savage himself this morning on Twitter, it'll be a new series on the Science Channel called Savage Builds.
I can't wait to show you guys what I've been working on! I can finally tell you that the show is called #SavageBuilds, and that I worked with some of my favorite & amazing minds on it, including @SimoneGiertz @ToryBelleci @steltzner Peter Jackson, @laura_kampf and others. [1/2} pic.twitter.com/WJA2MgUT39

— Adam Savage (@donttrythis) April 24, 2019
#SavageBuilds is the best thing I've yet made and produced and it's about absurd engineering (the type I'm most experienced with). We made real IRON MAN ARMOR. We played laser tag with WW1 AIRPLANES. We had fun. Hopefully you will too. Coming in June to @ScienceChannel. [2/2] pic.twitter.com/gdQEPu7395

— Adam Savage (@donttrythis) April 24, 2019
Zach built a lovely & complex rig for us, with 40 some-odd separate parts, custom engineering on multiple devices, delicate mounting problems on priceless objects, and holy hell did we have fun. That's all I can say. https://t.co/zwbjPoxsgA

— Adam Savage (@donttrythis) April 24, 2019
We're pretty excited for this, being HUGE fans of Adam's incredible creations. (Like the times he cosplays at SDCC and other events but doesn't reveal what he's wearing til AFTERwards)
Adam says that Savage Builds is coming to the Science Channel in June, and that we'll be seeing at least one other Mythbuster make an appearance.
We'll let you know what else we hear about the series.