AEW Dynamite 6/24/20 Part 1: FTR, SCU & Return of the Lucha Bros
It's a live episode of Dynamite… the last one for a while? Earlier today we learned that WWE had at least three confirmed coronavirus cases, and now some rumors are saying the number could actually be much higher. As a result of that, it seems, Jon Moxley (who is connected to WWE by way of being married to Renee Young) had to drop out of Dynamite. QT Marshall also dropped out tonight because he was in contact with somebody with COVID, though that person was not part of the wrestling business. On the bright side, AEW has been testing everyone at it's TV tapings every time, which is much better than WWE, who were not only not testing beyond temperature checks, but also started letting in a limited number of fans two weeks ago. Florida, where both AEW and WWE film, is currently in the middle of an explosion of cases due to thoroughly lackluster handling of the pandemic. It's only going to get worse from here.

Wardlow and Luchasaurus is the opening match tonight. It's ostensibly a lumberjack match, but when Luchasaurus is thrown out, nobody wants to touch him. Guys, it's a little too late to practice social distancing. If anyone can beat the coronavirus, it's these two bosses. What a match! Wardlow looks really good in the ring. Luchasaurus is also very athletic for his size, but we know that already. Wardlow, we don't get to see wrestle that often. JR notices too, praising Wardlow's performance and suggesting he may not be MJF's lackey for much longer.
Things break down in the match when Wardlow slams Lucharaurus on the stage. Jungle Boy jumps up to check on his friend, and Wardlow tosses him into the heel side of the lumberjacks. Marko Stunt takes that opportunity to dive into the heels as the battle moves to the top of the stage. Brandon Cutler tries to do his actual job as a lumberjack and bring these guys back in the ring, but gets tossed into the crowd by Wardlow. Marko Stunt tries too and gets gorilla pressed into the crowd. Luchasaurus kicks Wardlow off the stage with a roundhouse kick and then hits a shooting star press off the stage onto everyone. It's anarchy! Or at least, it must be, because the ref should have counted these guys out about three minutes ago.
Back in the ring, Luchasaurus might have won with a chokeslam but MJF distracts the ref. Jungle Boy is quick to take out MJF, but that gives Wardlow a chance to hit a low blow and the F-10 for the pinfall. Afterward, MJF and Wardlow brawl with Jurassic Express and all the lumberjacks run in to break it up. I can't decide if this was a great match or a super-spreader event. Time will tell.
Now we get a segment called Technique by Taz, focusing on Brian Cage. Taz examines Cage's offense and explains how it works, a lost art in wrestling today. Cage will be in action on Dynamite tonight. Brodie Lee and Colt Cabana will take on Sonny Kiss and Joey Janela. Santana (in place of a suspended Sammy Guevara) will take on Matt Hardy. SCU will face FTR (since the Natural Nightmares had to cancel due to Marshall's situation). Orange Cassidy and Chris Jericho will be face-to-face tonight. Hikaru Shida will be in action, and Cody and Jake Hager will host a press conference.
Time for a commercial? Not yet. Tony Schiavone calls attention to his good friend Britt Baker, who has moved out of her ringside golf cart and into a plexiglass case, complete with security guards. Let's see Big Swole get through that! Okay, now it's time for commercials.
After the break, AEW Women's Champion Hikaru Shida comes out for a squash match. She stops on her way to the ring to talk trash with Penelope Ford, which almost ends in a Singapore cane beating for Ford. Shida takes to the ring for a quick match with Red Velvet, which she wins with the Falcon Arrow, the second move of the match. Then Shida jumps outside and goes after Ford. Sabian tries to get involved and gets punched in the face. At one point Ford throws a punch at Shida that hits Ricky Starks, who is holding Shida back, right in the eye. Starks ended up getting the worst of the entire exchange, entirely by accident. Eventually, the fight is broken up.
Now it's time for this press conference, which was recorded earlier today, promoting Cody vs. Jake Hager. Cody has his whole team onstage. Arn Anderson rambles on for a while about how badass Cody is. Cody talks about what it feels like to be the first TNT Champion. He puts over Ricky Starks. He says Ricky had less than four dollars in his checking account when he came to Dynamite and left with a job. Cody says that's the American Dream. That's hope. Is Cody running for president or something? Cody puts over professional wrestling, old school style. He also puts over the title, which he points out is incomplete.
Finally, Jake Hager shows up with his wife, so Cody can stop stalling. Hager and Cody face each other at the podium for photos. Hager poses with his fist in Cody's face, which Cody doesn't like. Then Hager's wife throws a drink in Cody's face. Hager and his wife leave. That was kind of a waste of time, but I guess they did lose Moxley tonight and had to fill it with something. Dynamite takes another commercial break.
After the break, we get another skit featuring Sonny Kiss and Joey Janela, the hottest new tag team in AEW that hasn't wrestled a match yet. Sonny is trying to help Joey get his confidence back. He lets Joey drive his white convertible. They stop at a gas station and Joey goes in the store to pick up some food. Outside, some crooks try to steal Sonny's car, so he starts kicking their ass. Joey comes out and joins in. Afterward, they laugh and drive off together. These skits are fun. This team is interesting. But god damn, nobody at that gas station was wearing a mask! F**king Florida.
Now it's time for Kiss and Janela to take on Brodie Lee and Colt Cabana. Kiss gets some offense in on Lee at the beginning, but it doesn't last long. Janella doesn't fare much better against Lee. Things change when Cabana tags in. Cabana is totally outclassed as Kiss and Janela show off some tandem offense, but Lee comes in illegally to kick some ass and put things back under Cabana's control as Dynamite heads to commercials.
After the break, Janella and Kiss pretty much show off their offense on Cabana, with Kiss keeping Lee from getting in the ring by continuously knocking him to the floor. At one point, Dark Order lackeys pull Cabana out of the ring and that's the turning point. Kiss and Janella hit dives to the outside, but Lee takes control, brings Janela in for a discus clothesline, and allows Cabana to get the pin on him. Cabana is pleased with this situation.
I was skeptical this match could end without making one of the teams look bad, but I was wrong. Kiss and Janela got to show off for basically the entire match, and Lee got to cheat and get Cabana a much-needed win afterward. After the match, Lance Archer comes out of the crowd with Jake The Snake to attack Kiss and Janela. We see a recap of AEW Dark last night wherein Tully Blanchard helps Shawn Spears cheat with a foreign object to defeat Pineapple Pete. Then it's time for more commercials.
Dynamite comes back with a tag team match between SCU and FTR to take us through the top of the hour. Don't even think about changing that channel to NXT! Seriously though, why would you need to change the channel in the age of DVR? FTR foes their entrance where they pull up in a truck. They walk past Britt Baker in her popemobile to the ring. Britt is seen writing a note, which she passes to Tony. It reads, "FTR can GTFO if they can't stop and say hi to the face of the women's division." You know what, she has a point. That was pretty rude of them.
It's Christopher Daniels and Frankie Kazarian competing on behalf of SCU tonight, in case you were wondering. During the match, Excalibur actually brings up the fact that QT Marshall had to duck out of Dynamite tonight thanks to coming in contact with someone with coronavirus. Jim Ross appeals to viewers to wear their masks, saying the virus is non-partisan.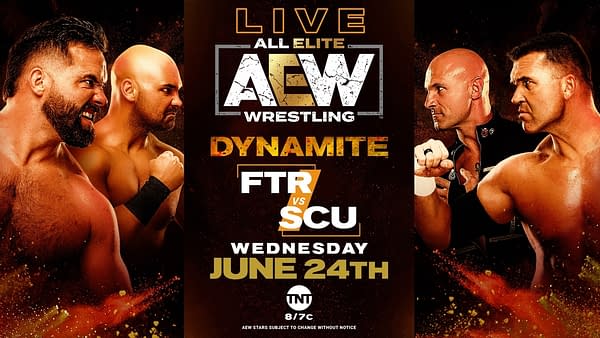 The match is good. So good, Tony and JR can't stop talking about how FTR remind them of Arn Anderson and Tully Blanchard and extolling the virtues of good old-fashioned tag team wrestling. You know JR means it because he's unable to hide it when he doesn't like what he's calling. Tony, of course, is an expert on selling any amount of garbage as the GREATEST NITRO EVER back in the day, but even still, you can tell when he's enjoying himself with JR.
There's lots of tandem offense. Lots of tag team strategy. Lots of near falls. Lots of folksy cliches spouted by JR. FTR, as expected, get the win with the Midnight Express.
Dax Harwood says that FTR weren't a welcome addition to the roster. He even says they may not have the athletic background JR likes (hey, he was putting you over all match long!). But they're the baddest of the bad. Dax calls out the other tag teams in AEW. Now they're playing with the big boys, and they bit off more than they can chew. While they're talking, The Butcher and the Blade take control of FTR's truck. Holy crap, these guys are actually going to talk?! They challenge FTR and the Young Bucks to an eight-man tag against themselves and the Lucha Bros at Fyter Fest. Speaking of whom, the Lucha Bros have appeared behind FTR. They attack and get the better of FTR, but they're chased off by the Young Bucks.
The Lucha Bros jump in FTR's truck with The Butcher and the Blade and ride away. This seems as good a time as any for me to turn this over to editors and get started on part two of this report, so I'll see you there.