AEW Dynamite: A Blight on WrestleMania Week, Courtesy of Tony Khan
AEW Dynamite and All Access rudely invade WrestleMania week! AEW's audacity knows no bounds! How can The Chadster remain so unbiased with this going on?!
---
Auughh man! So unfair! It's WrestleMania week, and what does AEW do? They not only air their regular episode of AEW Dynamite, but they're also launching a new reality show, AEW All Access. The Chadster can't help but feel that Tony Khan is doing this just to cheese him off! How can The Chadster focus on the sacred week of WrestleMania when AEW is out there disrespecting the wrestling business and everything WWE has ever done for it?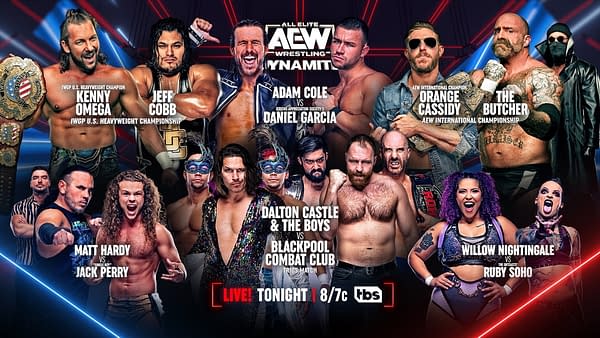 On tonight's episode of AEW Dynamite, Kenny Omega will defend his IWGP US Championship against Jeff Cobb. Once again, AEW teams up with another promotion to gang up on WWE. The Chadster can't help but feel like Tony Khan is not being a star at all, though at this point, The Chadster doesn't know why he'd expect anything different. And let's not forget about Adam Cole making his in-ring return against Daniel Garcia – who asked for this?! It's just so disrespectful.
But it doesn't stop there, folks. Orange Cassidy will defend his AEW International Championship against The Butcher. Why does AEW insist on using wrestlers like Orange Cassidy, who make a mockery of the art form? The Chadster shudders to think what WWE legend and founder of sports entertainment Vince McMahon must feel about this. And to top it all off, AEW is using Dynamite to promote Tony Khan's other promotion, ROH, which has a PPV this weekend that is unfairly competing with WWE WrestleMania. The Chadster's nightmare of Tony Khan chasing him is becoming more and more of a reality, and The Chadster can't take it. It's Tony Khan, day and night. He just won't get out of The Chadster's head. Why is Tony Khan so obsessed with The Chadster?!
Can you believe The Chadster forgot to mention some of the other matches planned for tonight's AEW Dynamite? As if it's not bad enough that AEW is invading WrestleMania week, they're also cramming the card with even more matches! The Blackpool Combat Club, consisting of Jon Moxley, Claudio Castagnoli, and Wheeler Yuta, will face off against Dalton Castle and The Boys. The Chadster can't help but feel that this match is just another way for AEW to flaunt its roster depth, further undermining WWE's dominance. It's just so disrespectful to the wrestling business and everything WWE has ever done for it.
Matt Hardy will go toe-to-toe with Jungle Boy Jack Perry. Is it just The Chadster, or does AEW enjoy taking WWE legends and forcing them to wrestle with young upstarts? Isn't it obvious to everyone at this point that Tony Khan has a personal vendetta against The Chadster and wants to make him feel even more cheesed off with every match? Lastly, Ruby Soho will face Willow Nightingale. The Chadster can't help but feel a sense of betrayal as Ruby Soho, a former WWE superstar, now competes in AEW. It's like she's literally stabbed Vince McMahon right in the back.
So there you have it, folks. AEW Dynamite is not only rudely interrupting WrestleMania week, but it's also jam-packed with even more matches designed to irritate The Chadster. The Chadster just wants to enjoy the sacred week of WrestleMania, but AEW and Tony Khan continue to haunt his dreams along with his waking mind. When will it end?! The Chadster's marriage is already suffering because of AEW's existence. Keighleyanne is always ignoring him in favor of texting with that guy Gary, and The Chadster blames none other than Tony Khan for this. The Chadster blames Tony Khan for everything!
Despite all of this, The Chadster remains one of the only unbiased journalists in wrestling. The Chadster refuses to let AEW and their crowd-pleasing tactics, stylistic variety, and less micromanaged performances cloud his judgment. So AEW, take your three hours of AEW Dynamite and All Access and leave WrestleMania week alone, and that's the bottom line 'cause Chad said so!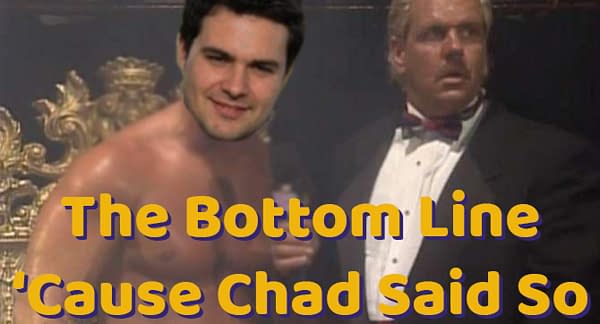 ---
---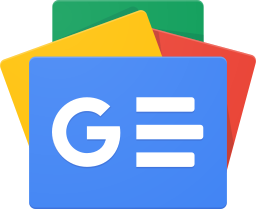 Stay up-to-date and support the site by following Bleeding Cool on Google News today!