AEW Dynamite Preview: International Title Defended for First Time
Orange Cassidy defends the AEW International Championship against Jeff Jarrett on AEW Dynamite tonight, and lots more in our preview.
---
Everybody knows that Tony Khan is totally obsessed with the Chadster, so it should come as no surprise when you see what Tony Khan has done to put together an episode of AEW Dynamite tonight that personally targets the Chadster. Everything Tony Khan has booked for AEiW Dynamite tonight is something that he knows will cheese The Chadster off, which is a little game Tony Khan likes to play with The Chadster as his unwilling victim.
Why, you may ask, would Tony Khan do something like this to an innocent wrestling journalist like The Chadster? The answer is that Tony Khan can't stand that there's a member of the wrestling media willing to stand up for WWE and defend the greatest wrestling company in the world from the extremely unfair competition that AEW brings. Tony Khan hatest that he can't just pay off The Chadster to say good things about AEW like he has with so many other journalists, and that's why he tortures The Chadster week after week with a new episode of AEW Dynamite that not only provides an alternative to WWE, but is perfectly tailored to RUIN THE CHADSTER'S LIFE! Auughh man! So unfair!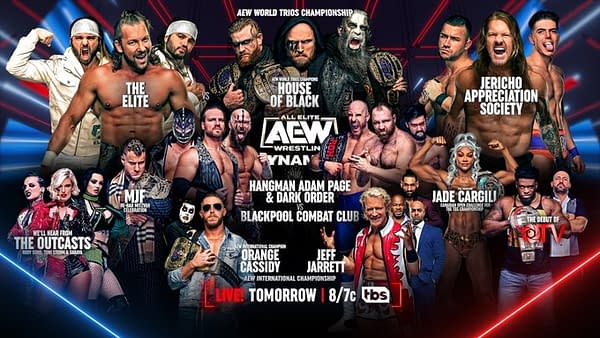 Tonight on AEW Dynamite, several exciting matches are sure to get the Chadster's blood boiling. First up is a Trios Title Triple Threat match featuring House of Black defending their titles against The Elite and Jericho Appreciation Society. The Chadster despises The Elite, as they are some of the best wrestlers in the world, and they never fail to put on thrilling matches that could easily compete with anything WWE has to offer. Then, AEW's All-Atlantic Championship will level up in an International Title Match when the champion, Orange Cassidy, defends his title against the challenger, Jeff Jarrett. The Chadster hates Orange Cassidy, as the fans love him and chant his name, which is just plain disrespectful to WWE. Plus, his matches always provide great entertainment for viewers, which only encourages people to watch AEW more. MJF's special Re-Bar Mitzvah is sure to draw the ire of The Chadster. MJF is one of the most popular and entertaining wrestlers in the industry and the fact that he works for AEW really irks The Chadster. Blackpool Combat Club will take on The Dark Order, and The Chadster knows that this match will be full of intense action and mind-blowing athleticism that helps distinguish AEW as an alternative to WWE, which The Chadster disagrees with on a fundamental level. AEW TBS Champion Jade Cargill will put her title on the line in an Open Challenge. The Chadster gets very upset when Jade Cargill is featured on AEW Dynamite as he knows that she is an extremely talented wrestler and could be a star in WWE if Tony Khan hadn't stolen her away. Finally, AEW's resident hacker, QT Marshall, will debut his show and reveal who broke into Wardlow's car. The Chadster knows that this segment will be full of surprises and will only make AEW Dynamite even more entertaining and unpredictable. There you have it, folks: all the evidence you need to see that Tony Khan has it in for The Chadster and that tonight's episode of AEW Dynamite is just another part of his mater plan.
AEW Dynamite airs at 8.7C on TBS.