AEW star Kenny Omega took the current ongoing pro wrestling Twitter rumble to the next level on Wednesday, calling out competition WWE for its deal with the Saudi Arabian government and accusing the company of attempting to undermine AEW's upcoming Fight for the Fallen event, a show taking place in Jacksonville, Florida in July for which part of the proceeds will be donated to victims of gun violence.
In a now-deleted tweet, Omega said, "If lining your pockets with blood money is okay, then what's wrong with trying to undermine a charity show for victims of gun violence?" WWE has been criticized recently for agreeing to a very lucrative ten-year deal with the Middle Eastern country despite its government's objectively terrible human rights record. Criticism intensified after the murder of journalist Jamal Khashoggi. "I hear that healthy competition is supposed to be a good thing and yet I can't help but feel like I'm gonna be sick."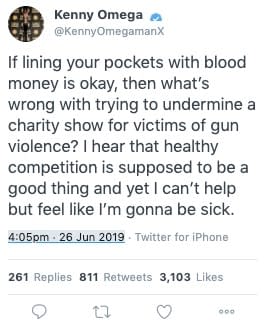 After deleting the tweet, Omega went on to clarify that it was directed at "decision-makers" in WWE, not at the company's wrestlers or fans.
I've said my piece and it opened the door to a very toxic environment. It wasn't a message to fans, or the boys, just the decision makers. I wish everyone wrestling on any show that day all the best. That is all.

— Kenny Omega (@KennyOmegamanX) June 26, 2019
While Omega was not specific about what the original tweet was in reference to, he tweeted it shortly after WWE announced plans to stream Evolve 131 on the WWE Network opposite Fight for the Fallen on July 13th. While some proceeds from live attendance at Fight for the Fallen will be given to victims of gun violence, the event will be live-streamed for free, but it's unknown whether AEW plans to attempt to raise more money by encouraging viewers to donate to the charity during the broadcast.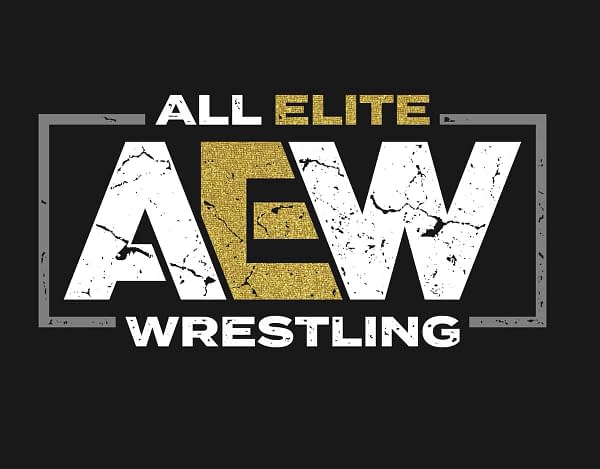 Enjoyed this article? Share it!