AEW Star Chris Jericho Feuds with WWE's Sasha Banks Over TV Ratings
The inter-promotional, inter-gender pro wrestling feud we all deserve has kicked off between AEW legend Chris Jericho and WWE Tag Team Champion Sasha Banks. This feud isn't taking place in a wrestling ring, but rather in the social media equivalent of a Judy Bagwell on a Poll match, Twitter. And it's not a battle over championship gold, bragging rights, or even a spilled cup of coffee, but rather over the only thing that truly matters in the wrestling business: TV ratings.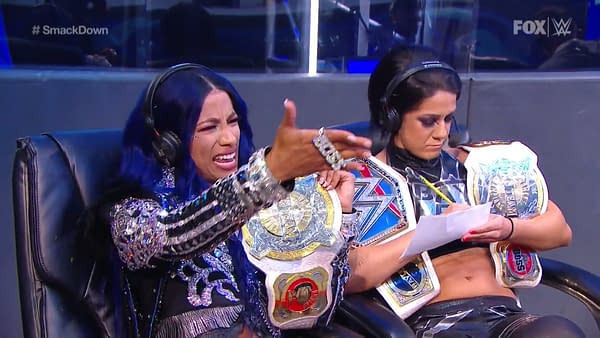 Sasha Banks took to Twitter to tout the ratings for her match with tag team partner Bayley against Tegan Nox and Shotzi Blackheart in the main event of the most recent episode of NXT. It defeated Chris Jericho and Sammy Guevara's tag team main event on AEW Dynamite against The Best Friends. For the first time in AEW's history, more people watched the segment on NXT than watched an AEW segment featuring Chris Jericho, prompting Banks to rightfully claim bragging rights.
"We're better than #LeSexGods," Banks tweeted, referring to Jericho and Guevara's tag team name and citing the viewership victory of her segment over Jericho's on Dynamite.
But The Boss's victory may not have been as clean as it first seems. Jericho responded to Bank's tweet by pointing out that though NXT may have won the viewership total for the segment, it was Jericho's match, which won the Adults 18-49 demographic, which is the rating number paid most attention by networks and advertisers.
"Congrats guys, proud of you!" Jericho tweeted. "But don't forget to add that you got SMOKED in the all-important p18-49 demo (which is what advertisers care about the most) 367k to 264k! You did good…Just not good enough! 😉"
It looks like this feud is far from over, which means it will have to continue in the best way possible: by having Jericho and Banks main event opposing segments on AEW Dynamite and NXT for many weeks to come. In that case, the real winner of this feud will be the fans.