This article contains spoilers for Altered Carbon episode eight – Clash by Night.
.
.
.
.
.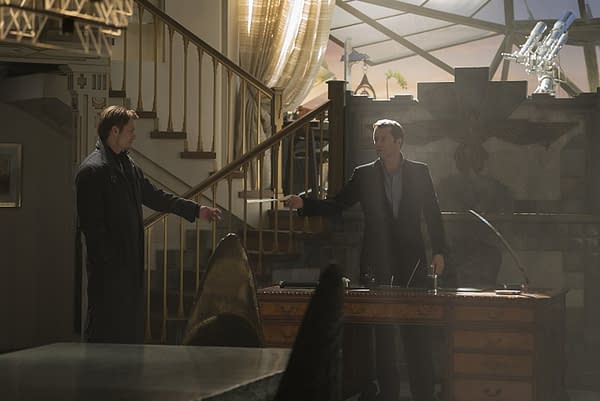 This episode picks up just after Kovacs (Joel Kinnaman) found out that his sister Reileen (Dichen Lachman) is the one that sold the Envoys out to the Protectorate and got them all killed. He also finds out that she has multiple sleeves and has been keeping tabs on him. And that the ghost walker works for her, and he thinks she's a god. And they say you can't find good help these day. Reileen wants Kovacs to close the Bancroft case, find a pasty if needed. She threatens people like Vernon Elliot (Ato Essandoh) and Kristin Ortega (Martha Higareda) if he doesn't. He agrees and tells her he needs a dipper (their version of a hacker). They get Ava Elliot out of the stacks and drop her into the body of a guy (Cliff Chamberlain). Which makes for an awkward moment when she sees her husband again. But when they go into VR to see Lizzie (Hayley Law), she recognizes her mom even in the new skin, and then is open to seeing her dad. Poe (Chris Conner) has made great strides with her. Though her parents aren't sure about teaching her to fight and hurt people.
Kovacs has to chase of Ortega and does so by being rude. Telling her there was not feelings between them and he'll get out of the Riker sleeve soon. She, obviously upset, is put on leave with the department because of the fight they were in. She keeps working with Micky (Adam Busch) and gets a lead on Reileen that leads to Psyclosec, where the clones are kept. Back with Kovacs, his plan is to take the virus the Protectorate used on the Envoys and infected sex club, which is Poe's job while playing poke at the AI Club. Then Ava puts together footage of Bancroft walking into the infected club the night of his suicide. Kovacs then meets with Bancroft (Jame Purefoy) asking for Miriam (Krisitn Lehman), Isaac (Antonio Marziale), Captain Tanaka (Hiro Kanagawa), Curtis (Zahf Paroo) and Prescott (Tamara Tyler) all to be present. Reileen is there as well in her Clarrisa (Anna Van Hooft) sleeve. Kovacs runs the story, that Prescott traveled to Osaka with Bancroft and was angry at his son. He took it out on Prescott who was wearing a body that looked like a younger Miriam, the type of girl Bancroft like to rape and kill. Kovacs said Bancroft fired her and she had to sign for the damages to the sleeve herself, then showed a faked receipt. He said that she then she infected the club Bancroft went to, by the time he got home, he knew he was infected and was going to kill that body before it pincast and infected his backup. Prescott kept him from doing it until she thought the pincast went through, then killed him herself. Bancroft adds that he must have pretended to have the pincast go through to make her kill him early. Everyone buys the story, Prescott is not arrested but Bancroft promises to take away everything she owns including her license to practice law and she'll never leave the ground again.
Reileen is happy, Bancroft pays off Kovacs and gives him his pardon and all is done. Except Kovacs decides to look through the telescope at whatever Bancroft was looking at the night he died, sees a sex club called Head in the Clouds and all the pieces start falling into place… that his lie was so convincing because it was based on partial truths. Meanwhile across town Ortega gets an employee of Pyschlosec to let her into the unmarked vault and she finds a bunch of clones of Reileen. She is then locked in the room as one clone after another wakes up and attacks her. She is wounded but able to fight them all off thanks to the new arm. After defeating all the clones, a door opens and she finds a little girl crying, the little girl sleeve Reileen uses.
As far as the series had strayed away from the novel up until now, this episode brings it back in line to have the same conclusion. Not sure if it will, but it is possible. The major difference between the show and the novel this episode has to do with using Prescott as the patsy. In the novel there is no patsy, the club being infected is enough to convince Bancroft and the reveal takes place alone, not in front of a group. This scenario was a bit more elaborate, but it played well in the scene. The fight scene between Ortega and Reileen doesn't happen in the book either, but it's pretty entertaining as the clones keep waking up and then dying. Not sure what the little girl angle is, completely unique to the series.
Back to the binge.
Enjoyed this article? Share it!