'American Gods' Season 2, Episode 7 "Treasure of the Sun": A Swan Song for Mad Sweeney [SPOILER REVIEW]
Last week's episode of STARZ's American Gods' second season left both sides of the old gods/new gods war with a little something of what they wanted. For the old gods, Wednesday (Ian McShane) and Shadow (Ricky Whittle) walked away with a newly-rune-recharged Gungnir (thanks to the stylings of Lou Reed); while World (Crispin Glover) saw New Media (Kahyun Kim) bring some righteous social media fire power down on the side of the new gods. Weaving through it all? A tale of Wednesday, his son Donar aka Thor (Derek Theler) and the mistakes parents make when trying to "do right" by their children – proving even gods aren't immune from repeating past mistakes.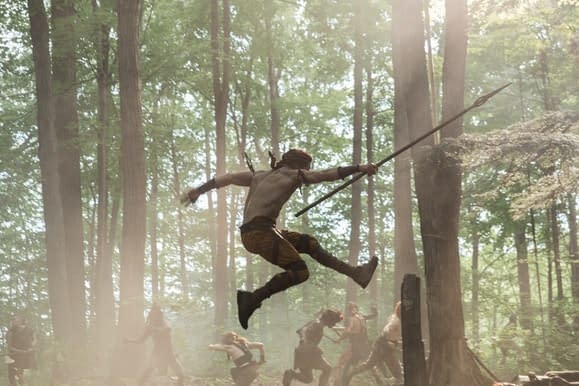 Which bring us to this week's penultimate episode (already?!?!?) "Treasure of the Sun," where the war between the old and new gods appears to be taking a backseat to turmoil within each respective camp – or at least when it comes to the old gods. Mad Sweeney's (Pablo Schreiber) had enough of his "servitude" to Wednesday – and has some truths to share with Shadow. Meanwhile, looks like Laura's (Emily Browning) learning she might be a bigger player in this game than she realized – as familar faces converge in Cairo.
American Gods Season 2, Episode 7 "Treasure of the Sun": In Cairo, Mr. Wednesday entrusts Shadow with Gungnir. Mad Sweeney, plagued by the cries of Banshees, recalls his journey through the ages as he awaits his promised battle, and once again, warns Shadow about Wednesday. Meanwhile, Laura receives sage advice from Mama-Ji, and Bilquis finds an audience.
Well, now we know why Showtime went after Schreiber to lead their upcoming Halo series…
Directed by Paco Cabezas and written by Heather Bellson, "Treasure of the Sun" was the perfect vehicle for Schreiber's Mad Sweeney to shuffle off this godly coil. One of our favorite characters from the start of the series, our biggest concern this season was that Mad Sweeney would end up becoming the nothing more than Laura's sidekick and slapstick comedic relief – and that trip to New Orleans they made in "The Ways of the Dead" did nothing to ease those concerns. But this Mad Sweeney? This Mad Sweeney was no one's joke… no luckless leprechaun… no lapdog for Wednesday.
This Mad Sweeney – as we are so efffectively reminded both through words and actions – is Ireland's forgotten warrior god-king Lugh, who drove any and all gods from his country's shores – and only to be cursed into madness and to lose everything. Or at least that's what we're supposed to believe – but can we be so sure? As Mr. Ibis (Demore Barnes) so wisely reminds us, "Stories are truer than the truth. A storyteller does not concern themselves with the truth." Mad Sweeney's been a stotyteller among storytellers, so much so that he isn't even sure what's true and what's a broad narrative quilt of truths, half-truths, lies, and wishful thinking. Somewhere within that tapestry lies a truth too painful for Mad Sweeney to confront (a very human quality for a god-king) so it remains hidden beneath the threads. Schreiber portrays Mad Sweeney as someone who's in on the joke – even when the punchline hurts – and while he may have lost sight of his own past, he controls enough of his own narrative to still maintain mastery of his own story… his life.
Which leads to Mad Sweeney's other moment of control: how he dies. With the cries of the banshees signaling death coming for "someone" (no surprise), we learn that his first instinct is to grab the next bus out of Cairo – but running and avoiding got him into this position. Into Wednesday's grasp. So instead, he wages his true "final battle" with Wednesday, looking to advise Shadow to be cautious and stay out of what was about to come – which he didn't… or couldn't. Mad Sweeney makes a go for Gungnir to put down Wednesday, Shadow engages – and as the dust-up settles before a clearly entertained Wednesday, Mad Sweeney is left impaled on Gungnir.
But not dead – at least not yet – and in those moments, Schreiber brought back Mad Sweeney's godliness. In that moment of death, Mad Sweeney used the only power he had left: the truth about Wednesday, and how he's been manipulating Shadow and Laura's lives from the beginning. While there's still some lingering doubt in Shadow's mind by the end of the episode (cover that in a minute) over whether or not Mad Sweeney's telling the truth – it created doubt. A crack in Wednesday's carefully cultivated plan. But Schreiber's Mad Sweeney was never really about the metaphorical victories, which is why you can see a glint of first-season Mad Sweeney when Wednesday's prized spear goes bye-bye, with nothing more than coins in its place:
"Your spear is the sun's treasure now, you one-eyed cunt."
Mad Sweeney's final middle finger to new gods… old gods… and Mad Sweeney. He died the warrior god-king he believed himself to be – and very well might have been.
● So what's the deal with Shadow this season? He's coming across a little too dim and naive for someone who's seen and experienced as much as he has. Is this actually leading to something or a misread on his character this season? This isn't a slight against Whittle, who's been doing some amazing work this season: this is more directed at the inconsistencies in how the character's been written. I'm hoping there's more to this, because even Mr. Nancy (Orlando Jones) mentions it in the promo for season finale "Moon Shadow" (check out the preview image and episode synopsis below).
● The moments between Laura and Mama-Ji (Sakina Jaffrey) were particularly effective, a strong back-n-forth between two great actresses that added layers to where Laura's road might be heading
● Yetide Badaki has been chewing up scenes left and right this season, and this episode was another fine example of what we were hoping for. If there was any doubt that Bilquis could be the one god left standing after the war between the gods ends, the way she was able to mold aspects of Christianity into a form of faith that would serve her – without no one the wiser – put those to rest. Be careful, Nancy and Ibis: that funeral home would be a whole lot friendlier if there wwre less gods and more worshippers.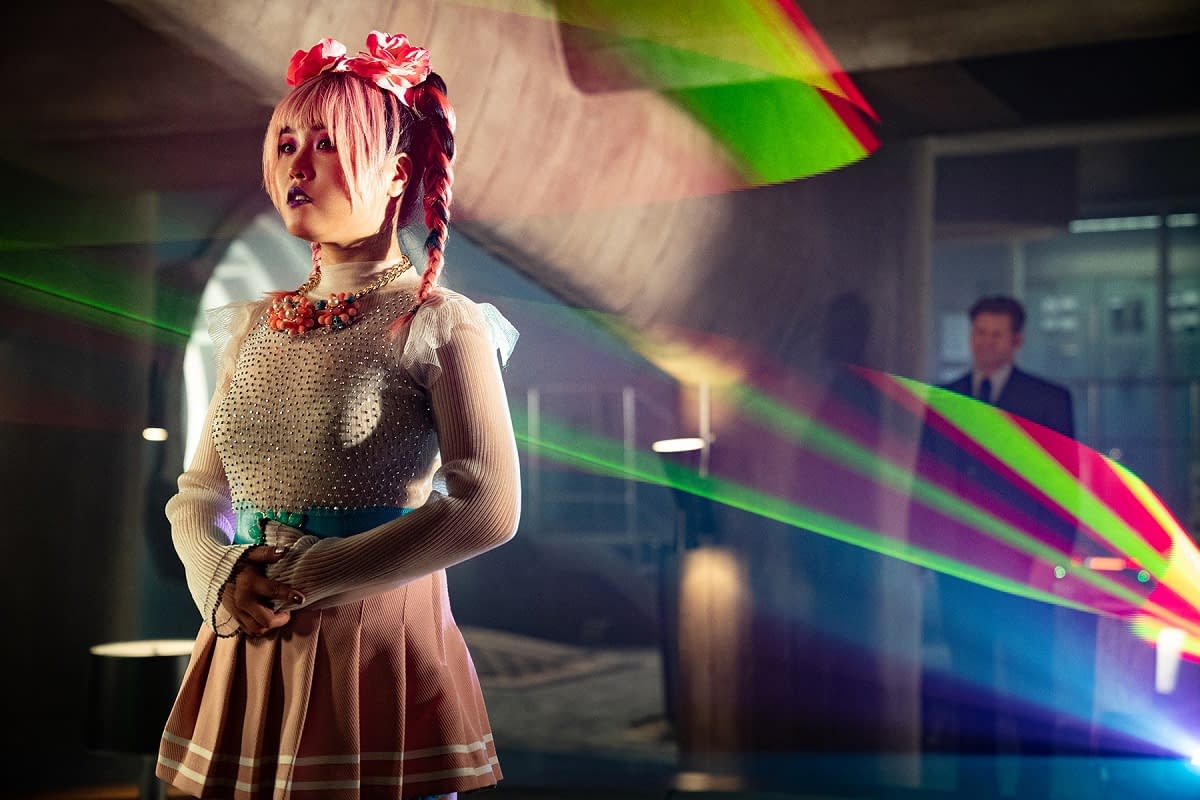 American Gods Season 2, Episode 8 "Moon Shadow": In the aftermath of Sweeney's death, Wednesday has disappeared and Shadow is tormented; those that remain witness the power of New Media as she is unleashed; the nation is in a state of panic brought on by Mr. World.

We were forged in God's image, but the Gods are also made in ours — and in Season Two the battle moves inexorably toward crisis point as the destinies of gods and men collide. While Mr. World plots revenge for the attack against him in Season One, Shadow throws in his lot with Wednesday's attempt to convince the Old Gods of the case for full-out war, with Laura and Mad Sweeney in tow.
A council at the House on the Rock explodes into chaos, sending deities both Old and New on quests across America that will converge on Cairo, Illinois: forcing Shadow to carve out a place as a believer in this strange new world of living gods — a dark world where change demands commitment, and faith requires terrible sacrifice.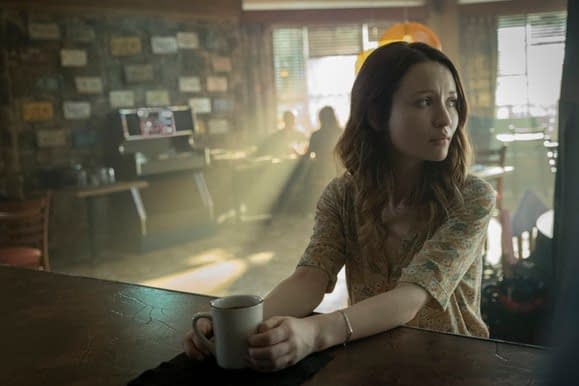 American Gods stars Ricky Whittle, Ian McShane, Emily Browning, Pablo Schreiber, Crispin Glover, Yetide Badaki, Bruce Langley, Mousa Kraish, Omid Abtahi, Demore Barnes, Peter Stormare, Sakina Jaffrey, Dean Winters, Devery Jacobs, Kahyun Kim, Derek Theler, Laura Bell Bundy, and Christian Lloyd.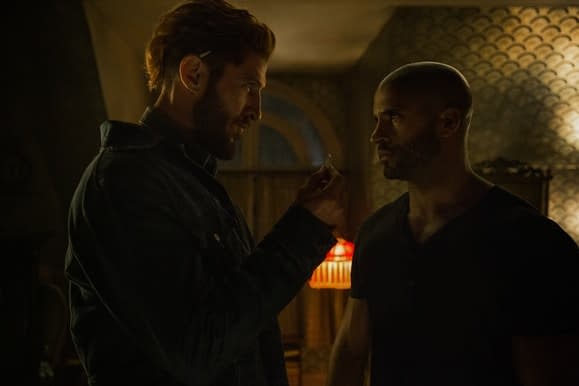 American Gods season 2 airs on STARZ on Sundays at 8 p.m. ET/PT.