Arrow Season 6, Episode 10 Recap: Divided
This article contains spoilers for the Arrow season 6 episode 'Divided'.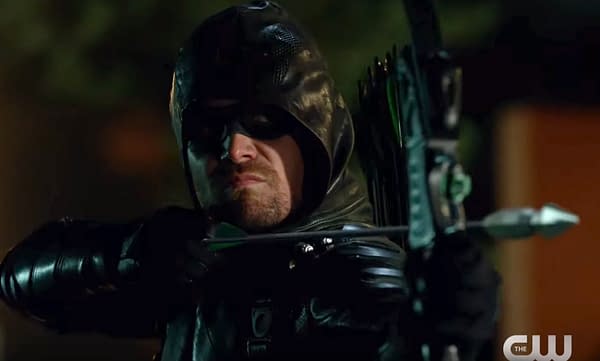 Arrow has returned from its midseason hiatus with a very interesting episode. In a lot of ways, this was a turning point episode where all the bad things that has happened to the hero finally slow down enough that they balance things out and start taking the offensive. But to the show's credit, they didn't just wave a wand and make everything better. That is one of the good things about the Arrowverse as a whole: actions have consequences. But let's get to the episode.
The team is divided still, and Oliver (Stephen Amell) refuses to reach out to the others as he can't trust them in the field. In truth, he can't trust Rene (Rick Gonzalez), the others left because they were betrayed by Oliver and company.
Curtis (Echo Kellum) is still helping to find a cure for Diggle (David Ramsey) and the latest try ends up revealing the bug Cayden James (Michael Emerson) had Black Sire (Katie Cassidy) put into the Bunker. Now knowing how James has been ahead of them, Green Arrow responds to an alarm issue by the docks only to discover Jerry Bertanelli (Louis Ferreira), cousin of the Huntress and current head of what's left of the Bertanelli crime family. He's been muscled by James and his crew, wants Green Arrows help. Felicity (Emily Bett Rickards) is able to track James to a warehouse and Green Arrow goes in alone. He does pretty well taking out Black Siren and some T Spheres (everyone has these now, it seems), but when Anatoly (David Nykl), Richard Dragon (Kirk Acevedo) and Vigilante (Johann Urb) all show up, he makes a quick exit.
Meanwhile, Dinah (Juliana Harkavy) is getting close to Vincent again as he keeps sending criminals in to confess. Rene is trying to make things normal for his daughter, even though he lost his job. And Thea (Willa Holland) goes back to work for the Mayor and finds that Quentin (Paul Blackthorne) thinks that the Laurel from Earth-2 can be saved. Original Team Arrow calls the former members over to let them know that their identities are compromised because of the bug and that Vincent/Vigilante is working with James. They're upset that Oliver didn't tell them sooner (24 hours after they'd found out), but this seems to stem from the initial trust issues.
Green Arrow convinces Bertanelli to help set a trap for James, but he ends up betraying Oliver. Green Arrow escapes again in an explosive way, but James gets control of the pier/docks as he wanted. Oliver realizes that he can't take on James alone and calls the former members again. He explains his anger toward Rene and apologizes for not trusting them. He also points out that there was other things going on, too, like Dinah not telling them about Vincent, to prove that there was blame to go around. But the idea of going back to the way things were doesn't work for the newer members. They started their own team, and even made a headquarters in the old Helix location. They aren't going back. But before they leave, Curtis gives Diggle another chip to try. Back at the Bunker, now debugged, Felicity puts the chip in Diggle's hand and the tremors stop. Spartan is back in the game.
We've seen Oliver overreact before and then an apology fixed everything with him not changing at all. There are five seasons of that kind of thing. It was nice to see it not work here. The team will eventually reform, but it can't be that easy and it needs to mean something. There were some references to Helena Bertanelli, aka the Huntress, but never by name. Felicity made an awkward "get in bed with a Bertanelli" comment that was funny.
There was talk at the beginning of the season of how the producers wanted to bring back the Huntress if Jessica De Gouw was available. There has been no further word on whether she is coming back or not, but the references to her family might indicate she will pop up. In 2017 she was in the series The Underground and The Last Tycoon, both of which are done. And De Gouw has said she would love to pop back into the show if scheduling permitted.
The interesting thing is we really haven't seen what James's plan is nor his motivation. We met James as someone that Felicity helped escape from ARGUS custody, and now he has a personal vendetta against Oliver Queen. Where did that come from, and how much of Felicity's early interaction with Helix, if any, was part of his plan? And it looks like, whatever he has in mind, is going to affect William (Jack Moore) — which may be the worst thing James could do.
https://youtu.be/jHqj7ahIL28