This article contains spoilers for the Arrow season six episode – Collision Course.
.
.
.
.
.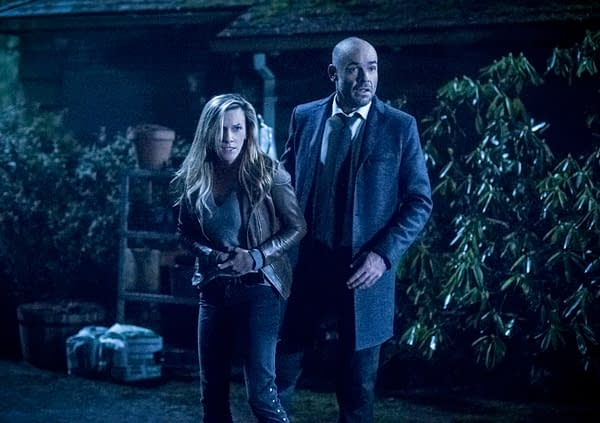 The episode was called Collision Course, but it might be more appropriate to just have called it Collision as the two different versions of Team Arrow slammed into each other hard, and left casualties. Both teams are out looking for Cayden James missing partners after learning James (Michael Emerson) was killed in police custody. And while the city is on the verge of collapse from having all of their funds extorted away, the money isn't where James said he left it. It was taken by Laurel Lance (Katie Cassidy), making her the top priority for both teams. Oliver (Stephen Amell) needs to get the money back for the city and Dinah (Juliana Harkavy) wants her dead. But where is she? In a cabin in the woods being nursed back to health by Quentin Lance (Paul Blackthorne). And while both teams try to figure out where she went, to the point where Oliver's team raided Dinah's team's bunker looking for Laurel and we could see the tension mounting between them from both sides. Dinah worrying her own team some, but driving them forward.
It's actually Thea (Willa Holland) that realizes Quentin is lying and follows him to the cabin where she confronts them. Laurel seems to be warming to Quentin, but it could all be a game. She tells Thea to call Oliver and wants to make a deal, safe passage out of the country in exchange for the money. The reluctantly agree, going based on Quentin's trust in her and that he will go with her. The other team had bugged Oliver and knew they were going to meet Laurel, but Felicity found the bug and got rid of it. This made Curtis (Echo Kellum) track them by using the chip in Diggle's arm, causing Diggle (David Ramsey) a lot of pain. A brutal showdown happens where the two teams fight back and forth. Dinah doesn't seem to care who she hurts, beating the crap out of Quentin to get to Laurel. But Curtis talks her out of killing Laurel. Laurel gets away on her own, still hurt from the gun shot last week. Rene is severely wounded, his previous injury coming open and his lung collapsing. When Felicity and Diggle try to check on him at the hospital, they are chased off by Curtis and Dinah. This seems to be way past the point of no return and any hope of reconciliation between the two teams looks to be dead.
The episode ends with Laurel coming out of the woods and telling a delivery driver that she is Laurel Lance and that she's been kidnapped for two years.
If you're holding out hope that Team Arrow will get back together, I wouldn't hold my breath at this point. Both teams went way over the line and it will take something extreme to bring them back. Luckily it's a TV show and extreme things happen all the time. It look like Earth-2 Laurel is going to try and be Earth-1 Laurel, which would be interesting to see if she can pull off and just where the writer's are going with that. That may be the reason for next week's title, Doppelganger. Also, Roy Harper (Colton Haynes) is back and is somehow in trouble with Ricardo Diaz (Kirk Acevedo). Enough trouble that Thea is going to suit up as Speedy again.
https://youtu.be/MYVqtvbs44g
Enjoyed this article? Share it!