"Arrow" Season 8: Oliver, Thea & Talia al Ghul Take Their "Leap of Faith" [SPOILER REVIEW]
Indiana Jones meets The League of Assassins on this week's Arrow in an especially action-packed episode. As Oliver (Stephen Amell) heads to Nanda Parbat to find out what the League knows about Mar Novu/The Monitor, he finds himself in the middle of a power struggle between his sister Thea (Willa Holland), Talia Al Ghul (Lexa Doig), and Athena (Kyra Zagorsky). They go on a self-described "scavenger hunt" for Ra's al Ghul's sword, which would give the holder the right to lead the League. And of course there's puzzles and traps and dungeons and lots and lots of fighting with ninjas. It's a really fun episode and does a great job tying up all the loose ends of Oliver's League of Assassins days.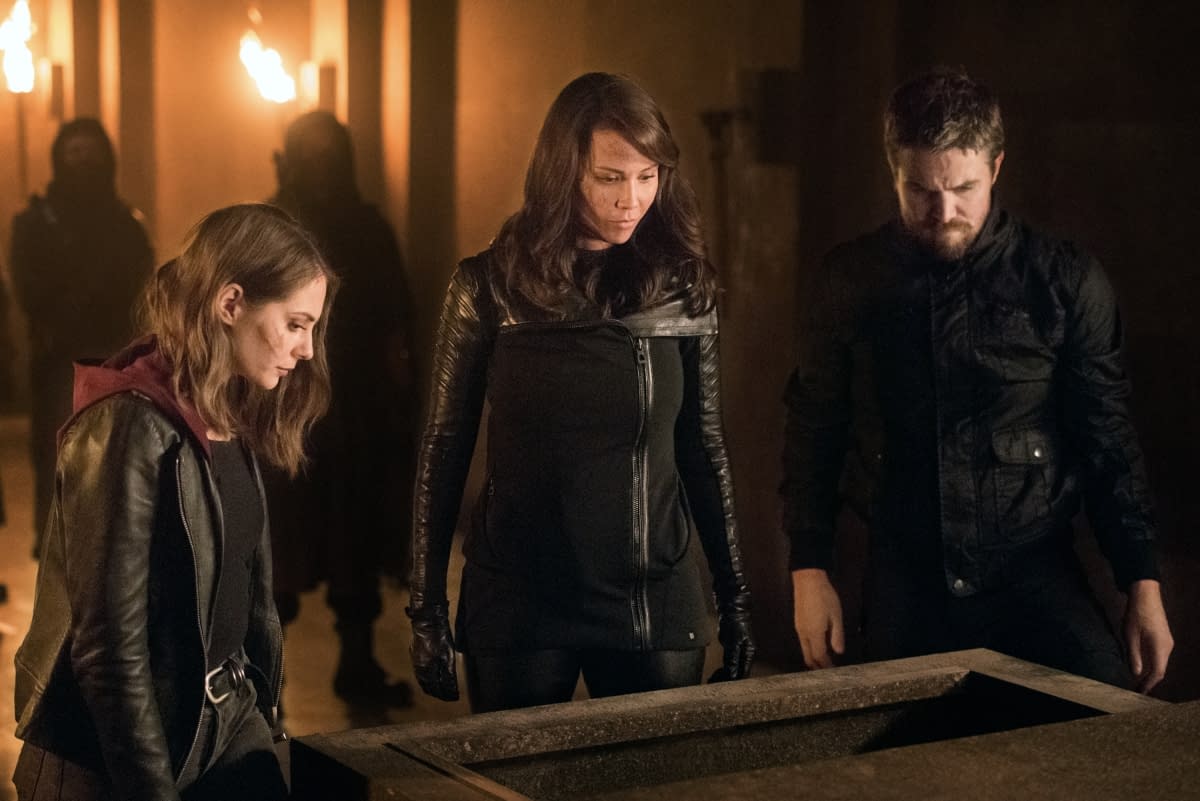 I've complained before about the flash-forwards to the future as Mia Smoak (Katherine McNamara), Connor (Joseph David-Jones), and William (Ben Lewis) battle the Deathstroke gang, but this episode takes it to the next level. Not only are the action scenes fun and kinetic, they have real stakes and consequences. Since one of my primary complaints was about how this really tied in to Crisis, we finally get an answer to that. Excellent! This no longer feels like a long-term backdoor pilot.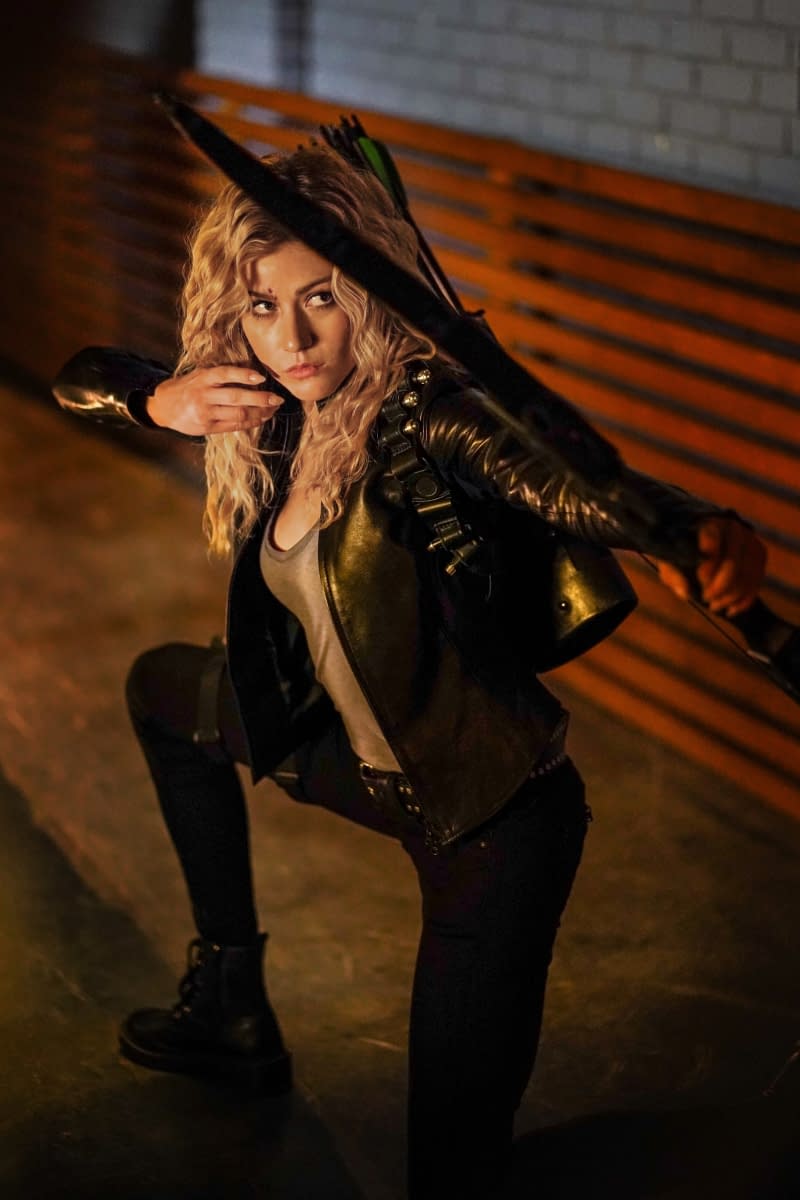 Meanwhile, Diggle (David Ramsey) and Lyla (Audrey Marie Anderson) are off on their own side mission to Kasnia to save (tie-in!) a young Connor Hawke! It's fun to watch them play the spy game, and there are several throwbacks to their "Suicide Squad" episodes. It's fun, it's sexy, it's action-packed. It's also nice to see Diggle and Lyla deal with some of their own issues.
But, of course, it's all about the main storyline with Oliver and Thea and Talia. They really make a great pairing, and they're fun to watch because of how different these characters all are from each other. All of the betrayal and sibling rivalry really makes for a great way to close the book on this particular chapter of Oliver's life. And a final detente between Thea and Talia gives us great hope for the future. and a final thumb in the eye to their father and his leadership of the League. You go, girls!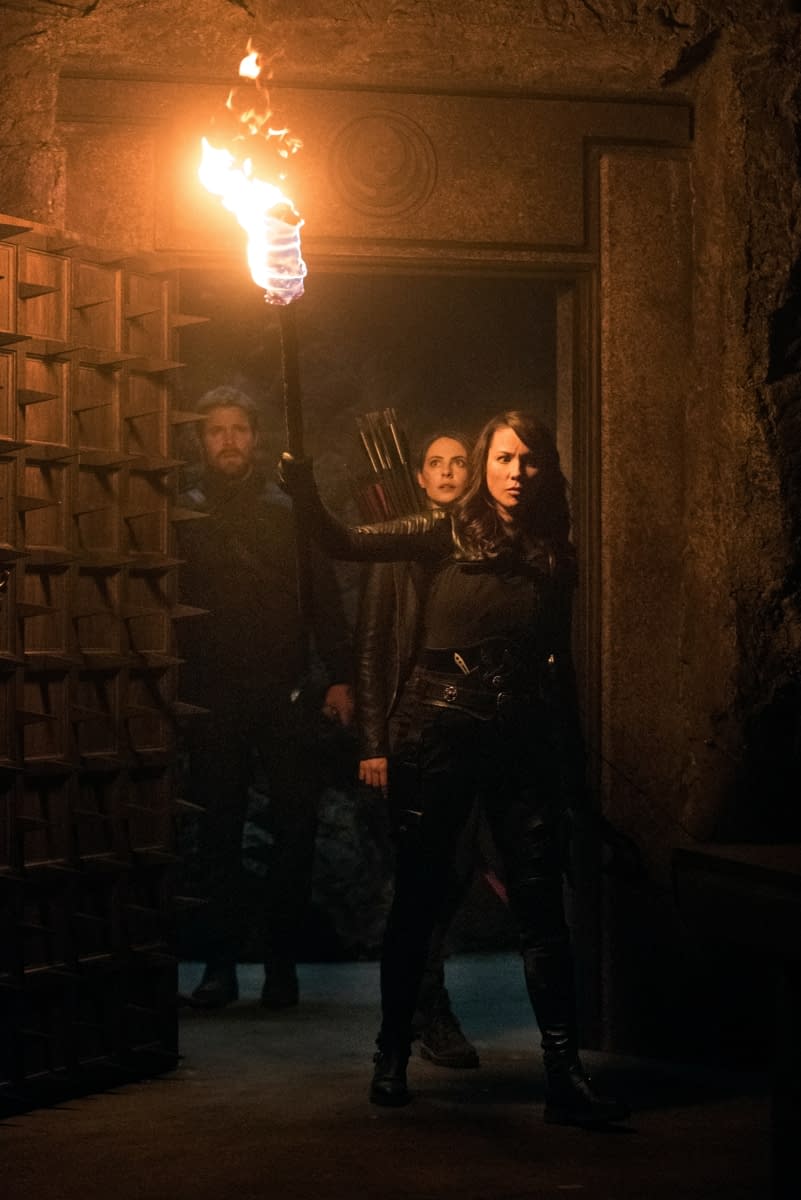 All of this fun and action would not have been possible without the talents of guest director Katie Cassidy. While she doesn't appear in the episode, her presence is definitely felt. There's a strength of feminine energy that innervates and elevates the performances of Thea, Talia, Lyla, and Mia in this episode. Arrow can often be such a bro-off, but this had a very different energy. If the CW is serious about a Green Arrow and the Canaries spinoff starring Mia as the new Arrow, then I'd suggest bringing Katie Cassidy along for her talents both behind and in front of the camera.
I always particularly loved all of Oliver's dealings with the League of Assassins. (The show really missed an opportunity to capitalize on its best moment ever, when Nyssa al Ghul and Sara Lance went on a date!) So this was a particularly great walk down memory lane. The "Indiana Jones vibe" and lots of ninja fights made for a super enjoyable episode, and the reveal at the end with Mia, Connor and William has me all sorts of excited.
Arrow returns next week with "Present Tense" which is going to have all sorts of wacky time travel shenanigans!