Arrowverse "Elseworlds" Recap: The Road to 'Crisis on Infinite Earths' Starts Now!
So how about that CW Arrowverse "Elseworlds" crossover, eh? Body-switching, Gotham City, Lois and Clark. . . there was a lot going on and it was utterly delightful. Let's talk about it!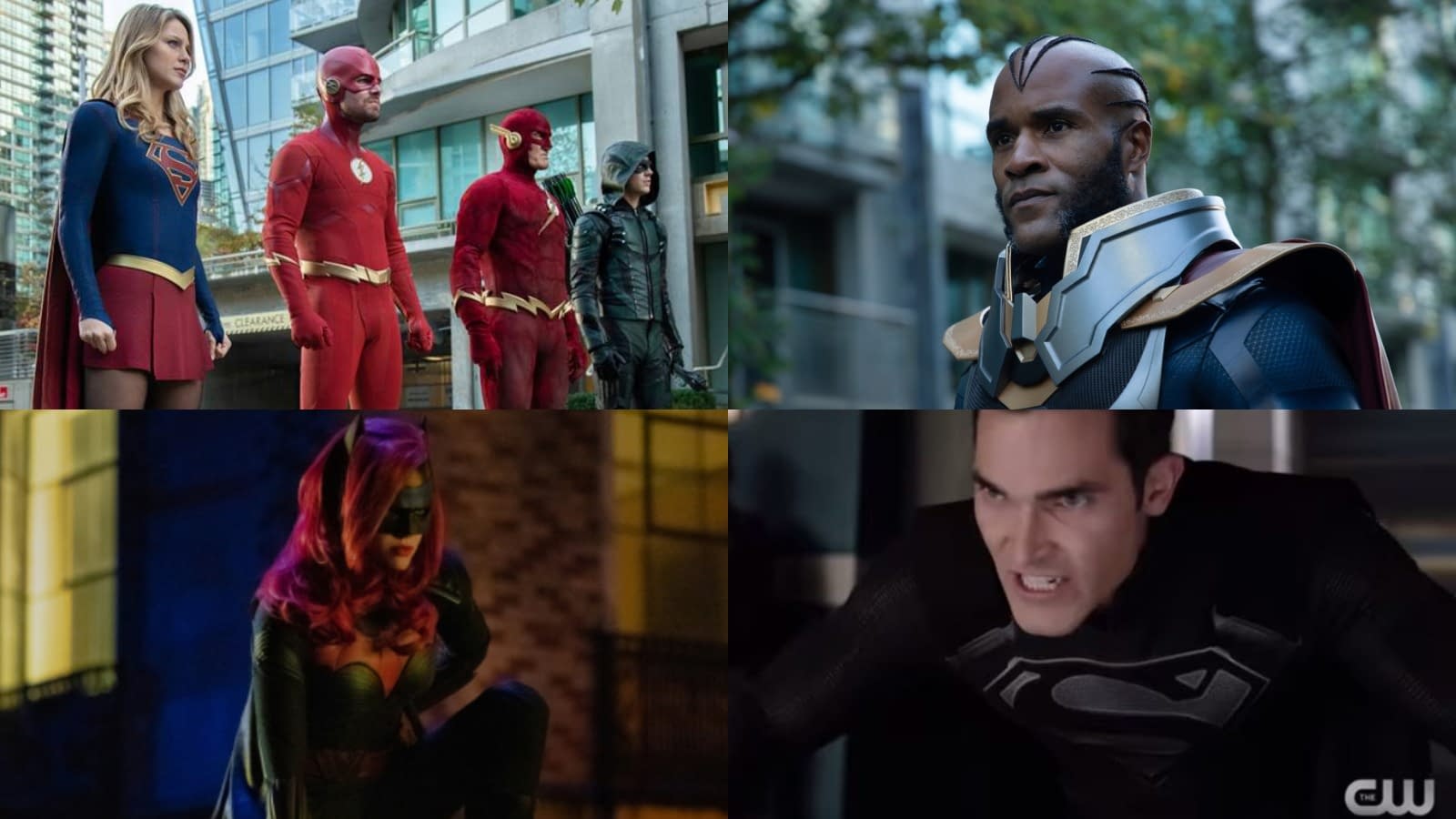 The Flash – 'Elseworlds, Part 1'
https://www.youtube.com/watch?v=HrJF06hWX6s&t=3s
Sunday night in Supergirl's timeslot we got part one of our crossover, with Oliver Queen (Stephen Amell) waking up in Barry Allen's bed, in Barry Allen's (Grant Gustin) body, and everyone thinking he is Barry. After some uncomfortable small talk with Iris, Oliver speeds off to Star City to find, er. . . himself? Unfortunately, when Barry and Oliver tell the rest of Team Flash that they have switched bodies, they are locked up in the STAR Labs meta-prison. They escape and make their way to Earth 38 to get help from Supergirl (Melissa Benoist), where they also meet Clark Kent (Tyler Hoechlin) and Lois Lane (Elizabeth Tulloch) out at the Kent Farm in Smallville… or should I say Smallville, with Remy Zero's "Save Me" blasting on the loudspeakers in a piece of blatant fan-service.
Not that there's anything wrong with that….
Back in Central City, there's a killer robot on the loose! AMAZO – who has the power to mimic the powers of metahumans – goes on a rampage and only with the combined powers of Superman, Supergirl, Green Arrow, and The Flash are they able to defeat it. Afterwards, Cisco (Carlos Valdes) shows the team his vision of The Monitor (LaMonica Garrett) giving a book to Dr. John Deegan (Jeremy Davies).
Best parts of the crossover: Barry and Oliver's varying degrees of being able to handle emotion/affection; Barry and Oliver learning how to use the others' abilities; Barry taking revenge on Oliver for shooting him in the back with crossbows; that Remy Zero cameo; AMAZO; and the mushy stuff between Iris and Barry. Awwwww… adorable!
The Flash will return January 15th, 2019, with 'Spin Out.'

Arrow – 'Elseworlds, Part 2'
https://www.youtube.com/watch?v=e8ISlYdB0SA&t=1s
The team heads to Gotham City to search for the people they saw in Vibe's vision. They meet Kate Kane (Ruby Rose) aka Batwoman, and they infiltrate Arkham Asylum to search for John Deegan. Meanwhile, Team Arrow and Team Flash put their giant brains together to figure out the mysteries of why the skies are red and full of yellow lightning. They build a device that will open a portal to whomever is trying to cross into their universe, and see Earth-90's The Flash (John Wesley Shipp) tell them to "find the book." Confronting Deegan in Arkham leads to a prisoner escape until Batwoman shows up to quell the riot. After they retrieve the book, Earth-90 Flash appears in person and he, Supergirl, Flash and Arrow confront The Monitor downtown. He tells them he is testing their reality to find heroes strong enough to face the "crisis" that is coming (oh yes, we know what that means, right?), steals back the book and returns it to Deegan. He then uses it to further switch up our heroes' bodies, who now find themselves wanted criminals facing a black-and-silver-suited Superman.
Best parts of the crossover: Oliver doesn't believe Batman is real and he's the "original vigilante;" Arkham is full of easter eggs; Arrow and Flash both get dosed with some of Jonathan Crane's hallucinogen and end up fighting visions of Malcolm Merlyn (John Barrowman) and Eobard Thawne (Tom Cavanaugh); "Hello John. You're not wearing your ring?"; Supergirl and Batwoman– oh, I want a "World's Finest" crossover between them; and just like there was some mushy moments with Barry and Iris, this episode brought us some with Oliver and Felicity that made us believe everything might be ok with them…for now.
"A crisis is imminent. Someone is coming. Someone far, far more powerful than myself. I mean to prepare."
Arrow will return January 21st, 2019, with 'Shattered Lives.'

Supergirl – 'Elseworlds, Part 3'
https://www.youtube.com/watch?v=tlSwSfOUq_Q&t=5s
John Deegan has become "Superman", and a now powerless Barry and Oliver ("The Trigger Twins") try to face off against him. Enlisting the power of Cisco, they go back to Earth-38 to recruit their Superman. Meanwhile, a STAR Labs-incarcerated Kara talks her way out of jail by bonding with Alex (Chyler Leigh). They're able to recover the book temporarily and rewrite reality to restore Barry and Oliver to their bodies. A final showdown with Deegan-Superman brings in AMAZO for an encore, makes Barry and Kara speed around the world to slow time, and brings Brainy and Martian Manhunter in from Earth-38. Some final wrapup scenes reveal that Lois is pregnant, so she and Clark will be going back to Argo for the forseeable future, leaving Earth-38 in Supergirl's very-capable hands.
And then there's that matter of Oliver's "balancing" deal with The Monitor…
Best parts of the crossover: "Doctor, can I have a word?" makes it 3-for-3 awesome Superman references in each episode (and a callback to last year's crossover); a cameo from Gary from Legends of Tomorrow; Kara, Barry and Oliver understanding where their powers come from and understanding more about themselves; the crossover's emotional depth and important meta-commentary about heroism and how it is reflected in each of our main characters; and…OMG! That tease at the end? Kate Kane! Doctor Destiny! Psycho Pirate! Worlds will live! Worlds will die! Because in Fall 2019, its…

Supergirl will return on January 20th, 2019 in 'Secrets and Lies.'

And just to be clear, they chose not to be a part of "Elseworlds"…so there!
Legends of Tomorrow – 'Legends of To-Meow-Meow'
Early in the episode, Gideon informs Ray, Nate, and Mick that they received several urgent messages from Barry, Oliver, and Kara: "Sounds like the annual crossover." / "Yeah, that's gonna be a hard pass."