Three days after news broke that Ruby Rose (Orange Is The New Black) was leaving The CW's Batwoman ahead of its second-season return, the usual "playbook" for these matters is already being put into play. Rumors, allegations, and innuendo make for some juicy content, and usually involves painting parties as either "good guys" and "big bads" because thinking of things on shades of gray apparently gets a little too complicated. Thankfully, Christina Radish from Collider went directly to one very important "source" who was more than happy to go on the record: series executive producer Marc Guggenheim. When asked if was tough to say goodbye to Rose or if the moment was opening up the series to more creative possibilities, Guggenheim responded from the perspective that challenges like should be seen as a time to kick open the doors of new opportunities: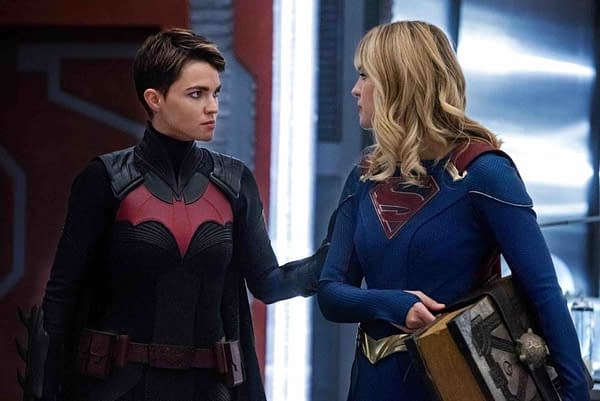 "It's funny, I think it's both. I was talking to one of the Batwoman writers, the other day, and we were saying how, in this, is a great creative opportunity. I think there'll be people who come to the show, quite frankly, just to see how the writers choose to handle this. I'm a big believer that anytime you face a production challenge, and sometimes it's in [the] cast while sometimes it's just logistics, in that challenge, lies a creative opportunity. I was actually talking about that with Beth Schwartz, the other day. We were talking about how once production presumes posts the pandemic, how are we going to work with all these different limitations? And it's the exact same thing, which is that in those limitations and in those challenges lie the chance to do something new and different, and come up with a clever creative solution. That, to me, is the fun part of the job."
Batwoman takes place three years after the mysterious disappearance of Batman, with Gotham a city in despair. Without the Caped Crusader, the Gotham City Police Department is overrun and outgunned by criminal gangs. Armed with a passion for social justice and a flair for speaking her mind, Kate Kane (Rose) becomes what her father loathes: a dark knight vigilante, soaring through the streets of Gotham as Batwoman. Joining Rose on the series is Dougray Scott, Rachel Skarsten, Meagan Tandy, Nicole Kang, Camrus Johnson, and Elizabeth Anweis. Executive Producers include Greg Berlanti, Caroline Dries, Geoff Johns, and Sarah Schecter. Filmed in Vancouver, British Columbia, the series is produced by Berlanti Productions in association with Warner Bros. Television.
Enjoyed this article? Share it!