As part of Netflix's continuing effort to reboot Generation X childhoods everywhere, Dreamworks' She-Ra and the Princesses of Power launches on November 16. But this is not your balding father's She-Ra (which was created by J. Michael Straczynski and Larry DiTillio). While the big breaking news from the panel is already out there, the rest of the panel offered insights into what to expect from the upcoming series.
2018's She-Ra takes the original vision in entirely new directions. The new production is produced by Noelle Stevenson (Lumberjanes) and Chuck Austen (Miracleman) and features the vocal talent of Aimee Carrero as Adora-slash-She-Ra.
While one could be forgiven for finding the original's target audience… ambiguous, the creators of the dramatically reimagined series make in abundantly clear who they are targeting: girls and women. This is unapologetic empowerment TV, and if the crowd at the Hammerstein Ballroom is any indication, they likely have another hit on their hands.
Carrero's Adora is a 16-year-old orphan raised by "The Horde" to fight against the rebellion, and who discovers the magic sword which transforms her into She-Ra. As a result, she abandons the evil Horde and takes up with the rebellion, fighting for the fate of Etheria. Stevenson and Carrero were joined by Karen Fukuhara (Glimmer) and Marcus Scribner (Bow) for the panel which offered a few clips from the pilot episode, including a sequence showing Adora as a young Horde fighter in a danger room/holodeck style training session with other cadets – including the cocky Catra, with who she shares a friendship akin to being siblings..
Adora and Catra (who is promoted to "Force Captain" after Adora's defection) will share the series' core relationship. As Stevenson puts it, Adora realizes "'what has been told (to) me is a lie' …as soon as she knows what the right thing to do is, that's what she's gonna do."
It is a leap of conscience that Catra is unable to make. "There's bitterness and betrayal, which is really heartbreaking because they still really care about each other," Stevenson added.
The first season will follow the heroes' efforts to bring together all the princesses of the different realms, recreating an alliance that crumbled years ago.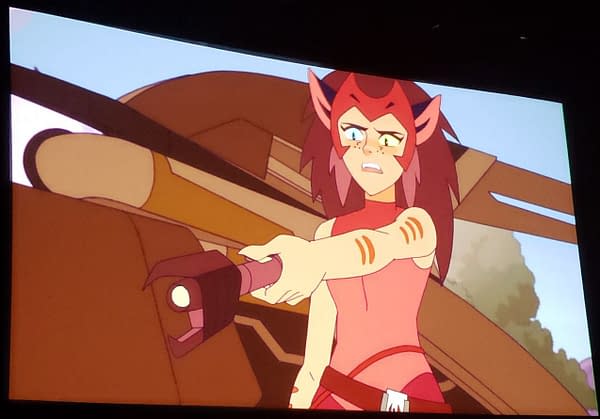 Enjoyed this article? Share it!