This article contains spoilers for the Black Lightning season one episode – And the Devil Brought the Plauge: the Book of Green Light.
.
.
.
.
.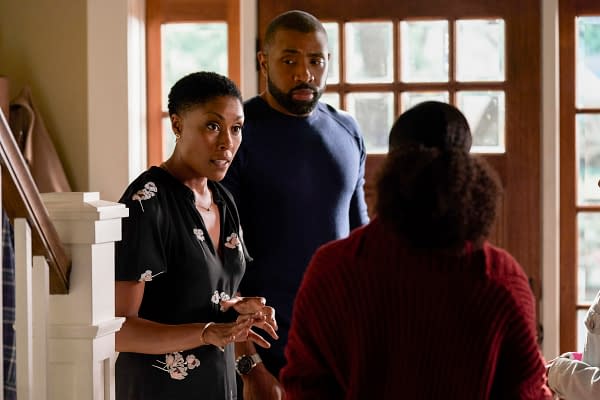 This episode of Black Lightning was very busy and all over the place. Things were happening with four different characters and the action jumped back and forth like crazy. I'm going to focus by person rather than chronological and we'll start off with Jefferson (Cress Williams). Black Lightning is out testing a theory Gambi (James Remar) came up with that BL could use his powers to fly and he tries it by leaping of a building. Why not just try to rise up off the ground? Not as flashy. While out testing flight, he comes across another guy freaking out on Green Light going up against the cops. He stops it without anyone dying, telling the cops to try a taser first next time. Gambi has tracked down an invoice and they find a place where Green Light had be stored. BL gets a name, Joey Toledo (Eric Mendenhall), who used to be the right hand of Tobias Whale (Marvin 'Krondon' Jones III). Jefferson starts getting headaches and they get worse as the episode goes on. At one point he passes out and Gambi has to call Lynn (Christine Adams). She can't figure out what's wrong with Jefferson, but Gambi thinks it might be the new command chip for the suit. Jefferson visit Inspector Bill Henderson (Damon Gupton) from behind a bush using his BL voice and we learn that they sort of worked together in the past. He gives Henderson a phone to call him if he gets a lead on Toledo. Henderson finds Toledo's girlfriend and BL takes it from there. Tracking her to a club and calling Toledo outside where he tries to get Tobias' location but ends up being hit with another severe headache that incapacitates him and Toledo gets away. The episode ends with Black Lightning struggling to get up.
That wasn't all going on with Gambi. He got a visit from Whale, who wanted to know who Black Lightning is. We learn that Gambi works for a group with initials for a name (something like A.G.A. but it went by fast). Gambi basically tells him to go away… and he does. There is definitely history between them. Whale would go home and talk to his sister, Tori (Edwina Findley) who told him he's making bad choices, especially having gone to the 'tailor'. He gets a message from Lady Eve (Jill Scott) reminding him to take care of Black Lightning and we get a better idea of the gang set up. He is in charge of the 100 gang, but Lady Eve is not part of that but rather part of another group above them that Whale wants in on. Tori tells Whale she needs to confront his first enemy, Eldridge (T.C. Carson) and we get to see that Eldridge was Tobias and Tori's abusive father. They track down Eldridge and Tobias had a moment with him, then breaks the older man's back, leaving him on the floor to die.
Moving over to the daughters. Jennifer (China Ann McClain) goes skating and is looking to have some fun when a couple girls from another schools track team start giving her grief. She comments back and they want to fight. The other girl swings first, but Jennie defends herself extremely well, taking both girls down and breaking the first girl's wrist. She would later show up at the Pierce house with her mother and another woman to complain to Jefferson and Lynn. Jennifer gets in trouble, but Jefferson is impressed that Jennifer took on two girls. She moved very quickly which might be the first signs of her powers.
Speaking of Powers, Anissa (Nafessa Williams), starts digging into people with powers and comes across a conspiracy video talking about a group of kids with abilities that disappeared thirty years ago and that there was going to be a story that revealed it all, but the reporter was killed and the story was buried. The reporter being Anissa's grandfather, Alvin. She tracks down his old editor (Antonio Fargas), who kicks her out at first, but when she comes back he gives her a box full of her grandfather's notes. It includes a key to a storage facility (that has been paid up for 30 years?). She plans to go, but doesn't have an outfit to wear, tries to use her costume from episode one but it rips. So she goes to a lingerie shop and puts together her first latex superhero suit with the help of a friendly clerk. She then goes to the unit, has to break the rusted lock, and discovers a safe with a vial full of a mysterious substance.
There's a mention of Tobias being injected with something that is keeping him young. could that be the same substance? Was he one of the nine kids that showed abilities? And just what is Gambi part of that Whale knows him and seems to respect him as a dangerous person? And it looks like they finally gave Inspector Henderson a first name… Bill.
Black Lightning is taking next week off and will be back along with the Flash on February 27th.
https://youtu.be/j7cMJMmbr1c
Enjoyed this article? Share it!