Bleeding Cool's TV Scorecard: Your Guide to January 2019's Premieres/Returns (UPDATED)
While we here at Bleeding Cool realize that you're probably up to your sugar plums in "holiday cheer" by now, we also know it's never too early to start looking to the new year for a little televised escapism. What follows is an as-updated-as-can-be rundown on the gaggle of shows either returning or premiering in January 2019.
Any updates? Anything we missed? Let us know in the Comments section below – and happy viewing!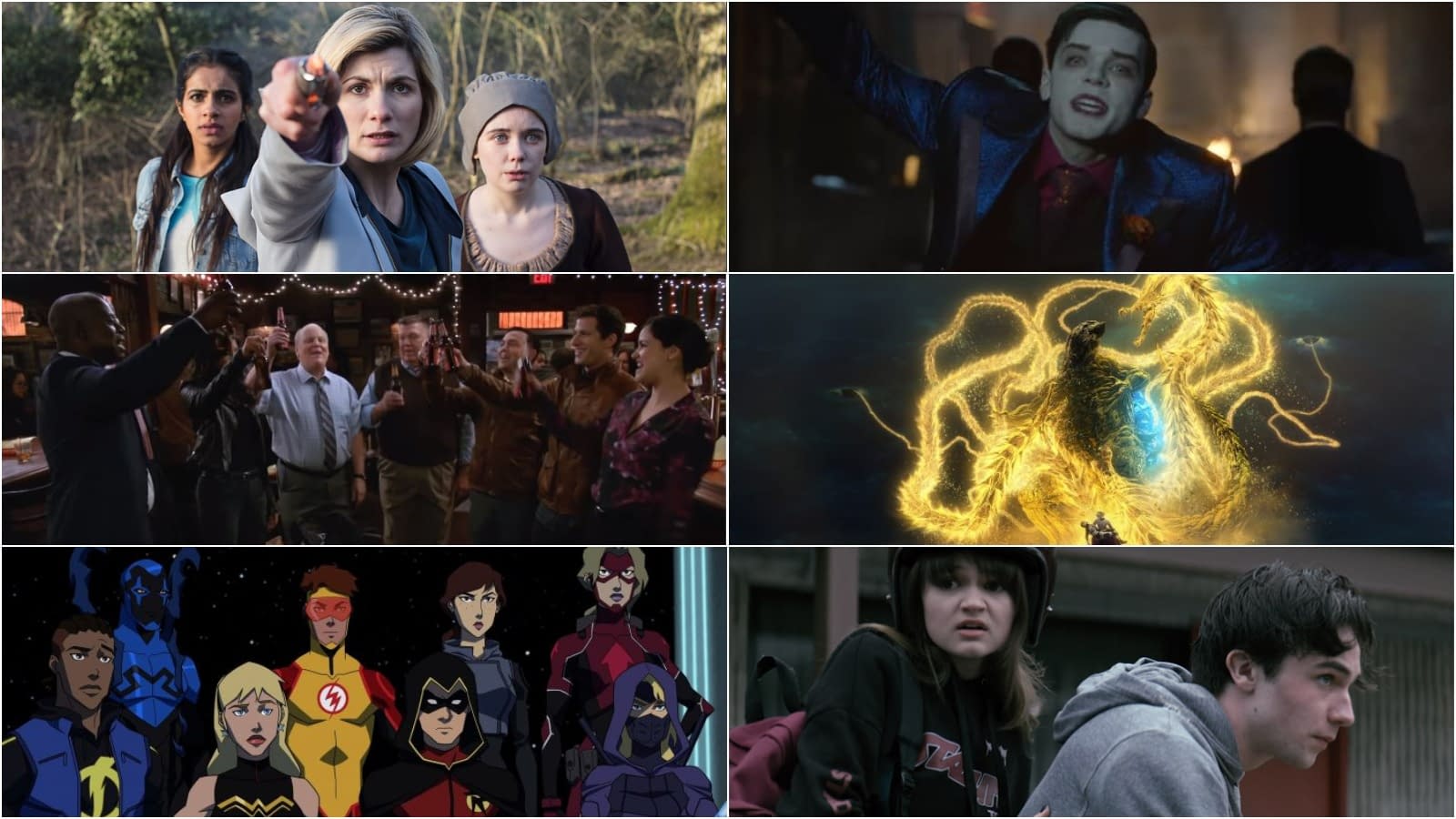 Note: The networks and services can play a little fast-and-loose with premiere dates, so this is subject to change. If we missed anything you'd like added or have any updates, hit us up in the comments below.
Tuesday, January 1
A Series of Unfortunate Events: Season 3 (Netflix)
The Gifted: Season 2 (FOX)
Doctor Who: Resolution (2019 New Year's Special – BBC America)
Lethal Weapon: Season 3 (FOX)
Wednesday, January 2
Gordon Ramsay's 24 Hours to Hell and Back: Season 2 (Fox)
The Masked Singer (Fox)
Thursday, January 3
The Titan Games (NBC)
Gotham: Season 5 (Fox)
Gordon Ramsay's 24 Hours to Hell and Back: Season 2 (Fox – time period premiere)
Star Trek: Short Treks – The Escape Artist (CBS All Access)
The Orville: Season 2 (Fox – Season premiere: 12/30/2018)
https://www.youtube.com/watch?v=Pk7yWEVMbb4
The Blacklist: Season 6 (NBC)
https://www.youtube.com/watch?v=Y7CemKCqjPs
Friday, January 4
The Blacklist: Season 6 (NBC – new time)
Saturday, January 5
Young Justice: Outsiders (DC Universe)
Sunday, January 6
76th Annual Golden Globe Awards (NBC)
Monday, January 7
America's Got Talent: The Champions (NBC)
The Bachelor (ABC)
Tuesday, January 8
Ellen's Game of Games: Season 2 (NBC)
Good Trouble (Freeform)
Project Blue Book (History)
Lindsay Lohan's Beach Club (MTV)
The Conners: Season 1 (ABC)
The Kids Are Alright: Season 1 (ABC)
black-ish: Season 5 (ABC)
The Rookie: Season 1 (ABC)
Wednesday, January 9
You're the Worst: Season 5 (FXX)
Jon Glaser Loves Gear: Season 2 (truTV)
Godzilla the Planet Eater: Season 1 (Netflix)
The Goldbergs: Season 6 (ABC)
Modern Family: Season 10 (ABC)
Single Parents: Season 1 (ABC)
Thursday, January 10
The Big Bang Theory: Season 12 (CBS)
Young Sheldon: Season 2 (CBS)
Brooklyn Nine-Nine: Season 7 (NBC)
https://www.youtube.com/watch?v=GnD_WQmWp3Y
Mom: Season 6 (CBS)
The Good Place: Season 3 (NBC – winter premiere, through 1/24/2018)
S.W.A.T.: Season 2 (CBS)
Friday, January 11
Future Man: Season 2 (Hulu)
https://www.youtube.com/watch?v=meAKAcYGLog
Crazy Ex-Girlfriend: Season 4 (CW)
Informer: Season 1 (Amazon)
Friends From College: Season 2 (Netflix)
Sex Education: Season 1 (Netflix)
Sunday, January 13
24th Annual Critics' Choice Awards (CW)
True Detective: Season 3 (HBO)
https://www.youtube.com/watch?v=RZP6t1FmVO8&t=39s
Valley of the Boom: Season 1 (Nat Geo)
Victoria: Season 3 (PBS)
Monday, January 14
The Resident: Season 2 (Fox – returning)
The Passage (Fox)
Those Who Can't: Season 3 (truTV)
Dirty John, The Dirty Truth (Oxygen)
Tuesday, January 15
The Flash: Season 5 (CW)
Roswell, New Mexico (CW)
https://www.youtube.com/watch?v=B-mP311_mSM
Drunk History: Season 6 (Comedy Central)
Corporate: Season 2 (Comedy Central)
This Is Us: Season 3 (NBC)
Wednesday, January 16
Riverdale: Season 3 (CW)
https://youtu.be/soh4H9kL2m8
All American: Season 1 (CW)
Deadly Class (Syfy)
Schitt's Creek: Season (Pop)
Thursday, January 17
A Discovery of Witches (Sundance Now)
Star Trek: Discovery: Season 2 (CBS All Access)
Supernatural: Season 14 (CW)
Grey's Anatomy: Season 15 (ABC)
How to Get Away With Murder: Season 5 (ABC)
Friday, January 18
Dynasty: Season 2 (CW)
The Grand Tour: Season 3 (Amazon)
Carmen Sandiego: Season 1 (Netflix)
Grace and Frankie: Season 5 (Netflix)
Trolls: The Beat Goes On!: Season 5 (Netflix)
WOW — Women of Wrestling (AXS TV)
Saturday, January 19
Brexit (HBO)
Dynasties (BBC America)
Sunday, January 20
Supergirl: Season 4 (CW)
Charmed: Season 1 (CW)
Shameless: Season 9 (Showtime)
Crashing: Season 3 (HBO)
Black Monday (Showtime)
https://www.youtube.com/watch?v=G2u4nCtyBCo
High Maintenance: Season 3 (HBO)
SMILF: Season 2 (Showtime)
Monday, January 21
Black Lightning: Season 2 (CW)
Justice: Season 1 (Netflix)
Arrow: Season 7 (CW)
https://www.youtube.com/watch?v=lq_8nSyQBm4
Wednesday, January 23
The Magicians: Season 4 (Syfy)
Pure (WGN America)
Suits: Season 8.5 (USA)
Thursday, January 24
Siren: Season 2 (Freeform)
https://www.youtube.com/watch?v=J3BOp8n73uM&t=1s
Broad City: Season 5 (Comedy Central)
The Other Two (Comedy Central)
The Good Place: Season 3 (NBC)
Friday, January 25
Unbreakable Kimmy Schmidt: Season 4 (Netflix)
https://www.youtube.com/watch?v=YMdo_0H1thU
Kingdom: Season 1, Netflix
Medici: The Magnificent: Season 1 (Netflix)
gen:LOCK (Rooster Teeth)
Strike Back: Season 6 (Cinemax)
Sunday, January 27
25th Annual Screen Actors Guild Awards (TBS/TNT)
Rent Live! (Fox)
https://www.youtube.com/watch?v=vhKxUMGj2Ck
Monday, January 28
I Am the Night (TNT miniseries)
https://www.youtube.com/watch?v=wcxAaIfKBeI
Wednesday, January 30
Ryan Hansen Solves Crimes on Television: Season 2 (YouTube Premium)
Thursday, January 31
Will & Grace: Season 10 (NBC)