The final match of The Horror Show at Extreme Rules was the long-awaited and heavily promoted Wyatt Swamp Fight, and although it was a non-title fight, the stakes were still higher than ever for current champion Braun Strowman. This main event highlighted Bray Wyatt as a "modern-day Doctor Frankenstein," who was taking credit for Braun's rise to power in the WWE. Although the sanity of Wyatt is very contested, he has been more certain than ever that Strowman is a monster of his own creation, and he must be the one to destroy him.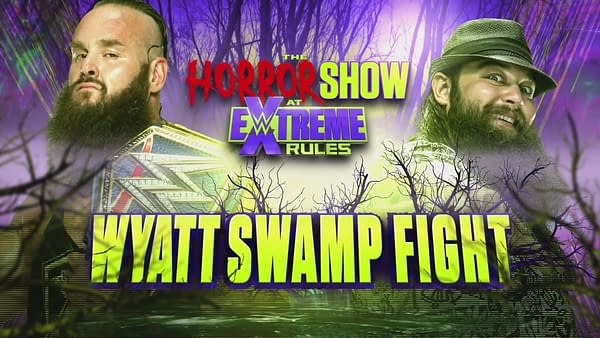 Filmed in advance off location, the fight began with Braun coming home to the swamp and confronting Wyatt, who seemed to have mystical powers that extended to teleportation. The environment was extremely hostile to Braun, who had to fight off the followers of Bray while traversing through the darkness of the marsh. Succumbing to the insanity of Wyatt's home turf, Braun fell victim to his own self and awoke in the single-bulbed torture chamber of the Eater of Worlds. The crazed environment was pulled straight from the mind of a Rob Zombie horror movie, with scenes of distressed masks and chains interjecting into the scenes of Strowman struggling against his restraints.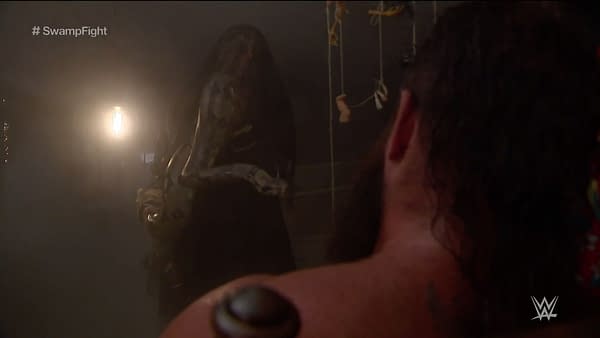 Once again, Wyatt made his entrance to taunt his former family member, alluding to his pride at the success of Strowman, and claiming that while it is only temporary his support for his former friend is forever. Reminiscent of Jake the Snake and Randy Savage's epic match, Wyatt brings in a snake that allows it to strike a chained Braun, which immediately segues to the champion in a crazed fire-lit fight with one of Brey's followers (who actually gets lit on fire). Alexa Bliss, dressed as someone arguably representing Sister Abigail, appears and begs Braun to come with her, to reignite their previous romance and leave everything behind including his worries.
Welcoming the distraction, Wyatt leaps from the darkness to attack Braun but is quickly overtaken…or so Braun is led to believe. Rather than his nightmare ending, he is presented with even more precarious distractions including the curious appearance of an empty boat in the swamp water. Preoccupied with his inspection of the boat, Braun is once again attacked from Wyatt, who bursts forth from the water and attacks him for a second time, only to disappear once more. At this point, the flow of the match is determined, with Braun plagued with visions while Wyatt physically overtakes him only to fall back into the darkness. This emergence as the stereotypical killer in any horror film lends even more allusion to the enigma that is Wyatt, who attacks again and again until eventually, the Fiend emerges.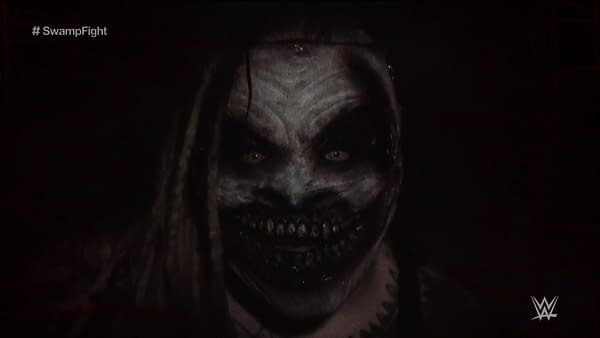 The disturbing nature of their relationship dominated the entire ordeal, especially when the lunatic mannerisms of Wyatt is such a scene-stealer in any match, and with the production behind him and Braun leaning into the storyline completely, this showdown was absolutely worth the wait. Although there was no official pitfall and a complete lack of actual wrestling, this match served to highlight Wyatt's incredible creativity and sets up what will inevitably be Braun's face-to-face fight with the devil himself.
Enjoyed this article? Share it!