BTS Late-Night Takeover Reigns Supreme with "Carpool Karaoke", Grand Central Station & Subway Olympics [FANGIRL REVIEW]
International K-Pop sensation BTS joined The Late, Late Show with James Corden host James Corden For Tuesday night's edition of "Carpool Karaoke"… and as an objective BTS fangirl, I can tell you that it was as glorious as we all imagined it would be. Seeing BTS on American talk-shows is such a breakthrough on so many fronts. It has been great to see K-Pop get more recognition in the past couple of years – and BTS' success has opened the doors for so many other bands.
[rwp_box id="0"]
It is not often that a great friend stumbles into your life and even rarer when they introduce you to music you end up loving. My playlist ranges from NIN and My Chemical Romance to anime themes/soundtracks and Asobi Seksu – so BTS felt right at home.
After a couple of years following the band, it is lovely to see how far they have come and how their popularity has grown by leaps-n-bounds around the world. So for me, BTS being on "Carpool Karaoke" was the cherry on top. I loved seeing the boys in a setting I would have never pictured them on.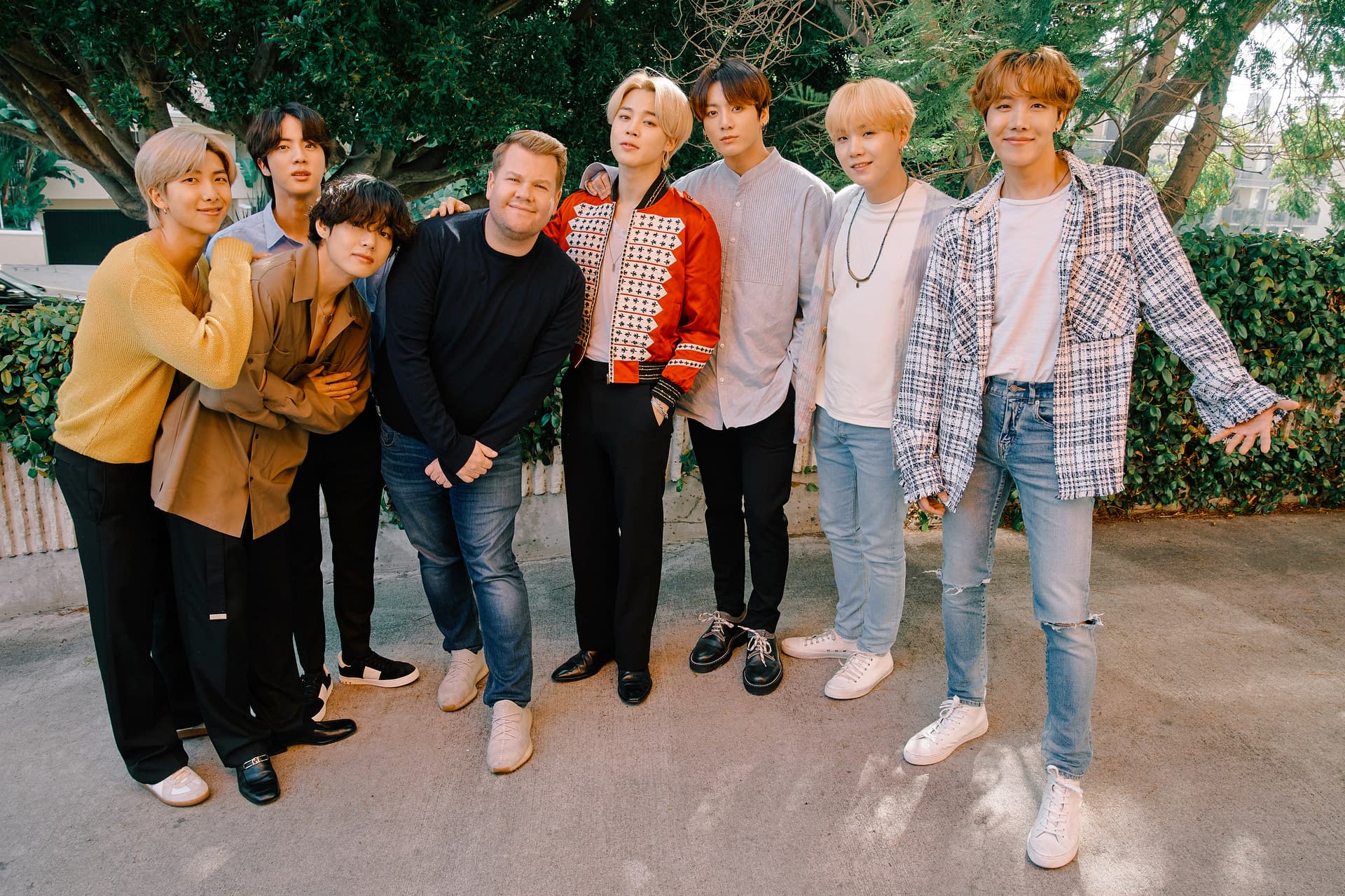 I woke up extra-early to catch the segment before work, and I am pretty sure my day will turn out magical now. I cannot get over Jin, V, and Suga being petty about RM learning English by watching Friends. I definitely cannot picture Baby Mochi (Jimin) fighting over dumplings with V. J-Hope and Jungkook forever stunning with their smiles.
…and they sang Post Malone! As much as I was loving this segment, this part stood out to me the most.
Then "Corden: The Joke Guy" – after suggesting he was invited to be the 8th member of the band – decided we would audition "again" to show BTS his sweet dance skills. It was pretty fun to see them dancing and Jimin trying to teach them the choreography. Let's just say some did not get it – resulting in me giggling a lot more than I thought I would.
Earlier this week, fans got their first late-night dose of BTS when they appeared on NBC's The Tonight Show Starring Jimmy Fallon – and their performance of new single "ON" at Grand Central was on fire.
FULL DISCLOSURE: As a New Yorker, BTS' performance did have me concerned about the serious impact it would have on the city's rush hour commute… don't judge me.
Performance aside, Fallon staged a silly skit on the subway – but that said? I will shamelessly admit I cheered when Jungkook won – and I loved seeing Jimin cheat and sneak in a couple of Post-Its. And as BTS fans know, it never fails to see BTS feasting on their streams – and the same goes here as well.
Honestly, it felt nice spending a little time in my "fangirl dream" of more BTS in "mainstream media" – and this week, fans have not been disappointed. While both late-night shows are must-see viewing for the faithful, "Carpool Karaoke" was definitely the segment that let the band take a breather, be goofy, and have a little fun. Trust me: if you can squeeze in "Carpool" Karaoke" and then follow-up with the BTS performance in Grand Central, you've found a great way to start your day.