Charly Caruso and Samoa Joe to Host WWE Raw Talk Revival
Earlier today, WWE announced the launch of a free version of the WWE Network, and with it, a revival of the Raw post-shot, Raw Talk. Launched originally as part of the most recent brand split era alongside Smackdown counterpart Talking Smack, Raw Talk will feature discussion and interviews with wrestlers after Monday Night Raw goes off the air and is aimed squarely at masochists who think three hours of WWE Raw on a Monday night somehow isn't quite enough.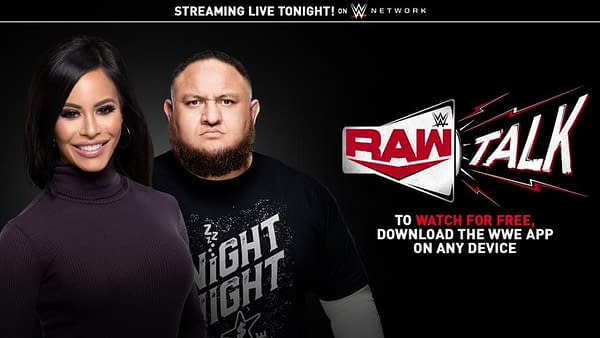 Now, WWE has revealed who will host the new version of Raw Talk: Charly Caruso and Samoa Joe. Pairing an interviewer with a wrestler (though Joe is apparently now a permanent part of the Raw commentary team) looks like an attempt to recapture the magic of Talking Smack, which created great moments by pairing Renee Young with Daniel Bryan, who was at that time still retired from wrestling. And that pairing did result in some great television, perhaps most notably the feud between Bryan and The Miz. However, our personal favorite will always be the time Young and Bryan accosted AJ Styles for his belief in Flat Eartherism.
"I do not think the world is flat," said Styles after Bryan accused him of subscribing to the popular conspiracy theory that the Earth is actually flat. "I'm just saying there's some stuff about it, that's all."
"The Earth is a sphere," Bryan later explained to Styles, who responded, "Okay."
"It moves on an axis," added Young.
"Okay," Styles responded again. "I'm not a flat-Earther. I'm just saying, there's some things about it that make sense."
If Charly Caruso and Samoa Joe can create even one-tenth of that kind of magic (and then you add Kurt Angle to the mix…?), then Raw Talk will already be on its way to being more entertaining than anything that actually happens on Raw itself. Raw Talk will air its first new episode tonight on the WWE Network following Monday Night Raw and can be watched for free with no credit card required to sign up.