Posted in: Netflix, Preview, streaming, Trailer, TV | Tagged: actor, Ambrose, archie, archie comics, bleeding cool, cable, celebrity, Chance Perdomo, Chilling Adventures of Sabrina, father blackwood, Harvey Kinkle, hell, hilda, horror, Jaz Sinclair, Kiernan Shipka, lucy davis, madam satan, michelle gomez, miranda otto, netflix, nicholas scratch, Part 3, pru, Ros, ross lynch, sabrina, streaming, Supernatural, susie, television, terror, the returned man, the weird sisters, the witching hour, trailer, tv, witchcraft, witches, zelda
---
"Chilling Adventures of Sabrina" Part 3: When It Comes to Love, Sabrina's Going Straight to Hell [OFFICIAL MUSIC VIDEO TRAILER]
The world of Sabrina Spellman (Kiernan Shipka) is about to get a whole lot hotter – literally – when Roberto Aguirre-Sacasa's Chilling Adventures of Sabrina returns to Netflix for Season/Part 3. At the end of CAOS Part 2, Nicholas (Gavin Leatherwood) found himself a vessel for the Dark Lord and banished to the depths of Hell.
Finding a new way to put the "bad" in "bad boy," Nicholas may be beyond even Sabrina's powers to save. Theo (Lachlan Watson) and the gang "got the band back together" to commit to protecting Greendale from evil alongside Sabrina – with Theo meeting a new love interest along the way (which is why both Leatherwood and Watson were promoted to series regulars for Parts 3 and 4).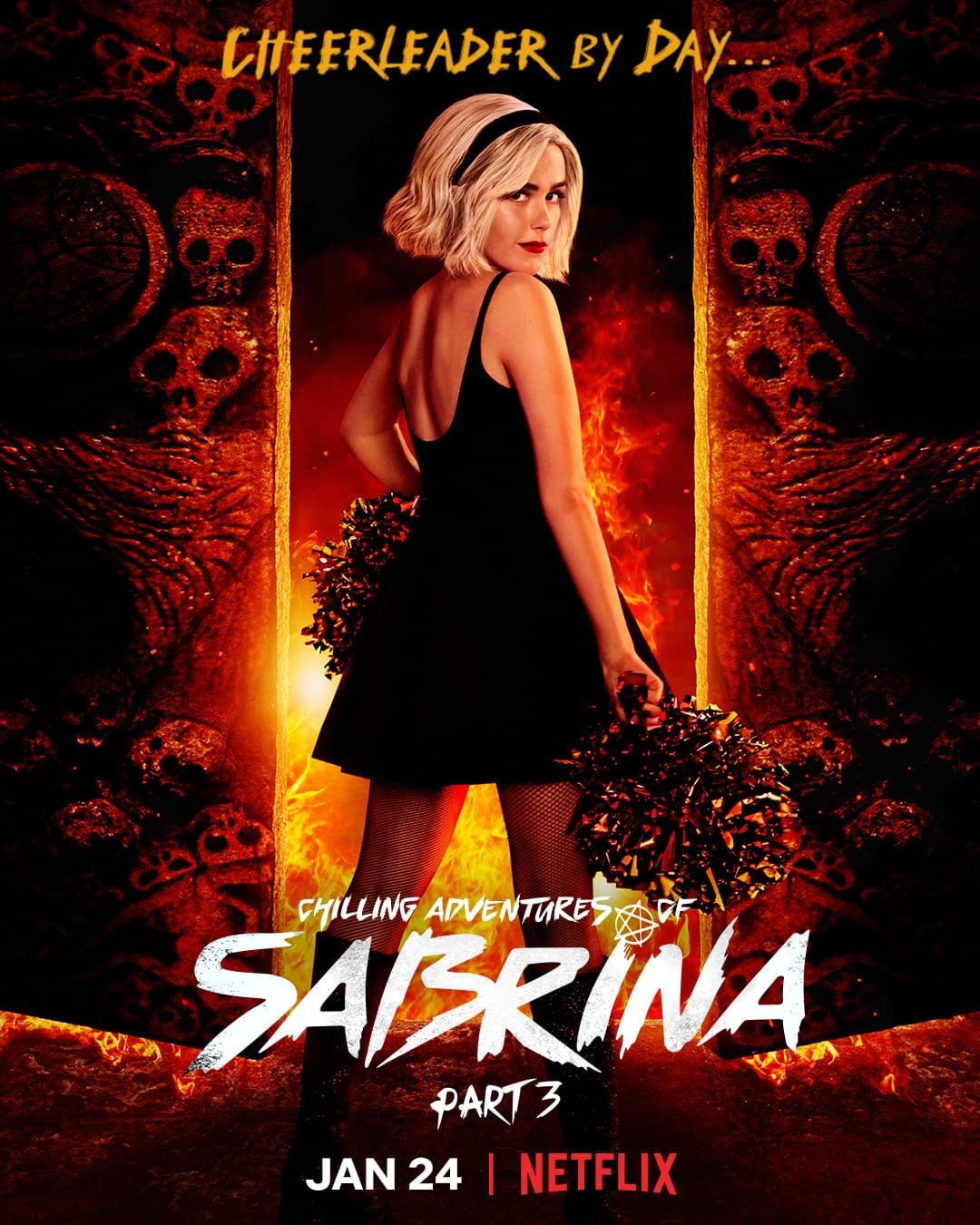 Now we know CAOS will reign once again on January 24, 2020 – when Hell welcomes Ms. Spellman home, and she's bringing some new faces with her (but we'll get to that in a minute). The one thing fans have been lacking in is an official trailer, but the streaming service took care of that on Thursday in a very cool way…
It's not an official trailer… it's not a music video… it's the official music video trailer!
Now good luck getting the song out of your head the rest of the day…
Following up on a clip from earlier that had Ambrose (Chance Perdomo) teasing fans with looks at some upcoming cast additions, it's now confirmed that Sam Corlett (The Dry), Skye Marshall (The Fix), and Jonathan Whitesell (Riverdale) will be taking on recurring roles in Part 3.
Corlett's Caliban is a darkly handsome young man with a strange charm – a so-called Prince of Hell, sculpted from clay from the City of Pandemonium. He challenges Sabrina for control of the Throne of Hell, even as infernal sparks start to fly between him and the teen witch.
Marshall's Mambo Marie is a gorgeous voodoo priestess who helps Prudence and Ambrose track down the villain Blackwood. But Mambo has her own secret agenda and passions, drawing her towards our coven—and Zelda.
Whitesell's Robin is a handsome young man with an 'elfish' quality to him: caring and sweet, but also a mischief maker—and perhaps something even more dangerous. He travels with the carnival that comes to Greendale, and soon develops feelings for Theo.
Over Labor Day weekend (for those of us in the U.S., at least), Aguirre-Sacasa shared an image from production on Part 3, highlighting the "dread banshee." Which means someone we know will be shuffling off this Greendale coil very soon…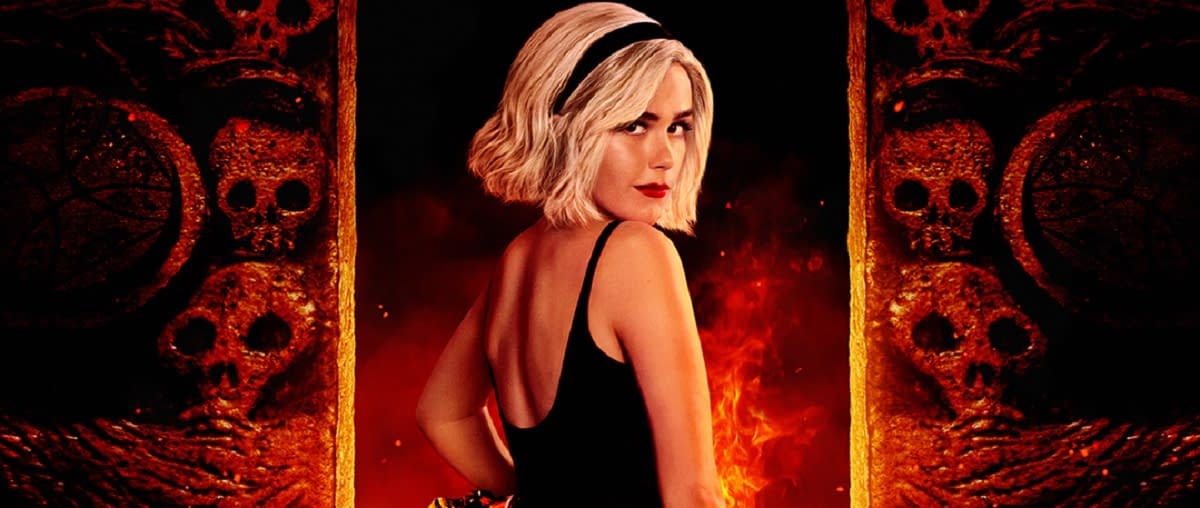 In August, Aguirre-Sacasa opened up (a little) about what fans can expect when the series returns. Speaking of which…
● So with Sabrina descending into Hell to save Nick, it's safe to assume that Harvey's (Ross Lynch) been "friend-zoned"… right? Maybe… maybe not:
"It's funny, I love both those guys. I love Gavin and I love Ross. I think probably, I ship both couples. I have a soft spot for Harvey because he's Sabrina's longtime boyfriend in the comic books, but I cannot deny that Sabrina and Nick are a great, potent match. So yes, there is reason to hope for Harvey and Sabrina shippers. But Sabrina and Nick are pretty undeniable."
● Of course, if it's a day ending in "Y" then federal law requires someone to ask Aguirre-Sacasa a Chilling Adventures of Sabrina/Riverdale crossover question – and while he's still interested and open to the idea, nothing's in the works – yet:
"Listen, I'm so open for it and it feels like we have conversation about it all the time. I still would love for it to happen."
---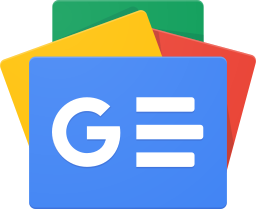 Stay up-to-date and support the site by following Bleeding Cool on Google News today!