"Chilling Adventures of Sabrina" Part 3: Who Are They? Ambrose Looks for Answers [VIDEO]
The world of Sabrina Spellman (Kiernan Shipka) is about to get a whole lot hotter – literally – when Roberto Aguirre-Sacasa's Chilling Adventures of Sabrina returns to Netflix for Season/Part 3. At the end of Part 2, Nicholas (Gavin Leatherwood) found himself a vessel for the Dark Lord and banished to the depths of Hell.
Finding a new way to put the "bad" in "bad boy," Nicholas may be beyond even Sabrina's powers to save. Theo (Lachlan Watson) and the gang "got the band back together" to commit to protecting Greendale from evil alongside Sabrina – with Theo meeting a new love interest along the way (which is why both Leatherwood and Watson were promoted to series regulars for Parts 3 and 4).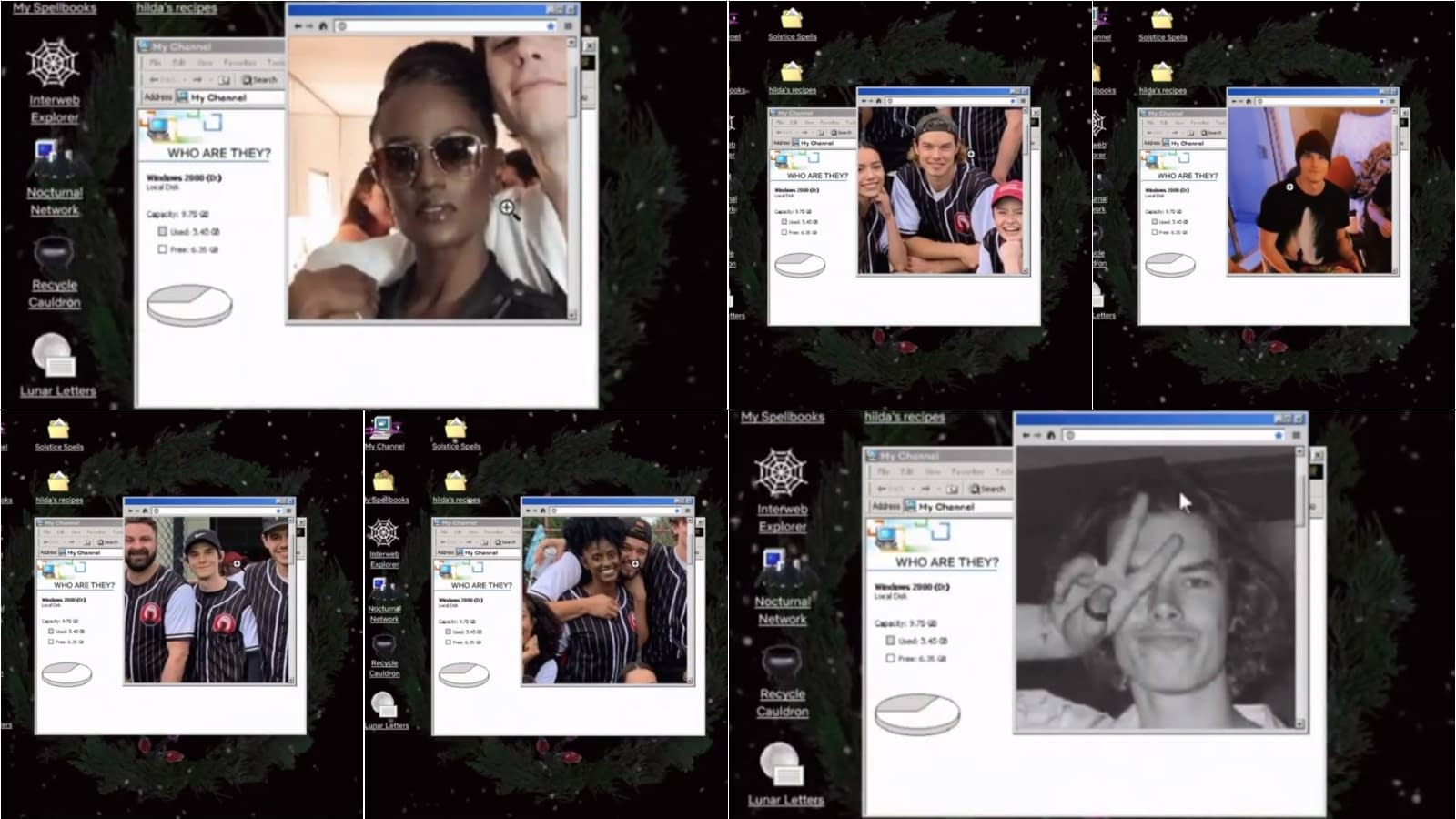 Well, it looks like viewers won't have to wait long to get answers to some of those mysteries, with CAOS set to return on January 24, 2020 – when Hell welcomes Ms. Spellman home… and she's bringing some new faces with her.
What follows is a very familar face introducing viewers to some new players in Ms. Spellman's hellish little play – though we will neither confirm nor deny that this has anything to do with reports that Sam Corlette (as Caliban), Jasmine Vega (as Lizzie), Jonathan Whitesell (as Robin), and Skye Marshall (as Mambo Marie) were coming aboard:
Over Labor Day weekend (for those of us in the U.S., at least), Aguirre-Sacasa shared an image from production on Part 3, highlighting the "dread banshee." Which means someone we know will be shuffling off this Greendale coil very soon…
In August, Aguirre-Sacasa opened up (a little) about what fans can expect when the series returns. Speaking of which…
● For those expecting the series' traditional October return, you might have to wait a little longer ("I don't actually know. I don't think we'd be ready for Halloween. I have no idea, not a clue") – but series production is moving along, and Aguirre-Sacasa likes what he sees:
"We are writing Episode 8, we are starting to shoot Episode 6, so we're nearing the halfway mark. And that's been going great, I'm really proud of those episodes, they're really, really fun."
● While it was pretty obvious by the way the Part 2 ended, Aguirre-Sacasa confirmed that a roadtrip to Hades was definitely in the cards:
"I think it's safe to say that we are going to Hell, yes. We're going to Hell. It's very fun. It's very fun. It's dangerous, but it's really fun."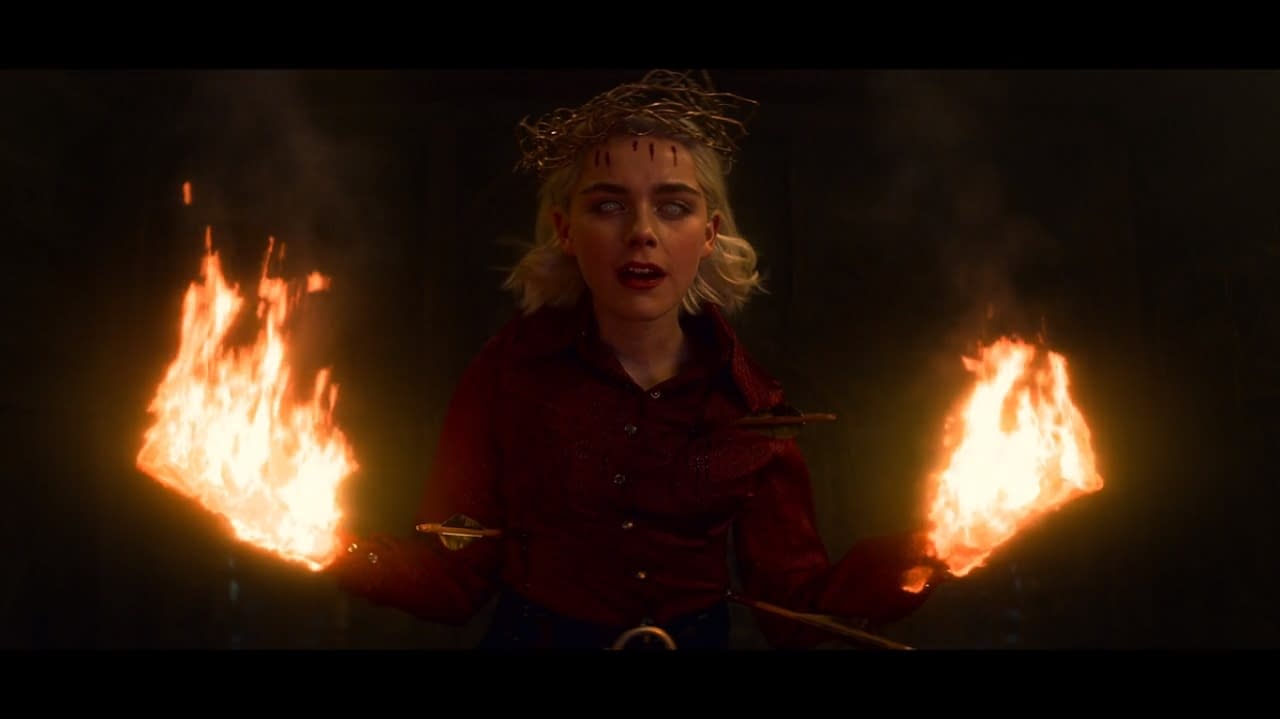 ● So with Sabrina descending into Hell to save Nick, it's safe to assume that Harvey's (Ross Lynch) been "friend-zoned"… right? Maybe… maybe not:
"It's funny, I love both those guys. I love Gavin and I love Ross. I think probably, I ship both couples. I have a soft spot for Harvey because he's Sabrina's longtime boyfriend in the comic books, but I cannot deny that Sabrina and Nick are a great, potent match. So yes, there is reason to hope for Harvey and Sabrina shippers. But Sabrina and Nick are pretty undeniable."
● Of course, if it's a day ending in "Y" then federal law requires someone to ask Aguirre-Sacasa a Sabrina/Riverdale crossover question – and while he's still interested and open to the idea, nothing's in the works – yet:
"Listen, I'm so open for it and it feels like we have conversation about it all the time. I still would love for it to happen."
Chilling Adventures of Sabrina: It's a wicked world out there, and Sabrina is brewing up trouble. After signing her name in the Book of the Beast, Sabrina (Kiernan Shipka) struggles to find the balance between her place in the mortal world and her new darker side. New challenges await Sabrina in Part 2, including having to choose between the familiar mortal Harvey Kinkle, and the sexy warlock Nicholas Scratch. She may have signed her name to the Dark Lord, but that doesn't mean she isn't willing to raise a little hell.