Comisery Production Diary Week Two: All Hail, Amy Hill!
We're really doing this. Into the second week, the second episode of Comisery, our Asian-American Science Fiction Screwball Comedy set during an apocalypse where everyone has to stay home while an alien virus invades and infects humanity. It's one thing to shoot the first episode of a web show on Zoom with some actors. It could always be a fluke. To make a second episode is to show we're going to commit to what's basically a series. And we introduce Amy Hill, who has been effortlessly brilliant and funny in shows like Unreal and Crazy Ex-Girlfriend.
To recap: my friend Quentin Lee and I decided to co-create, co-write and co-direct a web series shot entirely on zoom, in lockdown with everyone at home in front of their computers. We came up with Comisery, which might be the first Asian-American Science Fiction web series.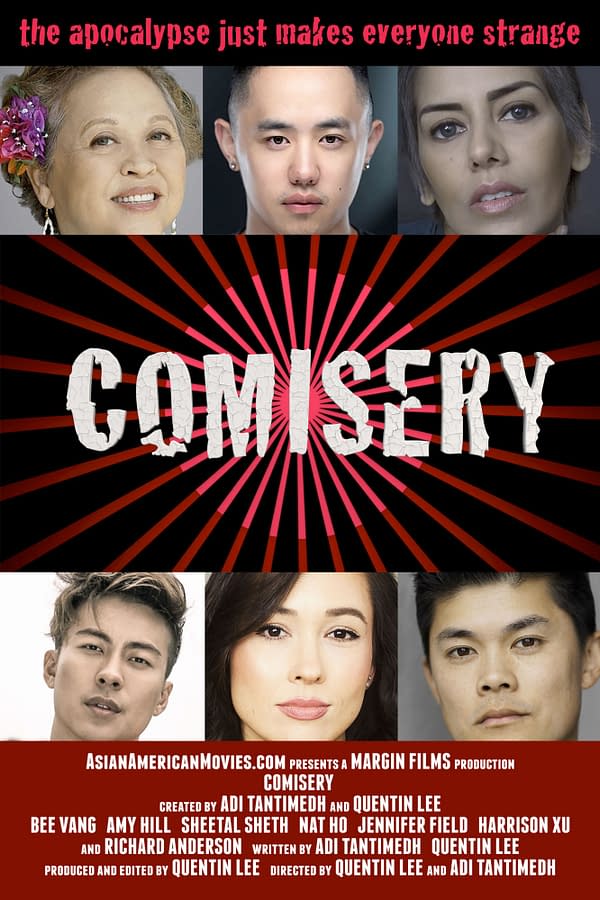 The Art of Comedy
Hill is a veteran who needs no real direction. She's a pro who can do a lot with very little, a glance here, a dry reading of a line there, and she will speak volumes. In comedy, she is very funny by being very dry. It's her innate understanding of nuance and subtext. We can ask for a particular emotion or meaning and she'll deliver it. She knows she can be funny just by saying something completely straight. I wonder if I was being lazy when I wrote her role a psychotherapist since she played the on-set psychiatrist in Unreal. Her role here becomes not just a reference but a dialogue with her previous role. It's a different therapist and person she's playing, of course. Her character here, Mary Suzuki Miller, is a slightly strange person, as are all the characters in the series. Mary is Skylar's therapist. And yes, she really is in Hawaii. Authenticity!
Here's the thing about directing a comedy: you do not tell actors to be funny. You do not tell them to be funnier. You tell them what their character's emotions and intentions are. You might point out the subtext or attitude behind a specific line of dialogue is, and they'll do it. The funny takes care of itself.
Getting into the Groove for "Comisery"
I had a feeling this shoot would go smoother and faster. Shooting the pilot was about everyone feeling their way around the material, finding their rhythm, finding the style and how everyone relates to each other via zoom. We rehearsed on Tuesday afternoon and shot on Thursday afternoon.
Bee Vang, who plays Skylar, is settling into their role as a nonbinary person who just wants to mourn their late boyfriend-in-piece but ends up surrounded by weird stuff. He's looser, and with that, he becomes funnier. We got Richard Anderson to play a racist troll. He's so funny that I'm going to have to write more crazy stuff for him to do, not to mention more interesting roles for him to play. Richard is the type of consummate character actor who brings more and more layers to his roles with each take. He's in this episode for barely a minute but he'll be back. Jennifer Field, as Skylar's friend Camila Kang, is nailing the layers of oddness and ambiguity over whether she's an alien or not. Amy's presence makes everyone step up their acting game.
Somehow, this episode feels like the least complicated to shoot compared to the pilot, even though most of it is a single continuous scene. We shot it the same way we shot the pilot: as masters with all the actors on screen interacting, then their individual parts in close-up to cut in as coverage. It was so straightforward that Quentin got a cut ready by late Thursday evening, and we locked the final cut the next day. It went live on Monday this week, and you can watch it below (and you can watch all episodes of Comisery at comisery.tv).
Comisery (Season 1: Episode 2 "Bombed")

Bid farewell to Asian American Heritage Month with #comiserytv! Comisery is an apocalyptic science fiction comedy series told entirely through web chat sessions about a group of Asian-American friends living through an invasion by an alien virus now. Here's the second episode starring Amy Hill (Magnum PI), Bee Vang (Gran Torino), Richard Anderson (Murdered by Morning) and Jennifer Field (9-1-1). Upon each episode, we partner with non-profit organization. Watch #comiserytv for free and donate to The Slants Foundation now!

Posted by Chopso on Sunday, May 31, 2020