Commence The Purge Episode 3: We Have a Superhero!
The Purge brought things to a boil on a lot of fronts last night, with Miguel just missing saving Penelope, Jane's Purge Night from Hell continuing, Rick and Jenna coming to grips with what taking money from the Stantons really entails, and a vigilante superhero is out and about saving people! 'The Urge to Purge' wasn't the most exciting episode out of the three, but it had the most to tell us.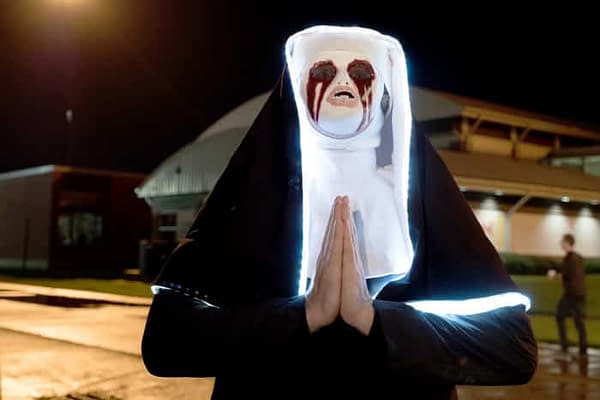 Yep, it turns out Miguel and Penelope's parents were in fact killed during the events of The First Purge. Tying the series directly into the films is a neat idea, that I know some people were against, but come on: it was inevitable. This week Miguel runs around outside (yes, even more) after striking a deal with ex-cop Pete from last week. I hope he comes back, he has more to add to all this. Penelope, even with some doubt creeping in about this whole cult thing, willingly gave herself to Purgers dressed as creepy nuns. Kudos to the costume designers, those are some creepy costumes. Miguel even passes them in their RV with her in the back on the way to the bus. Confronting Tavis, he would have been forgiven for taking her out and freeing the other cultists. Man, take the bus! Stop running everywhere!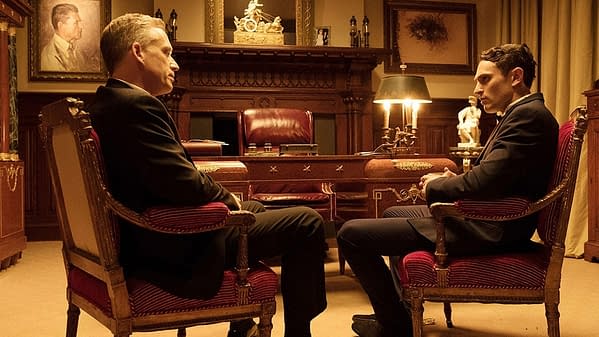 Rick and Jenna are pregnant! I know, I can't believe it, they have been so subtle about it. We actually open the episode with her still making out with Lila, who is not too happy about this pregnancy. Lila's dad, the host of the party, drops some not-so-subtle hints about wanting a grandchild (foreshadowing!) before agreeing to give Rick and Jenna the money to develop their housing projects, after a Shark Tank-like negotiation. Everything was all well and good until Mr. Stanton decides it is time for him to Purge for the first time that night. This whole scene is the best in the episode, I love Mr. Stanton so much. He jokes about helping the poor by paying taxes, before saying just kidding- he doesn't pay taxes! And before executing his thieving employee, pardons his manners for not including Rick and Jenna. Great, great job by Reed Diamond, I can't wait to spend more time with him. Rick and Jenna decided not to take his money after seeing him Purge though, I am sure that will go over well.
Jane is just not having a great night. The big deal went through (that is all the info we have on it, that its a big deal) and David calls in to congratulate the team. When his doorbell rings, he claims it was a pizza delivery (who would take a job that delivers pizza on Purge Night?!?), but I think he has struck a deal with the assassin to go get Jane instead. Her phone fails, and then has to deal with the fact that Alison murdered Mark! Poor Mark, he was a super-nice guy. Alison seems pretty dazed by the whole thing, and to be honest this scene was not very well done. Is she only doing this for the promotion, or is she taking a cue from Jane's plot to take out David she clearly read on her laptop?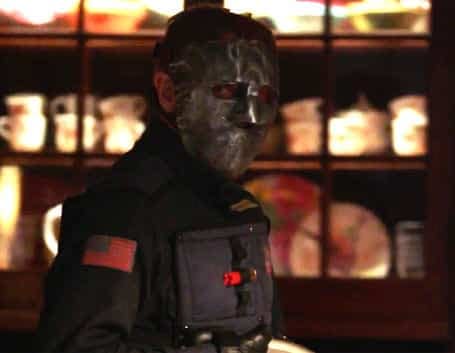 Finally, we end with what we thought would happen after last week: the masked man is a good guy! He gets into the house we saw the Purgers breaking into at the end of last week's episode, and takes them out and rescues the lady inside. This is the most interesting character on the show, mostly because we don't know anything about him except that he like talk radio and has a sense of right and wrong. I am all on on The Purge version of The Punisher.
All and all this week forwarded the storylines, but featured some of the most wooden acting so far, especially with the office workers. Here's hoping we get Flashbacks with our new superhero next week, and that Miguel can finally stop having to run around outside.