David Harbour Compares 'Stranger Things' Story Arcs to 'Star Wars'
Comparing Stranger Things to Star Wars doesn't sound all that promising when you think about it, but David Harbour assures us it works, story arc wise.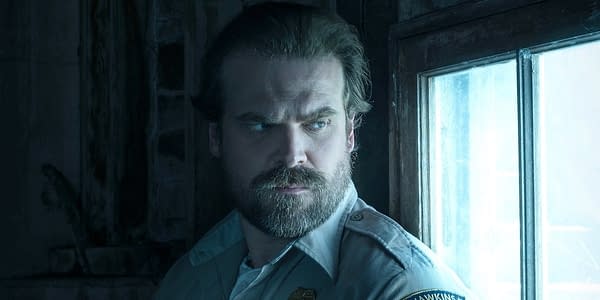 In a recent interview with C|NET, the award-winning actor behind the character of Hawkins Police Sheriff Hopper compared the Netflix series to the Cosmic Conflict saga. He explained that the Duffer Brothers discussed the arc of the story from day one of the series; an arc that could go another two seasons:
"We're either going to season 4 or season 5. It's still being debated. I do know the arc of the story, though. This was something that I discussed with [show creators] the Duffer brothers right from day one.

I know somewhat a lot of Hopper's place in that story because the more you can know about the end of your story, the more you can set up. I feel with acting you can sort of see a character make certain choices and you can feel what is behind it. As you see the end of the story, you'll start to feel why certain characters behaved certain ways. I think that stuff's really important, like knowing where your character's going.

A lot of times you don't get that in TV. But the great thing about this is that we knew what season 1 was, and we had ideas about if it extended — because we didn't know we'd get picked up — but if it extended, what the end of the actual thing would be. Like Star Wars, Empire Strikes Back and Return of the Jedi have an arc to them. I think Stranger Things, be it season 4 or season 5, has an arc to it that I understand.

I feel very proud of that because we're not going to get lost in our story and leave these strands. We're going to tie things up."
While we don't have a set release date for season 3 of Stranger Things yet, we do know it'll be coming sometime in 2019. Seasons 1 and 2 are streaming now, and we'll get to see Harbour as Big Red himself in Hellboy on April 12th, 2019.