Doctor Who's David Tennant, Catherine Tate vs. the U.S. in Comedy-Drama Series 'Americons'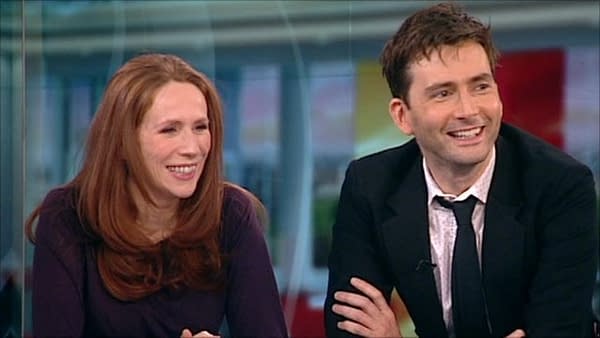 While it would be tempting to throw in a "I don't want to go" joke here or something cutesy about The Doctor and his companions always finding their way back to one another, David Tennant and Catherine Tate are facing a deadly-serious menace unlike any they've face before: America.
The Doctor Who alums are returning to televsion in Americons, a scripted comedy-drama written by Tate and developed by Bad Wolf for Sky One. In their exclusive post, Deadline Hollywood also reports that production on the series — which will follow the pair as they move to the United States – is already in advanced stages of development.
Tate and Tennant first appeared together in Doctor Who's 2006 Christmas Special ('The Runaway Bride'), with Tate joining the series in 2008's "restart" fourth season as The Doctor's companion. The pair also shared the British stage in a 2011 performance of Much Ado About Nothing; and currently work together on Disney's animated series reboot of DuckTales, with Tate voicing villainous sorceress Magica De Spell and Tennant voicing Scrooge McDuck.
Production house Bad Wolf was founded in 2015 by Jane Tranter and Julie Gardner, who worked with Russell T. Davies to help bring back Doctor Who. Sky One continues increasing its high-profile programming slate, including Idris Elba comedy In The Long Run and Noel Clarke and Ashley Walters-fronted buddy cop drama Bulletproof.
In a 2011 interview with The Telegraph, Tate and Tennant discussed the issue of Doctor Who fans not being able to see them in different roles together:
Tennant: I know that was said a lot when I did Hamlet for the RSC [in 2008], but, to be honest, it never occurred to me. I just imagined people would be sensible enough not to bring those preconceptions with them. It's probably slightly naïve, but it genuinely didn't occur to me with this either. Perhaps it should have done.

It would be disingenuous to suggest that the fact this is happening hasn't got something to do with the power of Doctor Who, and that's something I'm wonderfully thankful for. But, for me, the thinking was "I'd like to do a play; I'd like to do Much Ado About Nothing; and it just so happens that the perfect Beatrice in my head is Catherine". That's as involved as my thought process was.

Tate: Benedick and Beatrice are similar to the Doctor and Donna in some ways – there's a lot of sparring – but this is a romantic relationship, which was never the case in Doctor Who. Of course, there's a natural desire to see that energy between us being recreated. I trust people have more sense than to assume it will be the same.