We are nine episodes into the first season of Black Lightning, and while the season is a short 13 episodes, they put so much into each episode it feels like more.
We've already met and gotten to know Jefferson (Cress Williams), set up the street politics of Freeland, met Gambi (James Remar) and Henderson (Damon Gupton) (basically BL's support team), met his family, watched Anissa (Nafessa Williams) get her powers, suit up and move on to her main costume, and got hints of what's going on with Jennifer (China Ann McClain). All of that while meeting the 100 and setting up Lala (William Catlett), Tobias (Marvin "Krondon" Jones III), Lady Eve (Jill Scott), the A.S.A., and Martin Proctor (Gregg Henry). Throw in some crooked cops and a government experiment backstory and that is a whole lot in just nine episodes. But the newly released synopsis for the season's penultimate episode shows that they won't be slowing down anytime soon.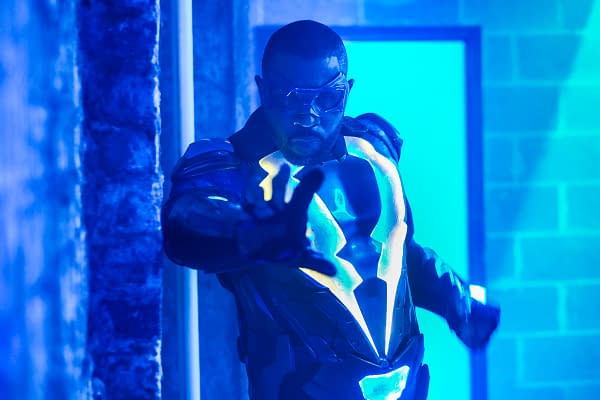 "The Resurrection and the Light: The Book of Pain"

RETURN OF THE WHALE – Tobias (Marvin Jones III) returns to Freeland. He is tasked to capture – not kill – Black Lightning (Cress Williams) with the help of an unexpected source. After a battle of epic proportions, Anissa (Nafessa Williams) and Jennifer (China Anne McClain) provide surprising aid. Christine Adams, Damon Gupton and James Remar also star. The episode was written by Jan Nash & Adam Giaudrone and directed by Oz Scott (#112). Original airdate 4/10/2018.
So far all we've seen of Jennifer's powers is her ability to destroy cell phones. The teaser for next week shows a bit more as she moves towards her comic book counterpart, Lightning. But the above seems to indicate that both Jennifer and Anissa come to their father's aid. Jennifer made it clear she doesn't want powers, will her father being in danger be what makes her take that step? Plus, you have to wonder where Tobias went to if he's returning to Freeland. And who gives him the order to capture — not kill — Black Lightning? Is he taking order from the A.S.A. now?
Black Lightning airs Tuesdays at 9 p.m. on the CW.
Enjoyed this article? Share it!