Doctor Who 60th Anniversary Trailer: RTD Believes We Missed Something
Russell T. Davies shared some interesting insights into the Doctor Who 60th-anniversary trailer, teasing who it is we should be asking about.
---
Our most recent run of updates on the BBC & Disney+'s Doctor Who have focused on what showrunner Russell T. Davies has had to say about Ncuti Gatwa's (The Fifteenth Doctor) & Millie Gibson's (Ruby Sunday) new series of adventures. But this time around, we shift our focus back to the upcoming three-episode 60th-anniversary set up for November. Joining the Fourteenth Doctor (David Tennant?!?) and Donna Noble (Catherine Tate) are Yasmin Finney (Rose), Neil Patrick Harris (The Toymaker), Jacqueline King (Sylvia Noble), Karl Collins (Shaun Temple), and Ruth Madeley (Shirley Anne Bingham). In addition, the late Bernard Cribbins will posthumously appear as Wilfred Mott, with Rachel Talalay, Tom Kingsley & Chanya Button directing. Now, thanks to his column in Doctor Who Magazine #587 (which you can purchase here), Davies is offering some insight into the decision to drop the trailer and why the longer trailer was held back while also teasing the 'lovely guest star" who appeared in the trailer but everyone missed.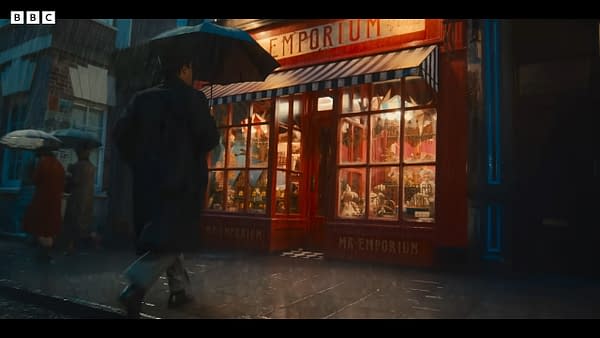 First up, the trailer we saw? Davies confirms that there's "zero footage from Special Two" (and if it was up to him, there wouldn't be any previews for Special Two). And now, things start to pick up as Davies reveals that the trailer we saw was originally part of a 90-second trailer meant to air in October 2022 after "The Power of the Doctor." The reasons why it didn't air? First, they didn't want to be seen trying to steal Jodie Whittaker's spotlight during her final run. And then there was the matter of spoilers for "things that are still secret…. announcements of our bigger plans." In fact, as Davies notes while writing this piece at the beginning of January, the extended trailer "still contains secrets." But Davies's biggest tease came when discussing the trailer that we did see… and how no one's discussing "the man with an umbrella." Here's what Davies had to say: "Wait a minute, who's that? The man with an umbrella and his back to the camera, walking into the bright red shop in the rain, who's he? That's a lovely guest star. Wonderful actor. Walking past unnoticed. Wait and see!"
Previously in Doctor Who Magazine, Davies confirmed the number of Series 14 episodes, the return of the Christmas specials, and how between-seasons waits aren't going to be as epic as they used to be:
Christmas Specials Are Back: "For the first time ever, I'm writing a Christmas Special… at Christmas!" Davies shared, adding that there will be at least a 2023 & 2024 special. "The 2023 script has been long since signed off. The new one is for end-of-year 2024!"
Series 14 Will Have Fewer Episodes… But Davies Has "Plans": Confirming that Series 14 will have an eight-episode run, Davies added, "OK, that's fewer episodes than the last full season. But give us time. We have plans, and that's a promise!"
After 13-Month Wait, Davies Promises "No Gap Years, Lots of Content": "It takes a while to get the empire in shape, but that's a serious plan: annual 'Doctor Who,' no gap years, lots of content, on and on."
And here's a look back to the ending of "The Power of The Doctor," as Jodie Whittaker's Doctor regenerates into… Tennant? Which makes him our… Fourteenth Doctor? Yeah, there are definitely a ton of questions that need to be answered. Following that, we're passing along the previously-released teaser for the 60th-Anniversary special event: