Doctor Who Lockdown Posts The Rings of Akhaten Cover Song Music Video
If it's a day ending in the letter "Y", then it must be time for another Doctor Who Lockdown global rewatch. This time, Doctor Who Magazine writer and BBC Radio editor (and hardest-working Who fan on the planet) Emily Cook set our sights on Matt Smith and Jenna Coleman-starrer "The Rings of Akhaten" and wrapped up the event with a very appropriate gift. Kicking things off at 8 pm British Standard Time (3 pm Eastern Time in the United States), Cook was joined by former series music composer Murray Gold, episode director Farren Blackburn, Head of Millennium FX Kate Walsh, and actor Chris Anderson (The Chorister) to offer their personal perspectives and insights into the episode.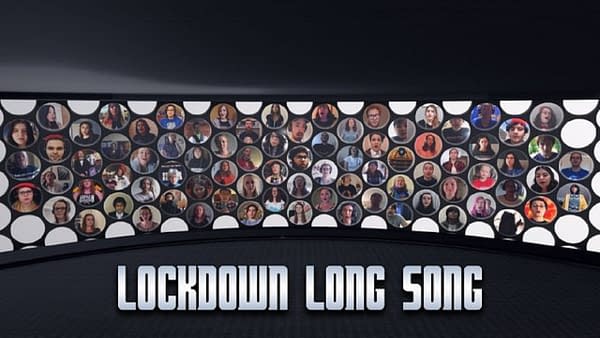 But for a series that's offered us short stories, audio dramas, comic strips, and more, today's fan bonus was both very personal and very fitting. Cook and composer, producer and guitarist Borna Matosic teamed up for a cover of Gold's "The Long Song" from the episode. Fans from around the world were given the opportunity to have their voices heard as part of an online choir that would be included in the cover, and over 300+ joined along. You can check out the music video for the cover below, and prepare to be amazed by the way they were able to take hundreds of isolated voices and have them come together as one. Two individuals of note that we would be remiss in noting: the incredible vocals from Jana Marie Gropp, with Sarah Bergé on board as the solo violinist.
Heading back to more current times, Mandip Gill confirmed to RadioTimes.com earlier this month that holiday special "Revolution of the Daleks" was filmed at the end of Series 12 production, meaning that shouldn't be a delay in its seasonal airing. That gives the episode a major advantage over series that film their holiday specials the summer before, making the Doctor Who special even more of an "event" for fans, as Gill explains: "So yeah, Doctor Who's special is something to really look forward to this year –especially considering the amazing series we've just had as well."