Dolph Ziggler Stacks Deck Against Drew McIntyre: WWE Extreme Rules
I don't know about you, but I think the finish to Sasha Banks vs. Asuka was 100% fair. Welcome to Bleeding Cool's ongoing live coverage of WWE's the Horror Show at Extreme Rules. In addition to that very fair Raw Women's Championship match, tonight we've also seen an opening tables match between The New Day and Shinsuke Nakamura/Cesaro, followed by a title defense by Bayley against Nikki Cross that ended in cheating and heartbreak. And then a promo from Bray Wyatt that probably makes this show worth it on its own. Then we learned the United States Championship was canceled because Apollo Crews wasn't cleared by doctors. Then Seth Rollins literally ripped out Rey Mysterio's eyeball. We're more than halfway through Extreme Rules now. What will WWE do next?
Charly Caruso waits outside the doctor's room for news on Rey Mysterio. She reports that as long as the optic nerve isn't severed, there's a chance that doctors can save Rey's vision. Now it's time for Dolph Ziggler vs. Drew McIntyre, with a stipulation to be named by Ziggler before the match. Extreme Rules continues…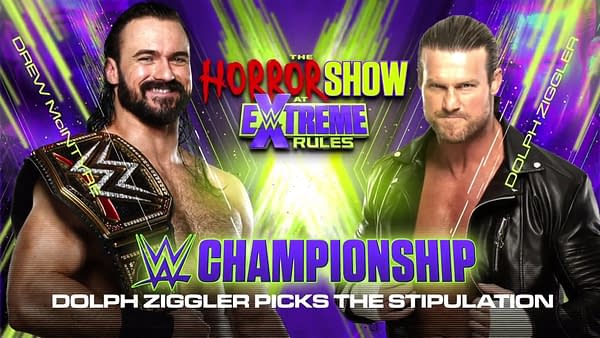 WWE The Horror Show at Extreme Rules: Dolph Ziggler vs. Drew McIntyre
Dolph comes to the ring first, followed by Drew. We get ring introductions. They are dragging out the reveal of this stipulation as long as possible. After the introductions, Ziggler reveals that the stipulation is: Extreme Rules? Oh, he adds: for Dolph Ziggler only. Also, if Drew gets counted out or gets disqualified, Dolph becomes champion. So Drew has to follow all the rules of a normal match while Ziggler can do whatever he wants. Ziggler says he has a bigger dick than McIntyre. Or maybe he meant brain. It was unclear.
Ziggler goes for a weapon under the ring immediately but McIntyre intercepts him. He gives Dolph a brief tour of the ringside area and then brings him back inside for a good old-fashioned beating. Drew tosses Dolph around the ring a bit and gets ready for the Claymore, but Dolph rolls outside. McIntyre follows, but Ziggler thinks he's in the Seth Rollins match from earlier and tries to gouge out McIntyre's eyes. Ziggler grabs a chair and tries to hit Drew in the ring, but Drew catches it. Drew has to toss the chair away. He hits a belly-to-belly suplex and beats Dolph up outside some more.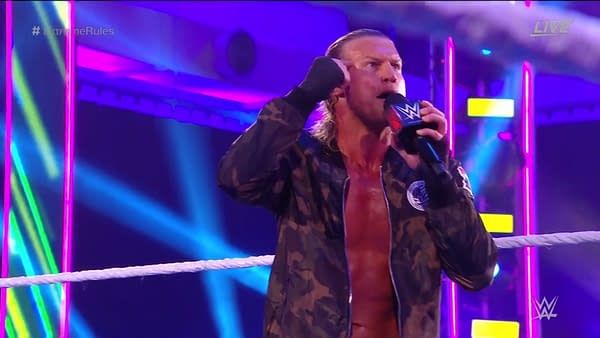 Dolph tries a comeback in the ring but gets clothesline outside once again. Finally, Ziggler gets a good break and shoves McIntyre into the ring post, then the barricade. Dolph grabs a table and sets it up. Now, even though the rules are Extreme Rules for Ziggler only, one would assume that it would be fair game for McIntyre to put Ziggler through the table after Dolph set it up. Matches never end in disqualification when someone goes through the announce table.
Nevertheless, McIntyre turns a suplex around in midair to avoid suplexing Dolph through the table. He hits a powerbomb inside. He calls Dolph pathetic, and Dolph kicks him in the nuts. Extreme Rules! Ziggler gets some chairs. He sets one up in the ring and beats Drew with another one. He rams Drew's neck into the other chair, then hits him again. But Drew kicks out of a pin attempt at two.
McIntyre goes outside for a breather. Ziggler leaps into his arms and Drew hits a belly-to-belly on Ziggler onto the announce table. These table rules are really not consistent. McIntyre climbs up on the announce table and goes for another belly-to-belly, but Ziggler blocks and hits a "famouser" off the announce table to the floor.
After some time to recover, McIntyre and Ziggler battle in the ring and Ziggler gets a sleeper on McIntyre. What could be more Extreme than a rest old? McIntyre flips Dolph off his back, but Ziggler tosses him into the ringpost shoulder-first. McIntyre hits a clothesline on Ziggler and both men are down.
Back outside once again, McIntyre monkey-flips Ziggler into the plexiglass barrier. With all this time spent outside the ring, the announcers sell the fact that Drew has to manage a count-out lest he loses his title. McIntyre brings Ziggler in the ring and hits a Reverse Alabama Slam. McIntyre is ready for a Claymore, but when he tries, Ziggler hits him the leg with a chair. Ziggler hits a Zig Zag and gets a two-count.
Drew tosses Dolph outside the ring again and follows after him. Ziggler superkicks him onto the table from earlier. Ziggler climbs to the top of the ring post and hits a big elbow drop on McIntyre through the table. The referee starts a count for Drew to get back in the ring. He makes it. Dolph throws a tantrum. Inside, McIntyre hits the Glasgow Kiss on McIntyre. But Ziggler hits a famouser and a Zig-Zag, then a urinage on a chair, but McIntyre still kicks out. Dolph screams: "Why won't you die!" The Horror Show at Extreme Rules, folks.
Ziggler is in full-on meltdown mode in the ring. He tosses all the chairs out of the ring and yells that it's "myyy tiiiimme." Ziggler stomps his foot for Sweet Chin Music. McIntyre hits the Claymore. Dolph does the job as he was always going to.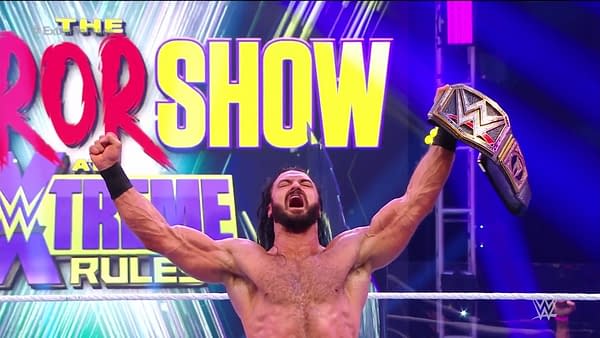 Winner and Still WWE Champion…
Drew McIntyre wins, and we always knew he would. Okay, as much as I joked about how Dolph Ziggler is a jobber to the stars — and he is — this was still a pretty good match. Did Ziggler job? Yes. Was the stipulation used to its full effect? Not really, though the count-out stuff was at least interesting. Were the rules logically consistent? Definitely not when it comes to the tables. But even so, it was engaging. There's one more match left… I think? And it's the Swamp Fight! Chelsy will get that one, so check back soon as Bleeding Cool's live coverage of WWE The Horror Show at Extreme Rules concludes.