WWE The Horror Show at Extreme Rules: A Title Change Kicks Things Off
Welcome to Bleeding Cool's live coverage of The Horror Show at Extreme Rules, a WWE PPV in which one person will lose an eyeball, one will lose his sobriety, and one may be eaten by an alligator in a swamp. And how will the results of the two Women's Championship matches affect the friendship of WWE's greatest tag team? The gang will be trading off matches tonight, with results and commentary posted after each match ends.
Extreme Rules opens with a horror-themed video package. This PPV would seem to make better sense if it was happening in October. Then again, maybe it is October. Can anyone really grasp the passage of time in 2020?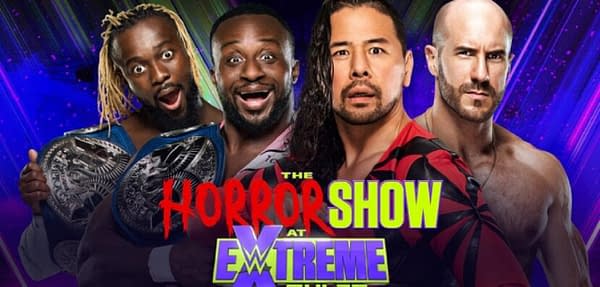 The Horror Show at Extreme Rules: The New Day vs. Shinsuke Nakamura and Cesaro
The New Day come out first to defend their tag team championships against Shinsuke Nakamura and Cesaro. Michael Cole shills for Snickers and Dollar General as the New Day disrobe and toss their discarded clothes onto Corey Graves. Cesaro and Nakamura come out and we see a video recapping their feud over the last few weeks. This is a tables match, the objective of which is to put your opponent through a table, and the Smackdown Tag Team Championships are on the line.
The New Day get the upper hand early and whoop Cesaro and Nakamura's asses around the ringside area. They set up a table near the ring. Kofi gets up on the ropes and Big E puts Cesaro on his shoulders, but Nakamura attacks Kingston from behind. Big E eats steel ring steps to the face and Nakamura sets up a table inside the ring. Cesaro and Nakamura put Kofi up on the top turnbuckle and try to double superplex Kofi through the table, but Big E breaks it up. Big E spears Cesaro through the ropes to the outside, leaving Kingston and Nakamura in the ring.
New Day gets Cesaro on a table by the bottom of the ramp, Kofi runs the ropes, and Big E yeets Kingston out of the ring in Cesaro's general direction, unfortunately, face-first into a table held by Nakamura and Cesaro. From the apron, Cesaro and Nakamura try to suplex Big E out of the ring into a table, but he reverses and suplexes Cesaro inside instead. Nakamura decides the problem here is "not enough tables" so he gets another one and sets it up outside.
That gives Kofi time to dive on Nakamura from the top rope while Big E beats up Cesaro in the ring. The New day sets up another table and puts it on top of the previous table at ringside. Big E goes for a superplex from the corner to the outside through the tables on Cesaro, but Nakamura breaks that up. Both teams brawl for an advantage. Kingston fires up and takes on Nakamura and Cesaro while Big E is selling outside the ring. That doesn't last long though, and Cesaro, with Nakamura's help, manages to powerbomb Kofi from the turnbuckles through the stacked tables.
Winnners, and New Tag Team Champions….
Cesaro and Nakamura are the new tag team champions. After the match, Cesaro and Nakamura lecture Michael Cole on not taking them seriously enough That finish looked brutal and this match flew by, every spot used efficiently. This was the perfect match to kick off Extreme Rules.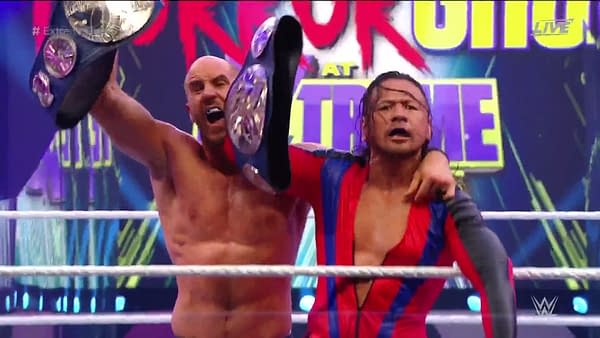 Alexa Bliss, Asuka, and Kairi Sane psyche Nikki Cross up for her Women's Championship Match against Bayley. Kairi kind of blows it by saying they'll still be her friends even if she loses. Jeremy will be covering that match in an article to be published soon.