WWE star Jaxson Ryker may have been heavily criticized by his peers for tweeting support of President Donald Trump amidst country-wide civil unrest, as well as for a 2019 post in which he called the Black Lives Matter movement garbage, but at least one person has come to Ryker's defense: the president's large adult son, Donald Trump Jr. Junior took to Twitter where he quote-tweeted Ryker's tweet and wrote, "My father will always stand up for our country and everyone in it. Thank you for your service in the Marines!".
Ryker found himself the subject of ire Monday night when he tweeted, around the time Donald Trump was giving his speech about the protests, "Thankful for the @POTUS we have! God bless America. Built of freedom. Forgotten No More." Soon after, another person on Twitter unearthed a 2019 Facebook post from Ryker which said, "Pretty touchy subject but all this black lives matter garbage baffles me," Ryker wrote in the post. "I challenge anyone of any color or race to go watch 12 years a slave, the movie and realize how good you all actually have it. Learn heritage. Chris, Gandhi, Budda; They all taught love and caring for others. This is getting out of hand. I Pray for this nation daily." Ryker soon set his Facebook page to friends-only to prevent any more digging.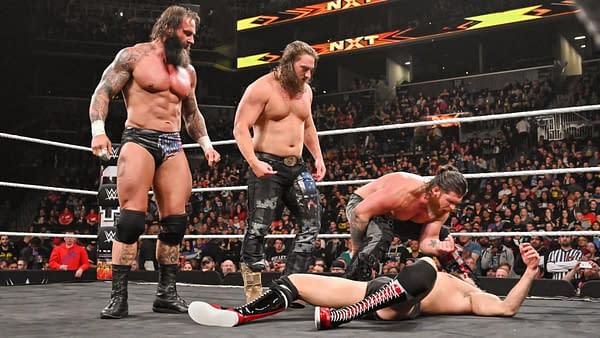 Several of Ryker's WWE colleagues unleashed on the Smackdown star in response to his pro-Trump tweet. Kevin Owens tweeted, "The freedom you speak of entitles you to speak your mind all you want. I'm not here to argue that. I just really need to tell you that I think you pushing your s**tty wrestling catchphrase as all of this is happening is absolutely f**king pathetic. Good night." Dave Bautista wrote, "I'm just keeping him nameless because he's a sorry ass motherf**ker who I refuse to let ride my coattails. He gets no love from me. He gets no rub from me. And if he would like to discuss it in person we have enough mutual acquaintances that he will be able to find me easily." Mustafi Ali tweeted, "I'm thankful you posted this because I'm now aware of what you stand for. When black brothers and sisters are crying, you praise someone that refuses to acknowledge their hurt." "Literally built on oppression," tweeted Sami Zayn. "Someone is gonna take a nice s**t in your gear bag…." said Joey Janella.
Even Ryker's own tag team partners in The Forgotten Sons declined to have his back, with Steve Cutler tweeting, "Although I am part of a tag team while I wrestle, I am my own person with my own thoughts and beliefs. It pains me to see what's going on in the world. I fought for the freedom of our country and ALL of the people who live here," and adding, "It shouldn't matter your race or however you identify, we are ALL human beings and ALL deserve to be equal. #JusticeForGeorgeFloyd." Wesley Blake liked Cutler's tweets. But now, the former Marine and Iraq War veteran who wrestled under the name Gunner in TNA has a new tag team partner, and he's the son of a WWE Hall-of-Famer: Donald Trump Jr. Could we see Junior get a Shane-McMahon-esque run in WWE? His father is good friends with the boss, after all.
Enjoyed this article? Share it!