'Doom Patrol' Season 1, Episode 4 "Cult Patrol" Brought Us Back Into the Fold [SPOILER REVIEW]
Thank you, DC Universe.
Thank you, Doom Patrol.
Thank you, Stefan Pleszczynski, Marcus Dalzine, and Chris Dingess.
Thank you, Mark Sheppard.
In my review of last week's episode "Donkey Patrol," I didn't hold back on my disappointment over what I thought was just a poor retread of what had come before with characters stuck slow-spinning their wheels in quicksand. With a 15-episode freshman season, it had the red flags in my brain flying full-mast that we were about to experience a painfully stretched-out inaugural run.
Doom Patrol s01e04 "Cult Patrol": Willoughby Kipling (Mark Sheppard) conscripts the Doom Patrol into helping him avert the end of the world by stopping a nihilistic cult.
This week's episode of DC Universe's Doom Patrol "Cult Patrol" was an almost 180-degree turn-around… a much-needed screeching-of-the-brakes-and-avoiding-the-cliff move that worked for two huge reason. First, it was refreshing to take a break from watching our heroes continue to flagellate themselves with their backstories: it was story that took the spotlight this week, and the story was fun, quirky-to-odd and kept things moving. Character development felt subtle and natural – focusing deeper on a character's psyche only when it suited the episode or when the viewer could tell we were getting some background 411 that will be key for what's to come.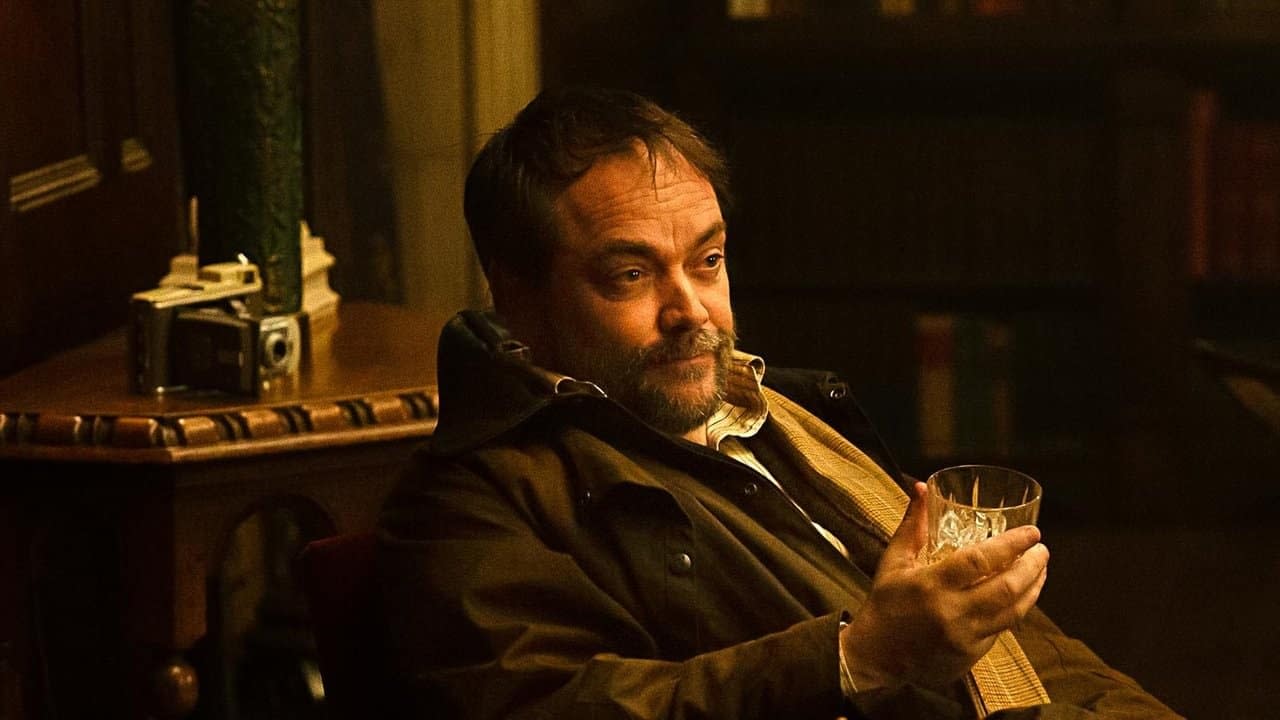 The second reason "Cult Patrol" worked so well? Sheppard as "Doom-blazer" Willoughby Kipling, who may need to go on a diet after all the scenes he gobbled up in this episode. As the cynical, bombastic, over-the-top, and as much a "cult of personality" as either The Chief (Timothy Dalton) or the Cult of the Unwritten Book chaos magician, Sheppard not only moves the series into a broader horizon of possibilities, but also helped bring out some really strong performances from those he shared screen time with. If this is your first go-around with Sheppard, check out his work on BBC's Doctor Who and CW's Supernatural to see more of what I'm talking about.
And I'm always a sucker for a "good slice of cheese" when it comes to a cliffhanger ending…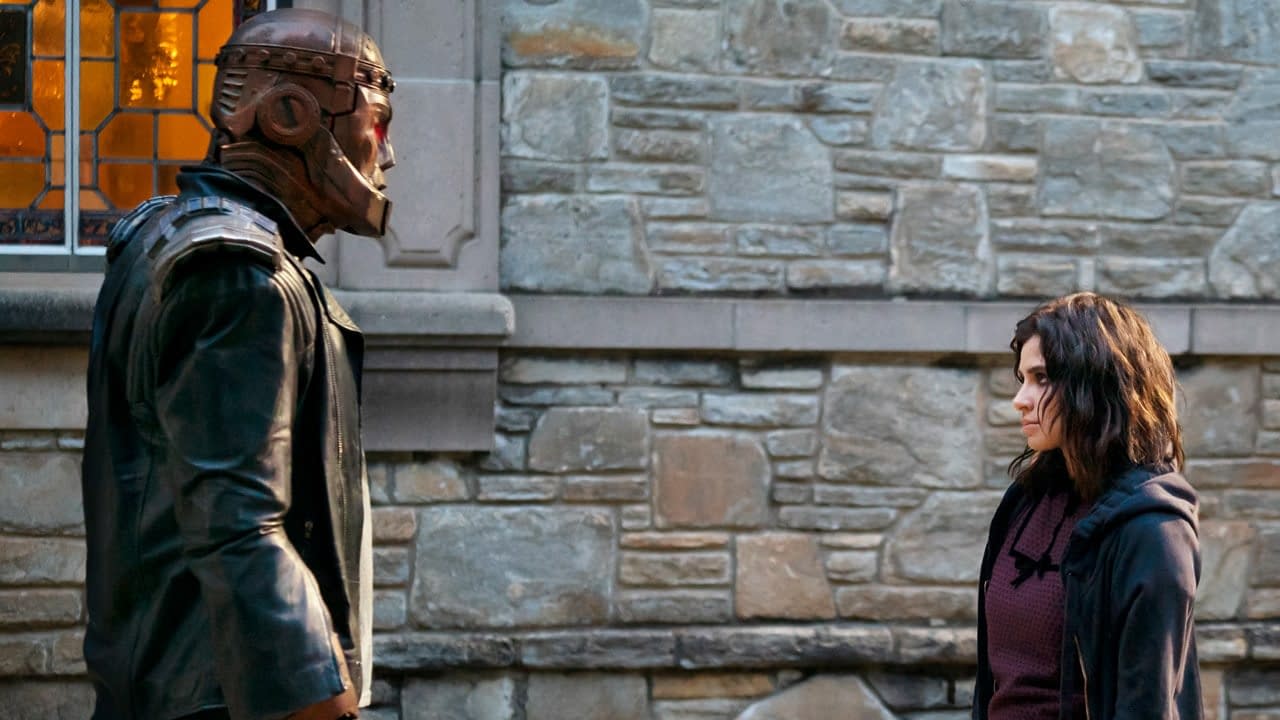 Now here's a look at this week's "Random Thoughts Patrol":
● Elliot's (Ted Sutherland) "Mommie Dearest" Martha (Lilli Birdsell) has a very unique way of shutting down a dispute.
● While I try not to deep-dive into the comics side of things, there was a part of me hoping Cyborg (Joivan Wade) has mapped out 52 universal dimensions, instead.
● While I'm not looking to take away from the originality of the Cult of the Unwritten Book writing a book that summons a giant Eye thing called the Decreator to rewrite the world… I'm not the only one who noticed a "subtle" nod to SYFY's Happy!, am I?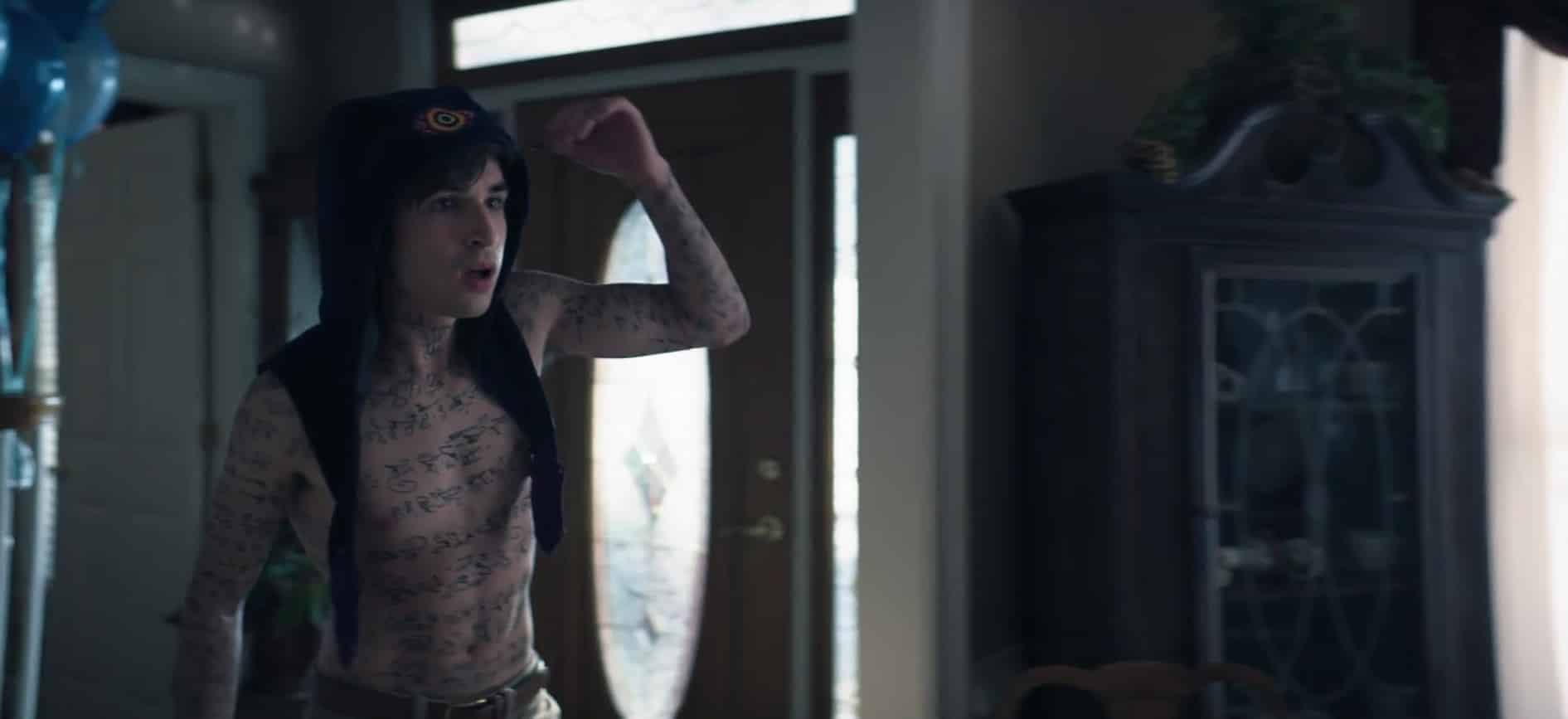 ● Speaking of cool concepts… if you can have a farting donkey serve as a dimensional doorway, then you can definitely have a Spanish priest's stigmata wound serve as the gates to the cult's home dimension of Nurnheim. There's a disturbing intimacy to the answer being our heroes having to stitch up the wound that I appreciated.
● Of course The Beatles would be the foundation for a protection spell.
● Rita (April Bowlby) needs to have a story arc like Larry's (Matt Bomer): she is the only one who still feels like she's spinning her wheels, and I'd like to see the writers do more with her moving forward – even with her "hero redemption" move with Elliot at the end. Larry's backstory is moving along with a very intriguing vibe: the footage of Negative Man uttering "torture" to The Chief was not only impactful and insightful, it also set the stage for an inevitable Larry / Negative Man face-off.
● Clearly Martha [Ed. Note: another DC "Martha"???] knew how to win the "Game of Thrones."
● There's a pretty good chance Jane's (Diane Guerrero) personality changes will get at least one team member killed – but until that happens, personalities like "Penny Farthing" and "Hammerhead" really make the series damn enjoyable.
● Now that's how you feed my hunger for old-school cliffhangers, Doom Patrol!
So nice work, DC Universe and Doom Patrol! Looking forward to next week's episode "Paw Patrol"
DOOM PATROL reimagines one of DC's most beloved groups of Super Heroes: Robotman aka Cliff Steele (BRENDAN FRASER), Negative Man aka Larry Trainor (MATT BOMER), Elasti-Woman aka Rita Farr (APRIL BOWLBY) and Crazy Jane (DIANE GUERRERO), led by modern-day mad scientist Niles Caulder aka The Chief (TIMOTHY DALTON). Each member of the Doom Patrol suffered a horrible accident that gave them superhuman abilities, but also left them scarred and disfigured.

Traumatized and downtrodden, the team found their purpose through The Chief, coming together to investigate the weirdest phenomena in existence. Following the mysterious disappearance of The Chief these reluctant heroes will find themselves in a place they never expected to be, called to action by none other than Cyborg (JOIVAN WADE), who comes to them with a mission hard to refuse. Part support group, part Super Hero team, the Doom Patrol is a band of superpowered freaks who fight for a world that wants nothing to do with them.
DC Universe's Doom Patrol stars April Bowlby as Rita Farr / Elasti-Woman, Diane Guerrero as Kay Challis / Crazy Jane, Joivan Wade as Victor Stone / Cyborg, Brendan Fraser and Riley Shanahan as Clifford "Cliff" Steele / Robotman, Matt Bomer and Matthew Zuk as Larry Trainor / Negative Man, Timothy Dalton as Dr. Niles Caulder / The Chief, and Alan Tudyk as Eric Morden / Mr. Nobody.
A reimagining of the superhero DC characters originally written and drawn by Arnold Drake, Bob Haney, and Bruno Premiani, Doom Patrol is written by series creator Jeremy Carver (Supernatural, Being Human), who executive produces alongside Greg Berlanti, Geoff Johns, and Berlanti Productions' Sarah Schechter. Warner Bros. Television produces in association with Berlanti Productions.