Drake Maverick Winning NXT Match Keeps His WWE Career Alive For Now
Drake Maverick won his match against Tony Nese in the NXT Interim Cruiserweight Championship tournament last night, keeping alive hopes that he won't be fired along with dozens of his co-workers as part of coronavirus pandemic cost-cutting measures. Maverick was one of more than 50 names who were released or furloughed by WWE, a cold-hearted action that occurred the same day company boasted of having $500 million in reserves, the day before they announced dividends for shareholders totaling $9.3 million, enough to keep everyone employed into 2021, and the week before a first-quarter financial report revealed WWE is on track for massive profits even if live events don't return for the rest of the year. However, it soon became clear that Maverick's "firing" was part of an angle.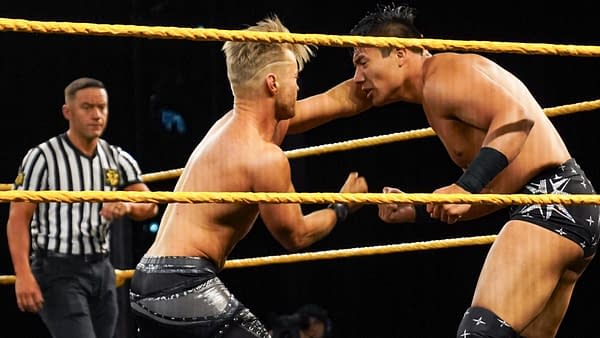 Maverick took to Twitter immediately after purportedly receiving the news to post a video in which he breaks into tears, talking about his release. However, Maverick would still compete in the NXT tournament. "I'm very fortunate that WWE is still allowing me to compete in the NXT Interim Cruiserweight Title Tournament, but it's very likely that those will be the last matches I ever have," he said. "There's a lot of people I'm not gonna get the chance to say goodbye to that I really loved, that I really cared about, that makes me a better person. Again, I'm very fortunate that I still get that. Other people won't get that. But if these are the last three matches I have, I just want everybody at home to know that you'll have my all. You'll have everything. It's not about the title anymore. It's about my life. It's about feeding my family, paying my bills. So if I don't make an impression, if I don't win, that's it for me. So I just want everybody to know that you're all gonna get everything I have."
The video went viral, and it's unclear at this point whether it was all a work from the start or whether WWE changed plans with Maverick after seeing the response to his video. Either way, his contract status is now most definitely a part of an angle, something which rubs some people the wrong way considering many of Maverick's colleagues are legitimately laid off and without income during some very tough times. At the same time, this is wrestling. This is what wrestling does. Anything is fair game for a "work". Well, almost anything. You pretty much have to pull a Benoit to be off the table completely.
Drake Maverick Cut a Promo That Got a Little Personal
Maverick lost his first match of the tournament but cut a promo ahead of his match last night. "Well, it was pretty public that I came into this tournament with a lot of fire in my eyes," Maverick said, "but the match with Jake Atlas last week brought me back down to Earth. I'm in there with some of the best cruiserweight athletes in the world, and I haven't been in a ring for many years. The WWE Universe knows me as the 205 Live General Manager, a man that wears a suit, a man that represents the best cruiserweight athletes in the world. But what a lot of the WWE Universe doesn't realize is that I used to be one of the best cruiserweight athletes in the world. And I still am. Tony Nese, I know you're coming into this tournament wanting to be a two-time Cruiserweight champion. I know that you're the premier athlete, and I know that you've got big muscles and big abs. But Tony, I'm Drake Maverick. I've got a big heart, and I've got a big dream, and that dream is what's gonna keep me here. I'm gonna win the interim NXT Cruiserweight Championship."
During last night's match against Tony Nese, commentary referenced Maverick's original several times. Nese referenced it as well, asking Maverick if he was going to cry while taking a beating. For most of the match, Nese did savagely beat Maverick, but Maverick became fired up at the end and managed to pull off a victory. It's hard to imagine, after making such a major part of the storyline, arguably now the biggest storyline in NXT, that WWE will legitimately fire Maverick when all is said and done. And that's a good thing for Maverick, a likable personality who doesn't deserve to be laid off during a national pandemic. Of course, the same could be said of all of his peers that were laid off or furloughed as well.